Last Updated on 28 October, 2023
London is a city that is buzzing with life 24/7 as I have shown. Inhabited over 270 nationalities and 300 languages, the city is a truly unique destination to explore, you can see why living in London is so attractive.
Historic architecture, food from all over the world, art, music, wondrous gardens and a breathtaking skyline will leave you in awe.
Considering that London is Europe's largest city, it can get overwhelming when it comes to planning your visit to London. However, do not fear!
This London 3-day itinerary will guide you through all the must-see London sights plus you get to see where local Londoners hang out too.
I have also shared tips on how to save money when visiting London so if you are thinking London is too expensive, there are ways to do London on literally any budget.
The guide below provides information about the top must-see tourist attractions in London, including the many must see London Landmarks as well as general tips on getting around this dynamic metropolis.
London Three Day Itinerary At A Glance
London is simply beautiful whether you are visiting London in the summertime, spring, winter, or autumn. Below is a quick glance of areas to explore and things to see in London in 3 days.
Day One – Explore central London must-see sights and attractions
Day Two – Instagrammable sights of West London
Day Three – See where local Londoners hang Out
Places To Visit In London In 3 Days
Day 1 – Central London
I have shared tips on how to get from London Airports into central London to help you get into the city easily and onwards to your hotel. If you need tips on the best areas to stay in London I have a detailed guide on the blog too. Once all that is sorted, onwards to exploring! Day one is dedicated to top things to do in London in 3 days and must-see sights in London.
Morning to early afternoon
Tower Bridge
After your hotel breakfast get to the nearest underground and head to Tower Bridge. Built between 1886 and 1894, this noble bridge has become an iconic symbol of London. A bascule, as well as a suspension bridge connecting the opposite banks of the River Thames, is easy to notice even from a distance if you take a stroll alongside the river.
In case you feel adventurous, there is an opportunity to climb the Tower Bridge and walk the glass floor, or use an elevator to go up, where you can enjoy astonishing views of the city. But that's not all! There is also an exhibition of the history of London bridges, and a glass floor walkway through which you can walk across the top cross-section of the bridge.
Entrance fee: £8.90 if you do decide to go up and enjoy the full experience of Tower Bridge.
If you are eager to see the opening of the bascule, you can check the times here.
IMPORTANT: Don't mistake it for London Bridge, which is a different landmark.
Tower of London
A historic 900-year-old castle and fortress right in the city center. While it has had many purposes throughout history, today it houses the Crown Jewels of England. Beefeaters here are always on the watch, like in the old days, when they used to guard the prisoners.
It is also home to a flock of ravens. According to the legend, the fortress will fall if the ravens ever leave the tower. There are plenty of combined tours and tickets for Tower of London.
The Shard
One of the tallest structures in Western Europe with a height of 310 meters, offers a chance to go up to the 72nd floor of the building to enjoy a drink at a bar if you wish, with an absolutely stunning view.
The skyscraper reaches 310 meters in height and has a total of 95 floors. Interestingly enough, 23 floors are underground.
There are offices, restaurants, apartments and even a hotel in the Shard, all of which are documented on the blog. You can read about my stay at Shangri La at the Shard as well as checking the views at the Shard. I have also dinned in a couple of the restaurants but both times chose elegant woof it all down without a snap. On the occasion, I did manage to take some pictures on my phone I was too tipsy to take a decent enough image worth adding to the blog. I would highly recommend everyone one of them.
Pro Tip: If you don't want to pay for views at the Shard, then check out the views from the Sky Garden. It's free but you just need to book tickets in advance. I have shared tips on the best viewpoints in London here.
Borough Market
The Borough Market is a gastronomic paradise for all the foodies out there, offering a vast choice of any type of food. Taste something at the stalls and take home some local specialties at an affordable price! It is also a great opportunity to buy some gifts to take home with you.
Whether you visit London in 3 days or 2 or even spend one day in London, this place is not to be missed. The market is a place with history and tradition which has still preserved part of its old charm. I would recommend eating before you click on my Borough Market guide because the images alone will make you feel hungry.
Even better is doing a food tour in Borough Market, which you get to walk off so no need to worry about any holiday calories – not that those count anyway. If you love markets be sure to read our guide on the best markets in London as well as the best food markets for those into gastronomy.
Borough Market Opening times:
Monday 10:00 – 17:00 Limited Market

Tuesday 10:00 – 17:00 Limited Market

Wednesday 10:00 – 17:00 Full Market

Thursday 10:00 – 17:00 Full Market

Friday 10:00 – 18:00 Full Market

Saturday 08:00 – 17:00 Full Market

Sunday Market Closed
Tate Modern Gallery & Switch House Views
This is my very favourite gallery in London for so many reasons. Visit Tate Modern for an excellent collection of modern art, and has been part of an institution that was founded in 1897 until now. The gallery is housed in a former power station! Since its opening in 2000 it has become one of London's most popular museums, also recognized abroad.
In 2016, Tate Modern significantly expanded its exhibition area with the addition of two large oil tanks and a new, modern-looking glass pyramid extension (the Switch House) which houses photography, video, and community exhibits. If you have time, it is definitely worth your attention!
The entrance is free; however, you might have to purchase a ticket for some exhibitions. This place also has amazing views from the gallery in Switch House.
St. Paul's Cathedral
Built-in the beginning of the 18th century, the cathedral is the second largest in the United Kingdom after Liverpool Cathedral. It certainly cannot be missed. You can admire the beautiful English Baroque interior or visit the dome for a spectacular view.
There are so many places in London offering an amazing view of St Pauls; from Millennium Bridge, from the Shard, river's edge, from London's amazing parks and many more.
Some say that the architect who designed the dome was inspired by the dome of Peter's Basilica in the Vatican!
The Cathedral holds daily services, during which you can enter for free. To enter the dome, you will have to buy a ticket. You can purchase skip the line tickets online.
Pro tip: Check out the views of St Pauls from Madison Bar.
Afternoon to evening in London
South Bank/Waterloo
Waterloo and Southbank just a short walk away, can be described as the gateway to the city. As soon as you step out of the tube station, you will be immersed in London's abundant culture. World-leading arts to award-winning cocktail bars and the best entertainment spots will be waiting for you.
Some of the places to visit are the London Dungeon, SEA LIFE London, Royal Festival Hall.
Or, simply follow the Southbank walkway along the river Thames, which is more peaceful, as you daydream about this magical city.
Pro Tip: If you are by Southbank and feeling a little peckish, there are plenty of cool outdoor seating cafes and restaurants. If you are here in early enough you can also grab some food by the Southbank Market as well.
London Eye
Your 3 day trip to London is not complete without check the biggest Ferris wheel in Europe. Yet another landmark that has become iconic to London, which you are probably familiar with already.
Can you imagine a football pitch in the centre of the capital right on the edge of the River Thames? Well, if the London Eye was unrolled it would be more than 3.5 times the length of a football pitch! Fairly enough, it is Europe's tallest cantilevered observation wheel.
You can embark on one of the 32 cabins for an incredible view of the city and take in views that you will never forget. London Eye tickets start from £9 for children and from £12 for adults. If you want to want to stay nearby we have written a guide on the best hotels near London Eye, there are plenty of hotels in the area, one such being Marriott Hotel which sits right next to London Eye. If you are a sucker for a view also check out these cool London hotels with balconies.
Big Ben
The clock of the Houses of Parliament, known as Big Ben, is another important landmark. The tower, constructed in 1858 at the north end of the Palace of Westminster, is a peculiar 106-meter-high building built in Gothic, with four huge clocks located on each of the four sides.
Fun fact! Although generally when we talk about Big Ben we refer to the Clock Tower of the London Parliament building, such a description is not entirely accurate, since Big Ben is actually a huge 14-ton bell that is located inside the tower.
It is worth mentioning that Big Ben is under refurbishment construction until 2021, so part of it is covered. However, the clocks are still visible and the rest of the Palace is definitely worth seeing!
Buckingham Palace
Used as the administrative headquarters of the Queen, Buckingham Palace is a must-see among royal palaces. This is where the Royal ceremonies are held, and where foreign heads of state are welcomed during their visits to the United Kingdom.
If seeing it from the outside is not enough you also have the option to get tickets for the Queen's galleries at Buckingham Palace.
Trafalgar Square
Perhaps one of London's most popular squares in the heart of the city, together with Piccadilly Circus. Its name commemorates the Battle of Trafalgar, a British naval victory in the Napoleonic Wars over France and Spain that took place on 21 October 1805 off the coast of Cape Trafalgar.
There you will find the National Gallery of London, to which admission is free. However, some exhibitions or events might be ticketed, so you might want to check. Even if you are not visiting the gallery a visit to Trafalgar Square is a must-see. While here you can also walk over to Covent Garden which is close by.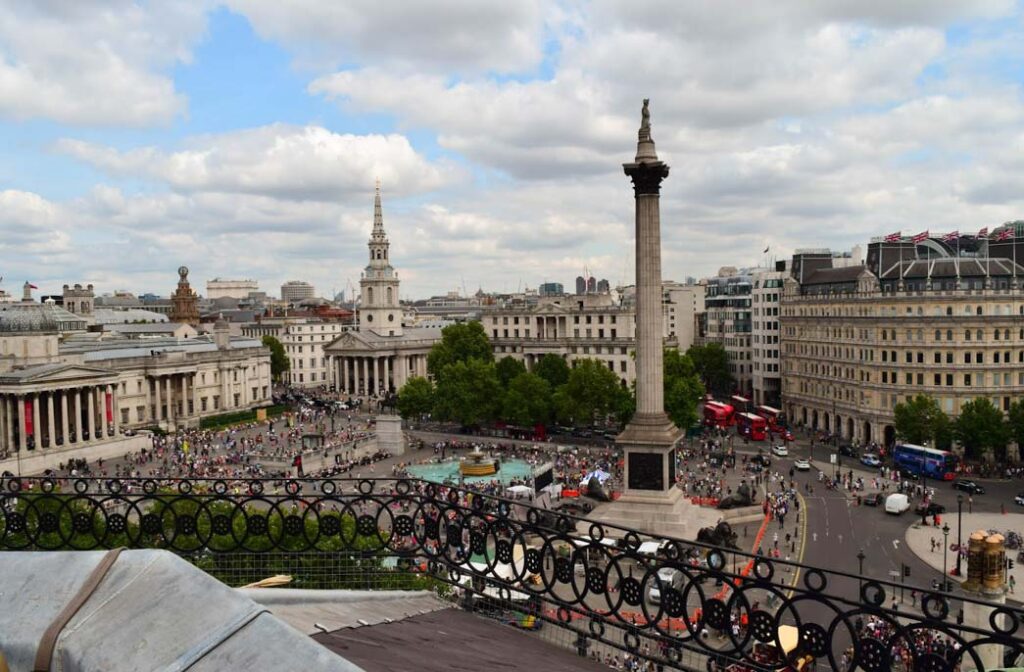 Piccadilly Circus
Not far from Trafalgar Square, surrounded by many attractions, including many theatres is Piccadilly Circus. Once there, don't forget to check out the impressive Shaftesbury Memorial Fountain at the southeastern side of Piccadilly Circus. While here be sure to also check out the famous Shaftsbury Avenue.
Oxford Street
No doubt, the heart of London (and probably the rest of the country's) shopping! Here you will find some of the most prestigious department stores in the world, offering the most exquisite designer clothes as well as literature, and probably just about anything you can think of.
There are also plenty of shops that are easy on the wallet! An ideal place to visit, if you are looking to buy something that you might not have in your city or town.
Pro tip: Oxford Street stores and department store are open right up to 10 pm so if you are still up for a bargain, considering I left this for the end of the day, you can have a much more relaxed shopping experience than say visiting at the busy periods' int he day time. For additional tips check out my guide on the cheapest shopping places in London.
Day 2 – Kensington & West London
When it comes to spending three perfect days in London, you simply cannot miss out on the Westend in London. This is also where London Theatreland located and if you are a lover all shows, I have blogged about London's best theatre shows.
In addition, another must see in London is Kensington Palace as well as all the cool things to do in Kensington.
Kensington Palace and Gardens
A centuries-long palace, which is currently the official residence of Prince William and Kate Middleton, as well as The Duke and Duchess of Cambridge.
It was acquired by William lll in 1689, who renovated the palace and made a Dutch baroque garden with rich decoration. The garden was destroyed in the 18th century, but restored in 1970. It is truly a historic royal abode with a modern twist.
Admission fee for the palace: £18 | Gardens: free
Kensington Palace Opening times:
March to October: 10 am to 6 pm. (last admission 5pm)

November to February: 10 am to 4 pm. (last admission 3pm)
Hyde Park
It is the largest royal park in London, covering 142 hectares. Many locals and tourists alike find refuge here from the ever-bustling London's noise.
Take a long walk to relax at this beautiful park, divided by the Serpentine and the Long Water lakes before you rush off to the rest of London's top landmarks. If you want a quiet spot also check out the Italian gardens within Hyde Park.
Victoria and Albert Museum
The world's largest museum of art and design. It is divided into 5 areas: Asia, Europe, Materials & Techniques, Modern and Exhibitions.
Admission: free, however, this is not the case with events and exhibitions. Check for individual events and exhibitions for more information.
V&A Opening times:
Daily: from 10 am to 5:45 pm

Friday: 10 am to 10 pm
For those interested in science or doing 3 days in London with kids, I suggest visiting one of London's science museums, where you can explore some of the most awe-inspiring objects that have shaped the world as it is today!
This is also a short walk from V&A museum, for additional tips check out my guide to London's free museums and galleries.
Some of the museums include: London's Science Museum, Florence Nightingale Museum or the Museum at the Royal Institution.
Harrods at Knightsbridge
Located in the heart of one of London's richest neighborhoods (Knightsbridge), Harrods is the largest department store in Europe with seven floors, 90,000 square meters and 330 different departments.
A truly sophisticated store, with a unique interior design. It offers a wide variety of things, anything from designer clothing and luxury gifts to a traditional menswear to a £10,000 mini Jaguar.
Peggy Porschen
All lovers of cute cafes should not miss a chance to go to Peggy Porschen, a charming bakery offering a variety of teas and cakes. Your eyes as well as your taste buds will be very pleased, as you enjoy that fluffy muffin while observing the lovely furnishings.
Saatchi Gallery
If time permits, allow yourself to indulge in some contemporary art at the Saatchi Gallery. The exhibitions focus on young artists and international artists who have rarely been seen in the UK. Admission: free
In the afternoon, make your way to Victoria Coach Station for Brigit's Afternoon Tea Bus Tour! The tour starts at 5pm.
Enjoy a cup of English tea as you move through the city on a Brigit's Bakery vintage double-decker. You will be provided with a guided commentary of various landmarks that you will pass by, such as Big Ben, Parliament Square Elizabeth Tower – Houses of Parliament, Westminster, Harrods, Marble Arch and Park Lane. Adult price: £45
Pro tip: Your 3-day tour of London is not complete without tasty delights. Many of the places below also serve up a mean afternoon tea so if you are looking to rest your feet and stuff your face with delicious scones and English tea be sure to also read my guide on London's cheap afternoon tea or where to get themed afternoon teas in London.
Day 3 – East London and Greenwich
The perfect 3 days in London ends with seeing where Londoners mostly hang out.
Shoreditch
This area is like a huge open-air art gallery in East London. Each street, each corner of the house, even pavement is coloured with drawings of animated heroes, expressive portraits and hidden messages from street artists.
Locals describe this part of London as a gathering place for artists, where every passerby is in some way, touched by art. Oh, it is also a vintage heaven!
There are many vintage shops, where you can let yourself go, including Atika and Blitz London, which has 2 floors! I have covered in detail top things to do in Shoreditch on the blog.
In case you get hungry, do not fear, Shoreditch has got you covered! All types of street food, as well as a number of cafes, shops and restaurants of different cuisines are there to get you through the day with a happy stomach!
Pro Tip: There are plenty of cool hotels in Shoreditch if staying in a cool and hip neighbourhood in London is also high on must-dos.
Spitalfields Market
Spitalfields Market is a must-see. Famous for the antiques that, in addition to being sold at reasonable prices, are authentic bargains. Specialized stalls are housed under the same roof, uncovering some great secrets.
You can purchase art, gifts, antiques, clothes from young London designers or stumble upon delicious restaurants, coffee and tea shops. A perfect place to buy souvenirs or gifts for those waiting for you at home.
Opening times:
Mon to Fri: 10am — 8pm

Sat: 10am — 6pm

Sun: 10am — 5pm.
Pro tip: From Shoreditch, the best way to get to Greenwich is to get on the overground line at Shoreditch and change for DLR line at Shadwell. Get off at Cutty Sark on DLR and get ready to explore this beautiful part of London.
Afternoon
The Royal Observatory and National Maritime Museum
Located in a beautiful green area of Greenwich in South London, within the buildings that form part of Greenwich World Heritage site, there is a Maritime Museum and Observatory. I have also shared a handy guide with top things to do in Greenwich.
The exhibition highlights the importance of the sea, ships, starts and time. You will be able to see a collection of figureheads from 17th to 20th century.
The Royal Observatory was constructed in order to study astronomy and to fix longitude. In the 20th century, the scientific works were transferred elsewhere and remains a tourist attraction.
Royal Naval college
This was the favorite palace of Henry VIII, and birthplace of Isabel I and Maria. After the English civil war, the palace was demolished in 1694.
The current building was built between 1696 and 1712, to be the Greenwich Hospital for retired sailors. It is considered a masterpiece of English Baroque and is a World Heritage Site. Entrance fee: £14
Greenwich Market
Also belongs to the World Heritage site and dates back to the 15th century.
A truly vibrant spot, filled with a range of smells, sounds and flavours! Take a look at some crafts and try out some food you haven't dared to try before!
It is worth mentioning that on weekends it gets pretty busy, but that doesn't take away any of the market's charm.
Open 7 days a week 10am-5.30pm
Pro tip: Still want to explore into the night? Then check out my post on cool things to do in London at night. If you want to experience nightlife in London then check out this guide with areas in London for nightlife.
General tips on getting around London
Touring London in 3 days can be cheap with the use of public transport combined with walking the city streets. There are a number of safe and reliable ways to travel around London:
London Underground (Tube) is a fast way to travel across the city. It is divided into nine zones: central London is covered by zones 1-2.
Oyster card is the cheapest way to pay for rides. You will have to pay 5 for the card itself, however it will help save up to 50% on your travels – a Tube journey in central London costs £2.40 with Oyster or £4.90 with cash; a single journey on a London bus costs as little as £1.50 with Oyster. Another positive side about Oyster is price capping – travel as much as you like; your card will automatically cap at the best daily fare, allowing you to travel stress-free across the capital.
Alternatively, you can pay for your journey on London Underground, tram, DLR, London Overground, and National Rail services that accept Oyster with a contactless payment card.
Contactless payments work in the same way as Oyster, charging customers an Adult-Rate Pay-As-You-Go fare when they touch in and out on TfL readers at the start and end of every journey. To benefit from the capping, you must touch in and out on every journey.
Tube services usually run from 5am until midnight, with Night Tube on Fridays and Saturdays on the Victoria, Jubilee and most of the Central, Northern and Piccadilly line at the same price as a day ticket.
London buses:
London buses operate overnight, the night schedule is slightly different from the day schedule, so make sure you check the times before travelling.
IMPORTANT. Make sure you top up your Oyster Card before you get on the bus, as you will not be allowed on the bus if you have insufficient balance. For more information, check TFL.
To help you plan your journey, we recommend the transport and direction app Citymapper, which will basically do all the journey planning for you. All you need to do is select a destination.
London Boat Services And Uber Boat Thames Clippers():
You can use an Oyster card or contactless card on the River Bus service operated by Thames Clippers. This is a great way to travel if you want to avoid crowded buses or tubes. The fleet of 18 high-speed catamarans depart from major London piers, every 20 minutes.
With 23 piers across London, you can explore some of London's top attractions. By the way, it is a convenient way to reach Greenwich.
Make Use Of The Hopper Fare In London
The mayor of London introduced what is called The Hopper fare. This allows passengers to make unlimited journeys on London's bus and tram network for £1.50 within one hour of touching in.
The Hopper fare makes bus travel in London that much more affordable and accessible to everyone. Hopper is one of a range of measures that the Mayor introduced to encourage people across London to switch from their cars to public transport but you as tourists can also take advantage of that.
The Hopper is automatically applied to the journeys of anyone who uses the same card or mobile device to pay as you go with a contactless payment or Oyster card, meaning you get to save money whether you live or work in or visiting London.
Best Time To Visit London
When it comes to the best time to visit London, London is one of those cities that is amazing in all weather. Yes, it can look miserable when it raining but if you are creative you can still enjoy this beautiful city even in Autumn or winter.
If you are a photographer I encourage you to visit during the wet and rainy season because this offers you an opportunity to take some amazing reflection shots of cool attractions reflecting in the beautiful rain puddles.
Visiting London in the summertime offers beautiful bright days to check out the cool rooftop gardens and beer gardens where you can throw away this itinerary and just take each day as it comes with a cocktail in hand.
Whenever you decide to visit, I have shared a guide on what to wear in London in winter and a guide to what to pack for London in spring and summer.
Where To Stay In London
Now that we have covered the London travel itinerary 3 days above its time to talk about where to stay in London.
London is amazing and whether you are visiting for a weekend, 2 days or 5 days but depending on how long you are staying in London, I would advise you to choose carefully so as to make sure you are staying somewhere that offers easy access to attractions.
Particularly if you are only in London for a short stay. If you have a short stay I would suggest staying in central London, that way many of the hotels are within walking distance to attractions.
Check out my guide on hotels in London near London Eye and hotels near London Victoria.
If you are on a budget then check out my guide on hostels in London. If you want hotels with self-catering I have a handy guide on the blog but overall I have an extensive guide with tips on choosing the best areas to stay in London linked above. If you have an an limited budget for your accommodation, then check out our guide on London's luxury hotels, 5 star hotels with spas as well as these stunning London hotels with views.
There you have it, the best way to travel in London for 3 days. I have I provide an insight into great ways of touring in London in 3 days and the cool must-see places in London too.
As always if you have questions, comment below and I will try to help to make your London trip as perfect as possible.