Last Updated on 22 July, 2023
When you live in London, it can sometimes be overwhelming exploring when everyone is flocking to your city. Once you get over that shock, its this vibe of people, the weather that makes being in London in summer all that much more fun.
So, with that in mind, I thought I would provide an ultimate guide to unmissable places to visit in London during summer.
There is something for everyone, whether you are visiting with kids, adults friends, girly and guy weekends in London. Fear not, there is something cool and fun for all.
Chill out sessions in London's beer gardens, palm off the kids to run wild in parks while as you collect the award for coolest parent of the year award. Many of the below are free or don't cost a lot of money either but I have some tips on how to save money in London on the blog.
When Is Summer In London?
Summer in London is typically considered to be the months of June, July, and August. During these months, the weather in London is generally warmer and sunnier, with average temperatures ranging from 14 to 20°C (57 to 68°F). It's a popular time for outdoor activities and events, as well as for visiting the city's many parks and gardens. However, it's still a good idea to be prepared for occasional rainy days, as rain is possible in London throughout the year.
June: The weather in June in London is typically mild to warm, with average temperatures ranging from 13 to 20°C (55 to 68°F). There is generally more sunshine and less rainfall compared to other months, but rain is still possible. You may also experience some occasional cool or damp weather, especially in the early or late parts of the month. It's a good idea to pack a light jacket or sweater, as well as some layers that can be added or removed as needed, as the weather can be variable. Sunglasses and sunscreen are also recommended for sunny days.
July : July in London is typically one of the warmest months, with average temperatures ranging from 15 to 22°C (59 to 72°F). There is generally more sunshine and less rainfall compared to other months, but rain is still possible. Just like in June, its possible to experience some occasional cool or damp weather, especially in the early or late parts of the month. It's a good idea to pack light and breathable clothing, as well as some layers. Sunglasses and sunscreen are also a must for July.
August: The weather in August in London is typically warm to hot, with average temperatures ranging from 16 to 22°C (61 to 72°F). There is generally more sunshine in August and less rainfall compared to other months, but rain has still been known to scatter in August but rare. Again, it's a good idea to pack light and breathable clothing, especially for the evenings when you may find that some days the temperature dips a little. Sunglasses and sunscreen are also well recommended for August days in the sun.
Things To Do In London In The Summer
While planning what to wear in London in the summer can be tricky, I have always found that while we may get overcast clouds and a few showers weather in London in July and August are always great! Particularly in the last few years. Thanks, climate change! She says sarcastically.
June is a practice run and July and August always come through. So yeah, with or without sunshine, London is an amazing city to explore. Below are some of the coolest and fun things to do in London during the summer holidays.
Note that this guide also goes beyond the more touristy guide of exploring London in two days as well as the free things to do in London. Plenty of activities below both for locals and visitors to London. Before you ask, there will be no mention of the 'C' word, because we are trying to project hope around here. So for inspiration on fun things to do in London this summer keep reading.
Explore Thames River Walk Attractions
If there is one thing I can recommend to visitors not to miss in London, its a walk along the stretch of the Thames River offers not only amazing views but many of London's best tourist landmarks not to miss.
You can walk from Westminister Bridget after exploring the Westend, and this is where you will of course find London Eye and Big Ben, there are plenty restaurants, the London Aquarium is also located here, continue walking towards London Bridge and you will pass Tate Modern which has the free galleries and viewing decks too.
Across from Tate is St Pauls and Millennium Bridge. Continue walking and you have Borough Market, The Shard, Tower Bridge and Tower of London across the river.
I recommend packing comfortable travel shoes as you will not want to be on the London underground in the summer so walking is best! That way you can also walk off all the delicious food you will find along the river.
Katherine Docks
This little jem is not known by many London visitors. This is the London marina that dates back to the 11th century. You can find cute little markets, shops and restaurants here.
What most don't know is that its also on the list of hidden gems for Instagrammers and photographers as you have an amazing view of Tower Bridge and Shard.
If you visit later in the year you can also check out the Classic Boats Festival. Its located across the road from the Tower of London so easy to get to. Nearest Station: Tower Hill/Tower Gateway.
Explore City Parks
Want something to do in London that won't break the bank but still enjoyable? Parks! Yes, London has many beautiful parks.
A friend of mine used to organise so many meetups that would end with a picnic in the park. So grab some friends and family, bring some picnic blankets, snacks, games and make the day of it.
I have documented many of these on the blog if you need inspiration you can check them out. From Regents Park, Hyde Park's hidden Italian Garden, the beautiful Greenwich Park, St James' Park, Battersea Park's cool Peace Pagoda and many more that will be on the blog soon.
Pedalo In The Park Lakes – Hyde Park, Victoria Park, Greenwich Park
As I have mentioned above, London has plenty of amazing parks. Greenwich Park alone is 183 acres where you will find the Prime Meridian and Royal Observatory.
In addition to the Rose Garden, Wilderness Deer, Pavillion, you can find rental boats and pedalos in 3 of London's parks; Hyde, Victoria and Greenwich Park.
There are different tiers of prices for before and after noon as well as per hour or half-hour blocks. You can also do a family hire for £30 for one hour. Find price details on the Royal Parks website.
Head To The Beach – Yes, In London!
Yes, while London may not be costal we do get creative during the summer. When life gives you the Thames, you make lemonade?
Well, I doubt that's how the saying goes but creative we are so, come summer you can kick off the flip flops and get sand in between your toes on the Secret beaches in Kensington – be sure to book well in advance as they only have a few sun loungers. Then we also have one in Bloomsbury, on Southbank, Fulham and Ruislip Lido. For details check out here. You can also find a beach in Bermondsey too.
Butler's Wharf
This is one of my favourite spots in London so of course, it had to make the list. There is a nice little fountain in a little hidden square with cafes around it. There are benches to sit outside unless you want to sit on the outdoor cafes chairs.
There is a cafe that sells delicious gelato so don't miss out on that. The riverfront just by Butler's Wharf is also lined with restaurants.
If you have time don't forget to check out the Paul Smith Design Museum. Location: Butler's Wharf is on the north bank and directly opposite St Katherine's Docks.
Dine On A River Cruise
This is another one of my favourite things to do in the summer. Imagine a little summer evening breeze on a cruise on the Thames. Nice music, delicious food being served to you as you make nice conversation with great company.
Yes, the best things summers are made off. I have shared a post for inspiration on our London Thames Dinner Cruise.
I have also gifted my sister in law with afternoon tea on the Thames and both are were hits. Perfect for love birds as well as 'girls who lunch'.
Riverside Restaurants
What lazy summer days are made for? Call some friends and pick a spot on the Thames for some food and people watching. My favourite thing to do, even better if you can spot solo travellers and their selfie-sticks. It's pure entertainment!
Yes, I am going to pretend I haven't been on the other side when I am traveling. We are not talking about me here.
The pouting, a million shots to get to the perfect one, yes, even when you think you are alone, someone is always watching.
If the entertainment fails to turn up, grab a bottle of wine and get outside seating at a restaurant, get lost in some good conversation with friends and that's the summer sorted for you.
Places I would recommend include The Yacht London, Oxo Tower Brasserie and Restaurant, Chelsea Riverside Brasserie, Butler's Wharf Chop House, too many more to name.
Cool Off The Summer Heat In London Lidos And Outdoor Pools
While our summers might sometimes be on the dodgy or soggy side. When they cheer up, they are hot! So, how do Londoner's cool off I hear you ask?
We get naked, well not literally but we have fewer clothes on that's for sure, some even take a dip. A dip in the amazing London Lido and outdoor pools. Definitely among the best places to visit in London in summer if you want to keep cool.
There is London Fields Lido, Serpentine Lido in Hyde Park, Hampstead Heath swimming ponds, an outdoor pool at Oasis Sports Centre, Tooting Bec Lido, Charlton Lido, Finchley Lido, Brockwell Lido, Hillingdon outdoor pool, Parliament Hill Lido, Hampton Pool, Park Road Leisure Centre outdoor pool and Richmond Park Pool.
Prices for all these range from £4.50 for children and concessions to the highest being around £8. Many are around the £6 mark.
You can also head to the Beckenham Place Park swimming lake! This will only set you back £3. My favourites are Seperpentine and Park Road as you can chill out in the sun on the grass on the edges of the water.
Chill or Paddle Boarding On Regents Canal
If you love a good adventure, then head on to London's Little Venice. This is another one of my London favorites. You are welcome to chill by the canal's edge but for something more fun, I highly recommend trying out the paddleboarding on Regents Canal.
Lessons and sessions last from 1.5 hours, 2 and 3 hours and prices from £49 to £90. There is a discount for those returning customers. They also run these in Richmond, Brentford and Kew Bridge. Check out Active 360 for details.
Visit Cutty Sark
This is the last known surviving 19th-century tea clipper ship and after much restoration work reopen its doors welcoming young and old aboard. Explore its history on interactive displays.
They run family-friendly events but if you want to visit with friends they also do a lovely afternoon tea under the hull. You can purchase joint tickets with Royal Observatory, which I have talked about in my guide on things to do in Greenwich.
Ticket Prices: Adult £13.50/Children 7. Nearest station: Cutty Sark – DLR/Greenwich – Overground Rail.
Visit Colombia Road Flower Market
This is a little gem that brings fragrance as it transforms a London street into a Sunday Market.
The street blossoms into a garden for a day when you can find over 60 independent shops alongside the flower markets, from art galleries to cupcake shops and cute cafes and restaurants.
This place is exactly what Sundays are made of. London also has plenty of other markets if Colombia Road is out of the way for you.
Chill In Rooftop Bars
So, you have explored London in the day time and as the evening draws near, what now? I recommend checking out the many cool rooftop bars in London.
Enjoy views of the city skyline as you put away delicious cocktails. Same as Madison's Bar in the city also has a big screen and deck chairs so you can watch Wimbledon matches too. So, pull up a chair, grab a beer and enjoy the rest of the evening at ease.
Enjoy Afternoon Tea In The Park Or Your Garden
While there are plenty of affordable afternoon teas in London, did you know you can actually have one to go? Yes, there are hotels that offer Takeaway Afternoon Teas in London. Lancaster Hotel, The Arch London, The Park Tower Knightsbridge and BB Bakery, the people behind the Route Master Afternoon tea I have blogged about.
The beauty of all four of these places is that you can grab your afternoon tea and stroll to Hyde Park and enjoy a packer hamper with mini Britsh and French treats. From delicious scones and macaroons to sandwiches. Prices start from £19 person.
Enjoy Open-Air Film Festival At Somerset House
While you can find open-air cinemas held summertime at Blenheim Palace, Waddesdon Manor, in London we have Somerset House!
Grab your partner or group of friends, a blanket, a picnic hamper and head to Somerset House for Film4's Summer Screen Film Festival. Held from mid-end of August. "As the sun sets over the London skyline on a balmy summer evening, live DJs spin a soundtrack inspired by the upcoming screening and a delectable selection of food and drink is served up".
The open-air film festival has been held since 2005 for film fans to gather on the cobbled stones of the courtyard to watch movie classics, cult and contemporary films.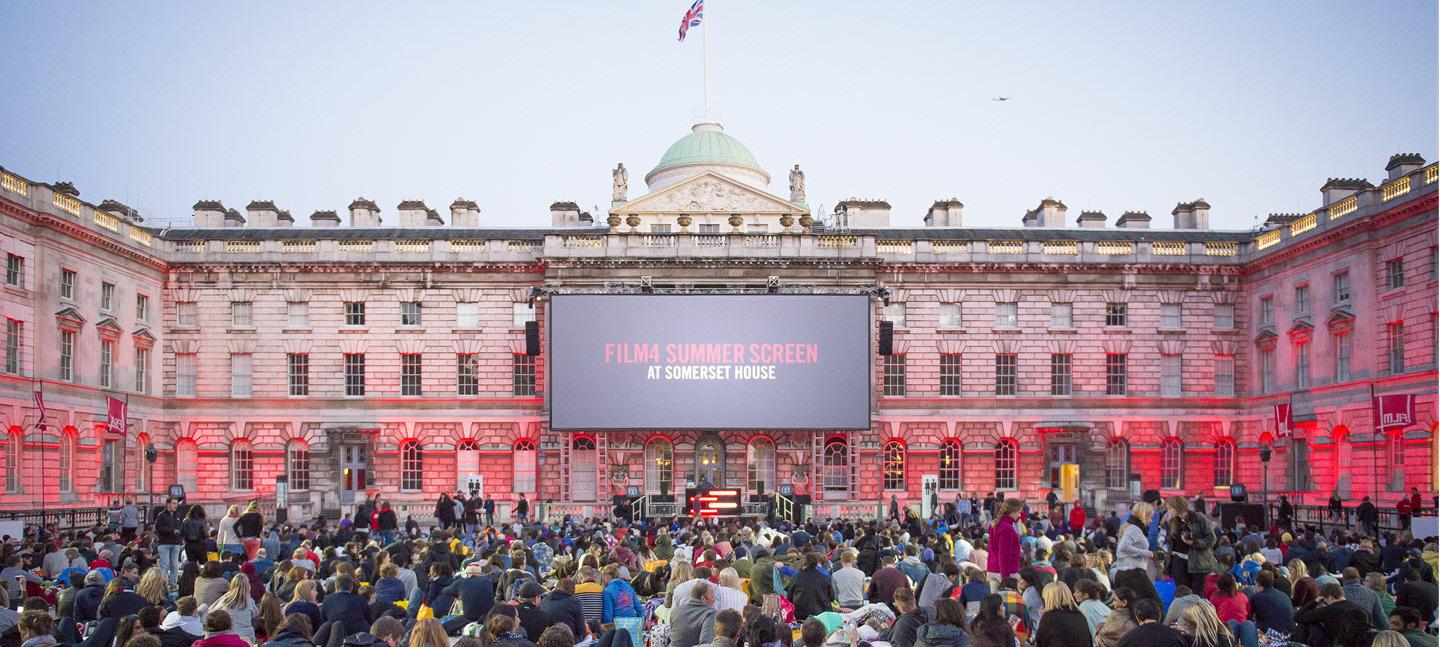 Explore A Hidden Gem In the city that is Barbican Consverstory.
Again, this another hidden gem that many Londoners and tourists alike don't know about or underestimate leading them to miss out on . Barbican houses not only an art gallery but also a lovely conservatory.
Hidden away in corridos of Brutalist architecture. Once you locate it, it offers a little respite from London's hustle and bustle, considering its right in the middle of the city of London. There are places to sit and chill, cafes, fountains and I just love that it allows you to forget you are in London while you visit.
They also play host to many events, from music to film and you can even have afternoon tea in the conservatory, which is just a little oasis in the middle of the chaos. On one of my visits they had this amazing Rain Room installation.
Free Things To Do In London During Summertime
Museums – I have shared a guide with London museums with free admission.
Parks – As above, you can bring your own games and snacks.
Free Entertainment – Every summer, you can find free entertainment on the Southbank by the National Theatre. You have performers, from singers, dancers, and mini-shows, just make sure you grab a front seat.
Free Events – See below for additional events to watch out for in the summer.
Cool Things To Do In London in Summer With Kids
Pack some additional clothing and let them run wide at the Southbank Water Fountain.
Grab a spot near Diana Prince of Wales Memorial Playground in Kensington Gardens
Explore Natural History Museum give them stories to fill their summer holidays.
Join along and connect with your inner kid at Kidzania.
Be in awe of mother nature's creatures at London Zoo, there is another smaller kids zoo within Battersea Park too and a third cheaper.
Escape the hustle and bustle and get some quiet time at London Wetlands Centre
Notable Special Summer Events In London Not To Miss
There are plenty of events in London parks that are not to be missed. Below are some of the very best events in London in the summertime. Both indoor and outdoor events.
London June Events Not To Miss
Royal Ascot – A horse-racing festival that has been going strong since Queen Anne founded it in 1711! You can take family as well make a day of it friends. Check out the details on their official page.
Taste of London – An event dedicated to delicious food and held in the beautiful Regents Park. The event brings together 40 of the city's most inspirational restaurants where you can dine and take part in masterclases. There is also live entertainment. The festival is held annually usually mid June.
Beating Retreat – This is an evening military concert with a marching display marking the lowering of the Regimental flag at sunset.
West End Live – I love a good show and if you are up for sampling London's best theatre shows, then this is an event not to miss. This event is free and held in Trafalgar Square. You can see performances from London's top shows from Wicked, to Mamma Mia, Book of Mormon and many more.
Trooping The Colour – Another must-see held every year for the Queen's birthday. Trooping The Colour is a military parade of officers and horses with a marching band on Horse Guards Parade. The tradition dates back to 18th century.
Polo In The Park – Held at the beginning of June, Polo in the Park is a high-speed horse event that brings six global teams to compete.
Hampton Court Palace Festival – A musical festival held in Hampton Court Palace gardens and showcases many of Britain's music talents.
Open Garden Squares Weekend – I have talked about London's amazing park, did you know that London's private and secret gardens are open to the public for one weekend every June? Check out the Open Squares website for details.
London July Events Not To Miss
RideLondon Cycling Festivals – An annual event bringing thousands of cyclists from top professionals to families who descend on the capital. Many of London's popular and busy roads are closed to traffic for the mass ride for all.
Sail Royal Greenwich – Held beginning of July bring a host of beautiful, quirky boats, large and small to the Thames. They leave from Royal Arsenal Pier making their way towards the city. See if you can bag yourself a seat on one of them.
Pride London Parade – Pride parades take place in many cities across the globe, the London Pride Parade is held the first weekend of July. Where you can celebrate the diverse LGBT culture and community.
Art Night – A few of London's landmarks are transformed. For one day between 6pm and 6am you can find multimedia installations, video projections and musical performance all around the city.
Wimbledon Open Tennis – Enjoy the best tennis players battle it out on the grass for the to be crowned Wimbledon champion. Seats are hard to come by but if you haven't got a centre court ticket, mingle with the rest of the people on the mound to watch the tennis with a community spirit.
London August Events Not To Miss
Notting Hill Carnival – This is Europe's biggest street festival where you can shake what your mama gave you. Held since 1966 to celebrate Caribbean culture. Held during the August bank holiday weekend.
BBC Good Food Feast – Another festival held at the end of August within the Hampton Court Palace grounds showcasing everything from health-conscious treats to chef demos of cool kitchen tips and tricks.
East London Waterways Festival – A festival celebrating the reopening of Carpenters Road Lock in Queen Elizabeth Olympic Park. Enjoy boat rides or hire pedalo on the lock. There is live music and other entertainment for the day.
Kids Week – A month-long event held in August where there are a host of cool and free things on offer for the young generation. On offer are free theatre tickets for under 16s in addition to activities and workshops. Find out more at Kids Week.
Film4 Summer Screen Open-air Film Festival – As mentioned above, this is one not to miss. Held 10-23 August although dates might vary a little.
BBC Proms – Held annually, BBC Proms is a classical music festival held at the Royal Albert Hall. The Proms run from 17 July to 12 September.
Underbelly Festival – Held on London's Southbank, this is a packed schedule of comedy, circus, cabaret, and family shows where you can also find plenty of street food stands and London's largest outdoor bars to serve you while you are entertained. Starts June 1st.
What To Pack For A Trip To London In Summer | What To Wear
We have covered a lot on what to wear in London in Summer here. But for a quick run done below are some must have items for a trip to London.
When packing for a trip to London in the summer, it's important to be prepared for variable weather, as temperatures can range from warm to cool, and rain is always possible. Here's a list of the best things to pack for a summer trip to London:
Light and breathable clothing: Pack clothes made from lightweight materials like cotton, linen, and rayon, as well as some lighter layers for cooler days.
Rain gear: A small umbrella is a must, as rain is possible throughout the summer.
Sunscreen and sunglasses: Protect your skin and eyes from the sun on warm and sunny days.
Comfortable shoes: London is a walking city, so pack comfortable shoes for exploring the city on foot.
A light jacket or sweater: Even on warm days, air-conditioned buildings can be cool, so it's a good idea to pack a light jacket or sweater.
A hat: A hat can provide extra protection from the sun and can also be useful on windy days.
Portable charger: Be sure to keep your devices charged up so you are ready to take pictures of your memories in the city.
Planning Your Trip To London
So, with all these cool and fun things to do in London who has time to be bored!
Planning A Trip To London? Also Read:
---
Read All London Seasonal Guides:
London Monthly Guide:
January | February | March | April | May | June | July | August | September | October | November | December