Kensington in London offers locals and tourists some of the best shopping in the country, if not the world. From high-end boutiques to arty shops selling unique items, there is something for all tastes in Kensington. While the whole borough has an amazing list of cool things to do in Kensington, shopping here is very high on the list with Harrods being on the list of must-see places for many tourists visiting London.
We recommend allocating at least a day or two to be able to take in everything that the area has to offer in terms of shopping as the selection is vast and you will find it difficult to choose between the various shopping areas.
Best Places For Shopping In Kensington
There are plenty of people who visit London simply for a trip of retail therapy, in addition to Bond Street and Oxford Street, shopping in Kensington is among those places where people come to burn plastic. You can also opt to stay in Kensington to be close to the shopping mecca of all that is luxury in London. There are plenty of Airbnbs in Kensington, cool boutique hotels and for those looking for luxury, there are stunning luxury hotels and apartments.
Knightsbridge
Knightsbridge is home to 2 of the most popular department stores in the country, if not the world: Harrods and Harvey Nichols.
In addition to these iconic department stores, there is a plethora of luxury shopping available in the area. If you have never visited Harvey Nichols or Harrods, be sure to pay at least one of them a visit as they literally sell everything under the sun: from groceries to cosmetics, to high-end fashion to exquisite accessories. You would be surprised at what you can afford in these luxury department stores, even though they are considered to be 2 of the most exclusive department stores in the UK.
After you have had your fill of shopping for while, why not stop for a coffee in Harrods or treat yourself to one of their sumptuous afternoon teas? We covered tips on some of there best afternoon teas in Kensington and Chelsea.
Peter Jones is also another exclusive and very high-end department store that should not be missed. Entering the store, you may feel overwhelmed at the amazing choices and the large variety of famous brand name garments and accessories. Take your time and remember to savor every moment as this is a very special place to shop.
Kings Road
If you have never shopped in the Kensington area, Kings Road is the perfect place to start. King's Road offers the best shopping in Chelsea. It is centrally located to most of Kensington and boasts over a mile of some of the most amazing shopping in the country!
All you need to do is put on your walking shoes and head over to Kings Road where you will be spoiled for choice with over 160 popular shops.
It doesn't matter what you are looking for because chances are, Kings Road will not disappoint.  You will love the classic, traditional shops, as well as the pop-up stores that feature every once in a while.
When it comes to shopping trends, Kensington is always one step ahead and you can definitely learn a thing or two by the fashion that is showcased in the shop windows along this road.
Walking along Kings Road, you will notice that it is a veritable melting pot of a range of tastes, goods and styles. You can find anything from vintage to the latest fashion and beautiful, branded clothing from some of the UK's most talented designers.
The staples of Kings Road include all the most popular (and some indie) boutiques together with newer, stores featuring makers and sustainably-minded fashion designers and entrepreneurs.
If you start to feel tired while shopping, you could always stop and grab a bite to eat at one of the trendy cafes or restaurants and then continue with your shopping spree. Having lunch or an afternoon tea at an eatery in Kings Road is part of the experience, so make sure you savor every moment!
We recommend allocating at least 4 hours to exploring Kings Road as it is more extensive than you think!
Sloane Street
When you feel like something a little luxurious that has been designed by one of the world's most talented designers, head over to Sloane Street where you will find shops that form some of the most exclusive and most luxurious shopping around.
This area is the perfect shopping spot as it is conveniently located right in the middle of Chelsea and Kensington, which are both world-renowned shopping hotspots.
Luxury boutiques abound on Sloane Street and there is a lot of choice. It is the perfect place to pick up an outfit for a special occasion or to shop for a unique and classy gift for someone close to you.
We highly recommend taking a relaxing stroll down Sloane Street and enjoying taking in all the beautiful storefronts which offer some of the catwalk's top and most iconic luxury labels, plus shop attendants who love to help and offer some of the most amazing services.
Brand name shops that you can expect to see in Sloane Street include the likes of Chloe, Roberto Cavalli, Rag & Bone, Alberta Ferretti, Dolce and Gabbana, Tom Ford,  Giorgio Armani, Salvatore Ferragamo, Valentino, Saint Laurent, Marni and much more.
If you love shopping, be sure to leave yourself a healthy budget for Sloane Street as you will be tempted by everything it has to offer and more!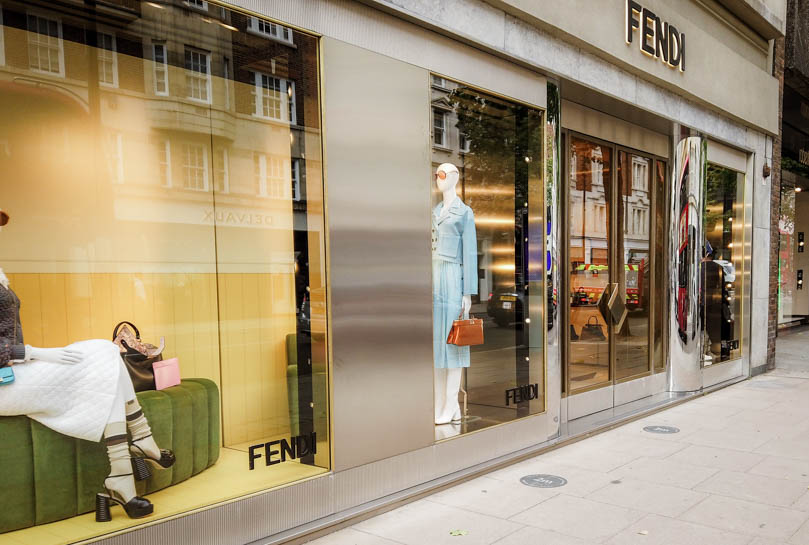 High Street Kensington
Kensington High Street is another must-do shopping experience. With the backdrop of Kensington Palace and the classy atmosphere, this is a shopping spree that you shouldn't miss!
With the likes of Urban Outfitters, Trotters, Jigsaw, L'Occitan and Columbia Sportswear, there is plenty to choose from. If you are feeling particularly health-conscious, why not pop into Whole Foods in Kensington High Street which is London's largest branch?
In addition to the brand name stores and boutiques, Kensington High Street is also home to a wide range of restaurants, bars and cafes that are trendy and hip.
Right in the centre of Kensington High Street (where it is intersected by Kensington Church Street), you will find a lovely flower shop and a pretty church. It is here, in the leafy section of the high street, that you will find the best fashion stores. These are like the area's hidden gems and best kept secrets as they don't see as much foot traffic as other parts of the high street. Look out for your favorite British designer, high end labels including Sweaty Betty, L.K.Bennett, Reiss and Neal's Yard Remedies.
Shopping on Kensington High Street is definitely one of the best experiences in the area but do remember to wear comfortable clothes!
More On Kensington:
Best Pubs Near High Street Kensington