Kensington borough is synonymous with luxury and is home to several high-end hotels. The five-star hotels in Kensington assure guests of sophisticated accommodation, personalized services, and varied amenities.
We have covered top things to do in Kensington, amazing cafes to check out in addition to cool places for brunch in Kensington, below are our favourite luxury hotels to check out.
10 Amazing 5-star Hotels In Kensington
Kensington is home to small luxury hotels as well as large stunning hotels with rooms that you could admire all day.
In addition, many offer easy access to shopping and entertainment as well as must-see attractions like Kensington Palace where Royals like the Duke and Duchess of Cambridge live.
So if you are after a luxury 5-star hotel in Kensington or South Kensington, you are in for a treat!
Milestone is an intimate hotel located right in the middle of Kensington and Knightsbridge districts. The hotel overlooks the Kensington Palace and Gardens and has modern and luxurious rooms with en-suite bathrooms for their guests.
The rooms' antique furniture gives it a romantic ambiance, accentuated by fresh flowers and delicate fabrics. Modern amenities in the room include a mini-bar, flat-screen television, DVD player, work desk, and seating area.
Guests also enjoy room service daily, which includes several complimentary treats.
For meals, guests in this 5 star South Kensington hotel are served at the Cheneston Restaurant, which offers a wide range of traditional dishes.
The meals are prepared using organic ingredients sourced locally, and drinks are also available at the Stables Bar with 400 vintage wine options. Alternatively, guests can enjoy a cup of tea or sip cocktails at the hotel lounge or chic conservatory.
To unwind, guests can enjoy a 5-star treatment at the in-house spa, fitness centre, or resistance pool. Sightseeing is also a great way to explore with many attractions nearby such as Hyde Park, Royal Albert Hall, the Victoria, and Albert Museum. Check rates and availability here.
Located in South Kensington, Number Sixteen is the epitome of glamourous accommodation and among the best stays in 5-star hotels in Kensington and Chelsea.
The hotel boasts of an ultra-chic interior and contemporary design that extends to the rooms. Each room has elegant furnishing comprising luxurious fabrics in bold colors.
Some of the rooms feature French windows that lead to a small balcony overlooking a private garden. Besides the chic design, the rooms also have lots of amenities to ensure a comfortable stay. The modern amenities include mini-bars, satellite televisions, air-conditioning, and iPod docking stations.
Besides the bedrooms, the hotel has several public rooms open to guests that want to relax. Other places such as the conservatory, library, drawing room, and garden are ideal spaces to enjoy afternoon tea, served at the hotel throughout the day.
Guests can also venture outside and visit nearby attractions like South Kensington Underground Station and nearby restaurants, bars, and shops. Check rates and availability here.
Blakes is one of the leading luxury boutique hotels in the world sporting the unique Anouska Hempel design. The bedrooms are decorated using original artwork, elegant fabrics, and unusual antiques that draw attention to the interior décor.
Bathrooms in the rooms are also beautifully styled and filled with a hairdryer and complimentary toiletries. The modern amenities in the air-conditioned rooms include flat-screen televisions and iPod docking stations.
All the rooms enjoy 24hr room service, but guests can choose to enjoy fine dining at the sophisticated in-house restaurant.
The restaurant has an Asian theme and serves food presented creatively. Next door is the Chinese Room and bar, perfect for sipping cocktails and wines.
Although located in an exclusive area, guests at the hotel can still access the museum district, Leafy Hyde Park, Royal Albert Hall, and London Tube Station.
  The nightlife in the surrounding area is quite lively due to the many stylish bars near the hotel. Check rates and availability here.
Set in a Victorian building, the Ampersand is the perfect hotel for tourists and business travelers. The hotel has an impressive pillared foyer that ushers guests to a grand staircase with a cascading chandelier.
Bedrooms at the hotel have a unique design that features Victorian elements and bold wallpaper designs. The decoration extends to the en-suite bathroom giving guests a chance to enjoy a beautiful space.
Beyond the elegant room, guests can access several amenities such as free Wi-Fi, satellite television, and mini-bar.
The public spaces at the hotel include a games room and a fully equipped gym open to guests. For meals, guests can sample meals at the Mediterranean restaurant and later go to the sophisticatedly designed bar in the downstairs area.
On the outside of the hotel are popular tourist spots such as Hyde Park, National History Museum, Harrods and the Victoria and Albert Museum, which are only a few minutes away. Check rates and availability here.
Baglioni Hotel is prestige and exquisite luxury at its best. The hotel offers impressive views of Kensington Palace and gardens.
Guests enjoy a bright interior and stylish Italian interior when they walk into their room. For entertainment, guests get an interactive plasma television with free movies and music as part of the package.
A person butler service for all rooms and a spa are other exclusive services that guests can expect at Baglioni.
The Brunello Restaurant located within the hotel and right opposite Kensington gardens features diverse dishes prepared using fresh Italian ingredients to retain their original appearance and aroma.
Patrons are also welcome to try the 500 label wine list, including a Sassicaia wine collection. The hotel is near famous sights such as Kensington High Street, Royal Albert Hall, and Hyde Park. Check rates and availability here.
The luxurious hotel located in the middle of South Kensington shares a name with the popular royal borough. Each room has an en-suite bathroom and is equipped with various electronics such as a huge flat-screen television, free Wi-Fi, and plush bed linen. Guests also have access to the in-house fitness room filled with the latest gym equipment.
For meals, guests are ushered into the Town House Bar and Restaurant, whose interior has traditional and modern features. The eatery is open to guests looking to enjoy their meals for lunch or dinner.
The lounge area and drawing rooms within the restaurant are also other great places to enjoy your afternoon tea. Guests that decide to venture out can make their way to nearby attractions such as the Royal Albert Hall, and the National History Museum.
Shopping at luxury department stores like Harvey Nichols and Harrods are also a great way to spend the afternoon. Check rates and availability here.
The Adria is a Victorian-styled townhouse turned boutique hotel. Its lavishly decorated rooms are stunning and guarantee a comfortable stay for two travelers.
The elegant furnishings are a constant feature in every room plus a bathroom decorated in black marble with waterfall showers and underfloor heating. Guests can enjoy luxury amenities in their rooms, including an iPod dock, HD iMedia hub, expresso machine, and butler services.
Meals at the Adria are served across five lounges and include gourmet cuisine for all guests. For breakfast, guests get to choose dishes from a comprehensive menu and request particular dishes to be prepared by the chefs, if missing from the menu.
Lovers of tea and coffee can enjoy their favorite beverage at the hotel's open-air garden covered by a retractable roof in the afternoon or after dinner. Healthy juices and non-alcoholic cocktails are also part of the drink list at the Adria.
Guests can also access popular museums on Exhibition Road and Hyde Park, which are fifteen minutes away. Other attractions near the hotel luxury department store, Harrods, and Heathrow airport. Check rates and availability here.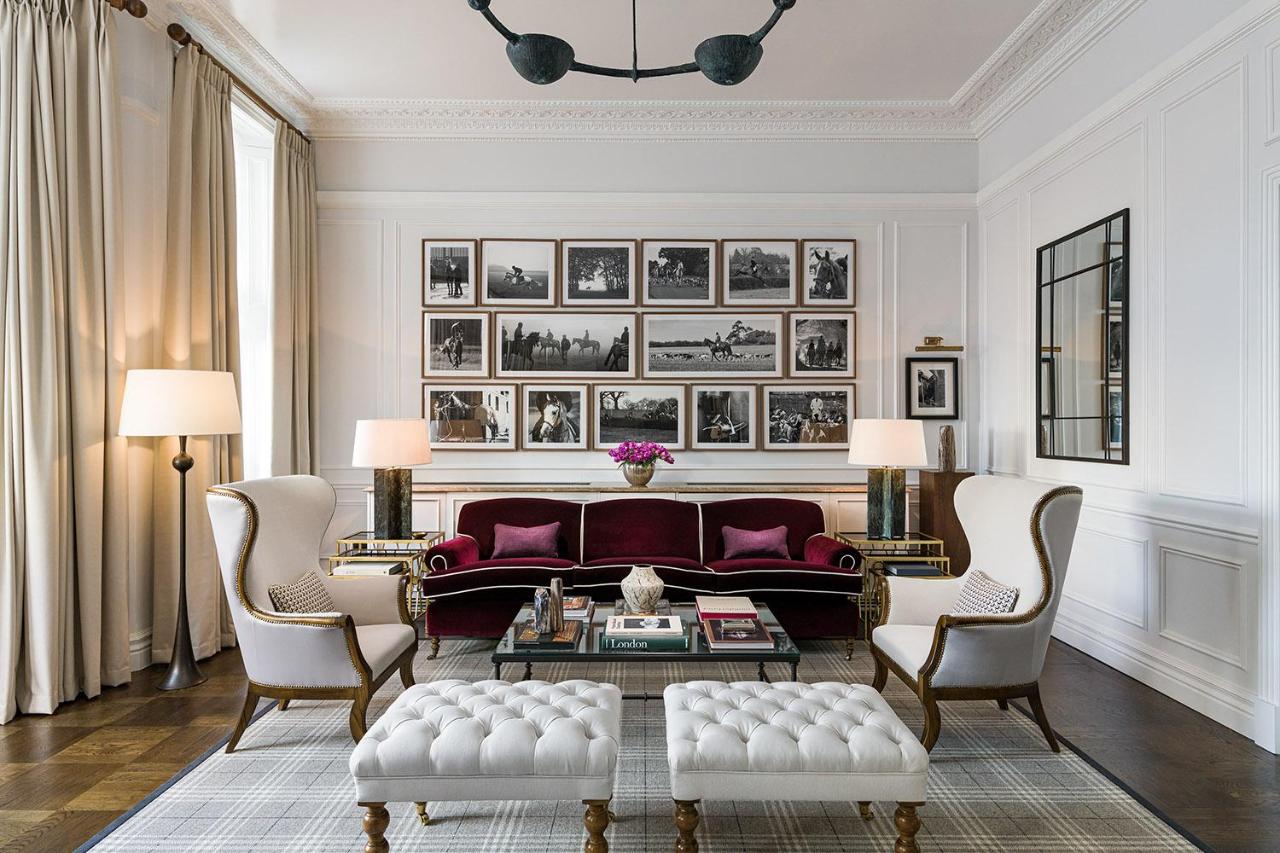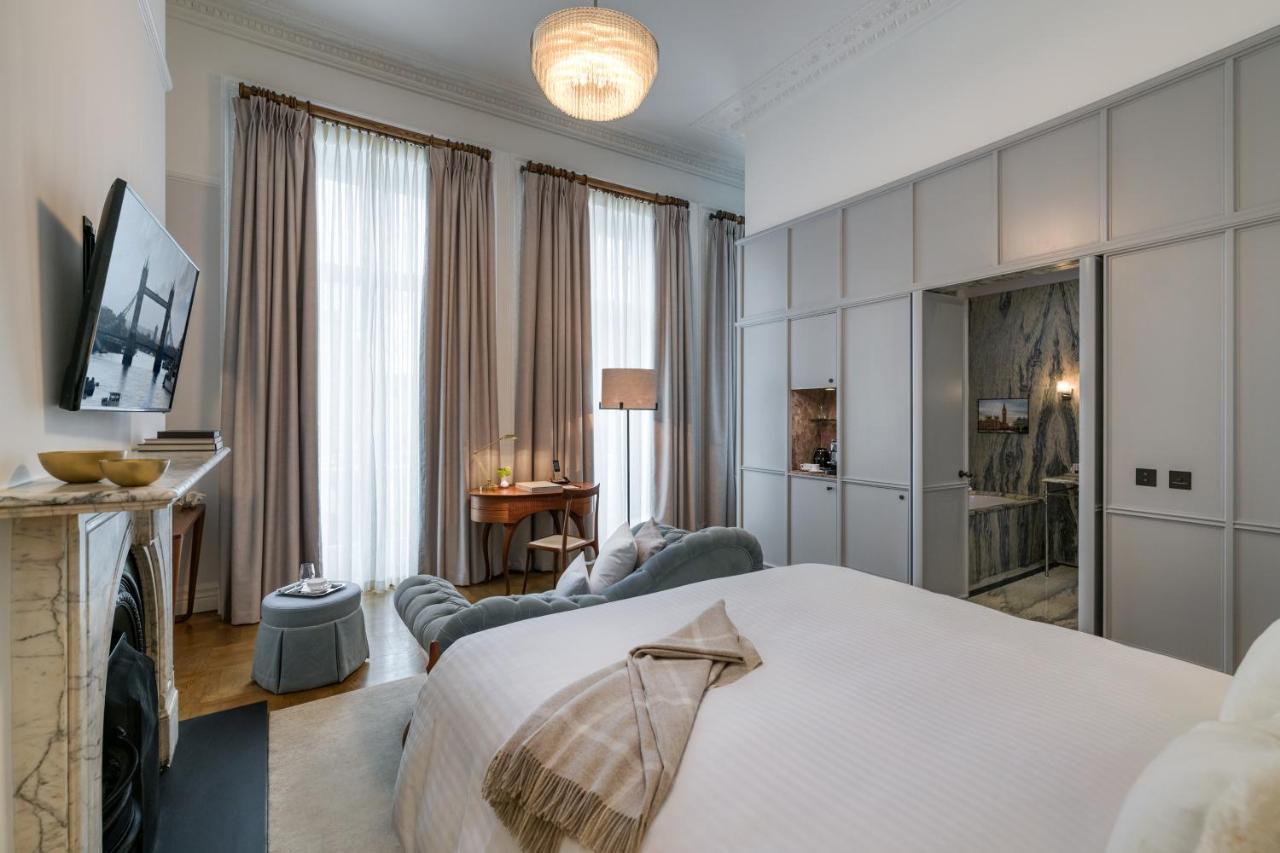 Cheval Thorney Court stands at the centre of Kensington with self-catering accommodation for guests. The apartments feature a balcony, dining area, and spacious lounge with comfy sofas.
Its fully equipped kitchen fitted with a dishwasher and washing machine makes food preparation and cleaning easier for guests. To relax, guests can access several modern amenities such as free Wi-Fi, DVD player, and flat-screen television.
Other unique services offered at the hotel are a daily maid service and a fitness centre that is open twenty-four hours.
The hotel has several interesting sights nearby, such as the National History Museum, Royal Albert Hall, and the Diana Memorial Playground.
For shopping, stroll to the neighboring Kensington High Street and Harrods, which is just over ten minutes away by bus. Check rates and availability here.
Located in a quiet neighborhood with spectacular London views, Royal Garden offers a perfect stay for a couple or business travelers. The spacious rooms have a classic design that extends to the bathroom fitted with all the necessary toiletries.
Amenities in the rooms include free Wi-Fi connection and private parking, which can be reserved. The hotel also has a business centre and health club that are operational all day and night.
Guests can enjoy a wonderful mealtime experience with the friendly staff at either the 3 AA Rosette and Mian Jing Chinese restaurants. Mian Jing offers spectacular views of Kensington Gardens from the tenth floor.
Guests that need to unwind after meals can visit the three in-house bars in the hotel.
The hotel is also near attractions like Royal Albert Hall, Hyde Park, Kensington Palace, and High Street Kensington. Check rates and availability here.
The Bentley Hotel, located in Chelsea and Kensington, offers luxury services to all its guests. Its beautifully furnished rooms have a walk-in bathroom and spa bath lined with marble.
Guests have access to several amenities in the room, including tea/coffee maker, mini-bar, flat-screen television, and free Wi-Fi.
The hotel also offers on-site facilities like a gymnasium, cocktail lounge, and the Le Kalon Spa, which provides guests with an original Turkish bath.
For meals, guests can enjoy sumptuous meals at Peridot Restaurant, which is a first-class establishment. The restaurant has a beautiful setting overlooking the gardens with menus for breakfast, lunch, afternoon tea, and dinner.
The Bentley Hotel is close to several attractions, such as famous museums, designer stores, and exclusive shops in Knightsbridge and Kings Road. Check rates and availability here.
Map Of 5-Star Hotels In Kensington

More On Kensington: