Looking for a guide to shopping in Chelsea? You've come to the right place! Chelsea is one of London's most upmarket and fashionable districts, with a wide range of designer boutiques, high-end department stores, and independent shops to explore.
In this guide, we'll take you through some of the best places to shop in Chelsea, from Duke of York Square and Kings Road to Sloane Street and Sloane Square.
We'll also introduce you to Peter Jones, one of the area's most iconic department stores, and tell you where to find the best charity shops in Chelsea. So what are you waiting for? Let's get started! 
Chelsea is recognised as one of the most affluent areas in London, which means it is full of high-end shops. However, there are still some great places to find bargains if you know where to look. We'll look at some of the best places to shop in Chelsea, both for designer labels and more affordable options. 
Amazing Shops & Boutiques In Chelsea For The Perfect Retail Therapy
We have covered all bases when it comes to retail therapy in Chelsea. When you have shopped till your heart is content or need a break in between shopping we have covered cool and cute cafes on Kings Road, or if you are in the mood for a little brunch in Chelsea in addition to amazing restaurants, pubs and great places to eat in the area to take you from day to night.
Duke of York
Located on Kings Road, the Duke of York is home to a number of high-end shops, including Whole Foods Market, LK Bennett, and Jigsaw. There is also an Apple store and branches of both Space NK and Cowshed if you're looking for beauty products.
What is so fascinating is that the Duke of York was built on a former royal palace site, and you can still see some of the original architecture if you look closely! Duke of York is also home to high-end fashion boutiques, including Alexander McQueen, Celine, Dior, and Givenchy.
There's also a selection of independent shops selling everything from books and homewares to jewellery and children's clothes. If you're peckish after all that shopping, there are plenty of cafes and restaurants to choose from, including Brasserie Zédel and The Dumpling Den. 

Kings Road
Kings Road is one of the most famous streets in Chelsea, and it's full of shops, cafes, and restaurants. It's also home to a number of high-end shops, including Joseph, L.K.Bennett, and Jigsaw. However, there are also some great places to find bargains, such as Cos and Zara. The best thing about Kings Road is that there is something for everyone! 
Kings Road is known for its stylish independent shops and trendy cafes. Amongst the independent shops worth checking out are Labour & Wait (a homeware store), The Toastrack (a vintage clothing store), Three Bags Full (a wool shop), and Black Swan Yard (a plant nursery).
For something a little unique, pay a visit to One Off Stores – an "emporium" selling a range of interesting objects sourced from all over the world. If you need a break from shopping, stop for coffee at Vagabond or tea at Tomtom Coffee House & Kitchen. 
Sloane Street & Sloane Square Boutiques
Sloane Street is one of the most prestigious addresses in London and is home to a number of luxury designer boutiques, including Chanel, Hermes, Jimmy Choo, Louis Vuitton, and Tiffany & Co.
If you're looking for something bespoke, make sure to stop by HAMPTONS – a luxury home furnishings store with its in-house interior design team. When you need refuelling after all that shopping, there are plenty of cafes and restaurants nearby on Sloane Square, such as The Ivy Chelsea Garden (great for casual dining), Zen Kitchen (a Japanese restaurant), Rivea London (a French brasserie), and Coda Eatery (an all-day cafe serving healthy dishes).
If you require something more affordable, there are also branches of H&M and Zara on Sloane Street. Tourists love this street because it offers a glimpse into the glamorous lifestyle of the rich and famous!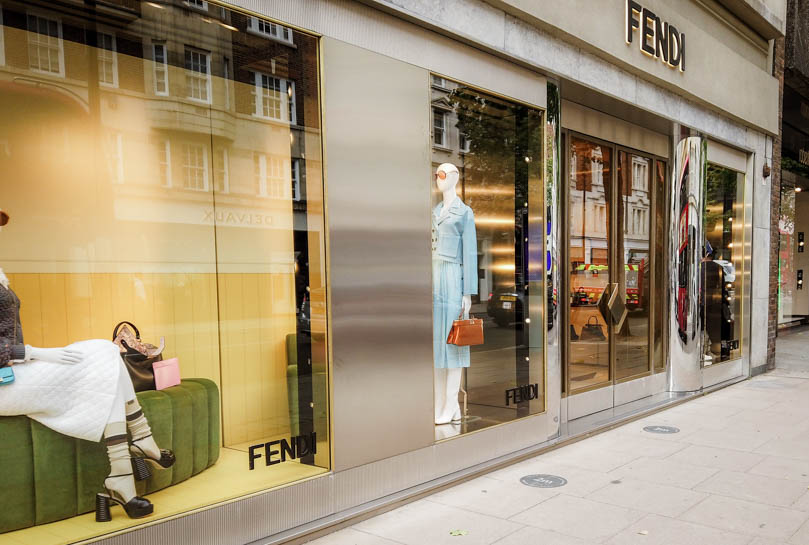 Peter Jones
sits on Sloane Square and is one of the area's most iconic department stores. As well as housing a range of high-street brands – think Cath Kidston, Jigsaw, L K Bennett, Manolo Blahnik, Space NK, Whistles – Peter Jones also has its eponymous homeware brand.
Other services at Peter Jones include personal shopping, bridalwear fittings, beauty treatments, travel money, watch repairs, dry cleaning, and gift wrapping.
When you need sustenance, there's Capricci Italian Deli & Restaurant on the lower ground floor or Benugo Cafe & Kitchen on the fifth floor. Peter Jones is named after the original owner, a Welshman who moved to London to set up his own drapery business.
Charity Shops
Being home to some of London's most exclusive boutiques and department stores, Chelsea is also known for its charity shops – many of which sell designer labels donated by affluent people in the neighbourhood.
Some charity shops worth checking out include Copy + Paste (which sells vintage clothes ), Saggy Tits Club (which sells second-hand lingerie ), Dress For Success (which relies on donations from local businesses ), Beyond Retro (which stocks vintage clothes from across Europe ), RSPCA Fulham Broadway Animal Rescue Centre (which sells donated items to raise money for animals. ), Marie Curie Fulham Shop (which sells furniture, homewares, clothes, books, DVDs, CDs etc . )
This is a great place to find bargains on high-end clothes, shoes and accessories. 
Boutiques In Chelsea
Below are some of the amazing Chelsea boutiques not to miss when shopping in Chelsea.
Clothes Shops In Chelsea
There are many clothes shops in Chelsea that sell both designer labels and more affordable options. Some popular stores include AllSaints, Cos, French Connection, Gap, Whistles and Zara. 
There are various great places to shop in Chelsea, whether you're looking for designer labels or bargains on more affordable items. Hopefully, this guide has been beneficial in helping you to plan your shopping trip to Chelsea!
More On Chelsea