Last Updated on 2 May, 2023
There are plenty of free things to do in London! At first glance, visitors to London might worry that the city is prohibitively expensive. And while they're not wrong—dining and other excursions in this British capital can quickly add up—many of London's coolest attractions are actually free.
While living in London has its pros and cons, once you get to know the city, there are ways to have an enjoyable stay without blowing the budget.
I have shared tips on the best areas to stay in London in addition to cheap hotels to stay in central London. This post together with my other post on money-saving tips in London combined with this one, can help you have a stay in London without spending a lot of money.
Is London an expensive city? Yes, but the beauty of the city and what sets it apart from many other expensive cities is that there are still many free things to do in London capital. Continue reading to find out more.
Best Free Things In London At A Glance
Covered in more detail further below.
Best free things to do in London for couples: The Wallace Collection, Sky Garden, Southbank stroll. V&A
Free things to do in London for teens: Tate Modern, Changing of Guards, GMT Line, Harry Potter's magical world at Kings Cross Station and Notting Hill
Free places to visit in London with family(with kids): Natural History Museum, dinosaur sculptures at

Crystal Palace Park
Top 21 Free Things To Do In London
London, the English capital, is a city of freebies. London has many world-class museums that offer free admission as well as spectacular parks and breathtaking landmarks. You can also visit some of Europe's most popular churches and busy markets for free in London. Here are 21 free things to do in London.
1. The Tate Modern
Tate Modern and Tate Britain house some of the finest pieces of art in the world. Tate Modern focuses on contemporary art while Tate Britain displays British art from the 16th century to the present day.
While here, you can also head to Switch House which is a recent addition to the building. Switch House now offers one of the best viewpoints in London that are not to be missed.
While the Shard charges £25 a ticket, this place is free! And is conveniently located on Bankside. In my option, Tate Modern is one of the best things to do in central London for free.
You get view, art, cafes and more in one little spot. You can also walk across the Millennium Bridge right outside Tate. Also, if you are looking for things to do in London for teens, this place is a hit with teens! London SE1 9TG.
2. St. James's Park
I would also recommend St. James's Park as it offers one of the best views of Buckingham Palace. If you love parks also check out Hyde Park and Kensington Gardens (side by side) are enormous and include the ever-popular Diana Memorial Playground and the Peter Pan statue.
Among the top ten things to do in London for free, with plenty of free to have some quiet time and away from crowds of tourists. London SW1A 2BJ.
3. Watch The Changing Of The Guard
No visit to London is complete without seeing this military tradition. The Queen's Guard in London changes in the Forecourt inside the gates of Buckingham Palace at 11:30 am every day in the summer and every other day in the winter.
Get there early and view the spectacle from outside the front gates. If you miss this spectacle, it suffices to say that your visit to London isn't complete.
To see this age-old military tradition, go to Buckingham Place and watch through the gates. This is one of the most visited sights to see in London for free so not to be missed.
London SW1A 1AA.
4. Walk Along The South Bank For A Free Tour of London's Landmarks
It really is amazing how many London landmarks you can see along this stretch of the River Thames.
If you are looking for cool things to do in London, take a stroll from Westminster Bridge to Tower Bridge and you'll pass the London Eye, the Royal Festival Hall, the Southbank Centre, the National Theatre, the Oxo Tower, Tate Modern, Shakespeare's Globe, Southwark Cathedral and Borough Market.
I have featured many of these in my London one day itinerary. Westminster Bridge, London SW1A 2JH.
5. Hang Out At Trafalgar Square
Trafalgar Square is one of Britain's greatest visitor attractions and was designed by John Nash in the 1820s and constructed in the 1830s. This iconic square has many sights to see including Nelson's Column and the National Gallery.
It is both a tourist attraction and a focus for political demonstrations. Every December, Norway donates a marvellous Christmas tree, to thank Britain for liberation from the Nazis. Trafalgar Square, London WC2N 5DN.
6. Watch Street Performers of Covent Garden Market
The West Piazza of Covent Garden Market has street performers to entertain you every afternoon. Good acts can draw huge crowds and the performers love to get audience members to help them with their act.
All performers are licensed and have passed an audition to perform here. You will find more street performers at the weekend along the South Bank, particularly near the London Eye. The Market Bldg, London, Brentford WC2E 8RF.
7. Stroll Through a Famous Street Market
London is well-known for its popular street markets. The most popular is Camden Market, famous for its funky clothes and original gifts from independent designers, and Portobello Market famous for its antiques and collectibles., followed closely by Greenwich Market is one of London's best markets for arts and crafts, unique gifts, antiques, and collectibles.
Also, Borough Market for its food,  the Columbia Road Flower Market, which every Sunday morning offers a riot of colour, fragrance and noise. Camden Lock Pl, London NW1 8AF, Greenwich Market, London SE10 9HZ.
8. God's Own Junkyard
Dazzling neon art on show in a Walthamstow warehouse. Or if you prefer some literature be sure to visit Shakespeare's First Folio, Leonardo de Vinci's notebook and handwritten Beetles lyrics are all on show in the Treasures gallery. London E17 9HQ.
9. Cinema Museum and Horniman Museum
This Kennington-based collection of artifacts celebrates the glamour of cinema before the multiplex. Whereas forest hill institution mixes Victorian curiosities with modern innovations and tranquil gardens. Forest Hill, London SE23 3PQ.
10. Sky Garden
If you are fan of panoramic and spectacular views the visit London's highest garden. The famous enlarged glass dome of 20 Fenchurch Street is dedicated to three storeys of exquisitely landscaped public gardens and London's most exclusive social spaces, including observation decks and an open-air terrace.
Access to the Sky Garden is free. Visitors must book tickets to access the Sky Garden. I have shared plenty of images from our visit to the Sky Pod At The Sky Garden.
A restricted number of tickets are available each day, so book in advance! Fenchurch St, London EC3M 8AF
11. Barbican
Home to exotic fish and over 2000 species of plants and trees, visit the second biggest conservatory in London and explore a hidden tropical oasis. The conservatory is a perfect way to enjoy a lazy day out with friends and family, is free and requires no booking.
12. Explore Shoreditch
In London, art is all around you. This is particularly true in the streets of East London's trendsetting Shoreditch, which are emblazoned with creative street art all year round.
So, although the artworks are forever changing, here is an example of the best, most dynamic hubs for street art in Shoreditch. Rivington Street, Great Eastern Street, Cremer Street, Princelet Street and Brick Lane just to mention a few.
There are plenty of things to do in Shoreditch, many of which I have shared in my linked blog post.
13. The British Museum
The British Museum is one of the most popular museums in the world, and it provides free entry to all its visitors.
It is full of rare artifacts dating back to thousands of years from different civilizations of the world. From Egyptian mummies to African terracotta arts, and Benin bronze artifacts, you can view everything for free.
Open daily from 10am until 5.30pm. Bloomsbury, London WC1B 3DG.
14. National Gallery
The National Gallery is home to some of the best art pieces in the world. The gallery houses masterpieces from painters such as Leonardo Da Vinci, van Gogh, Michelangelo and so on.
Irrespective of the time you visit, admission is free. Make sure you check out the free guided tours they have every weekend at midday. Open daily from 10am until 6pm. Trafalgar Square, Charing Cross, London WC2N 5DN.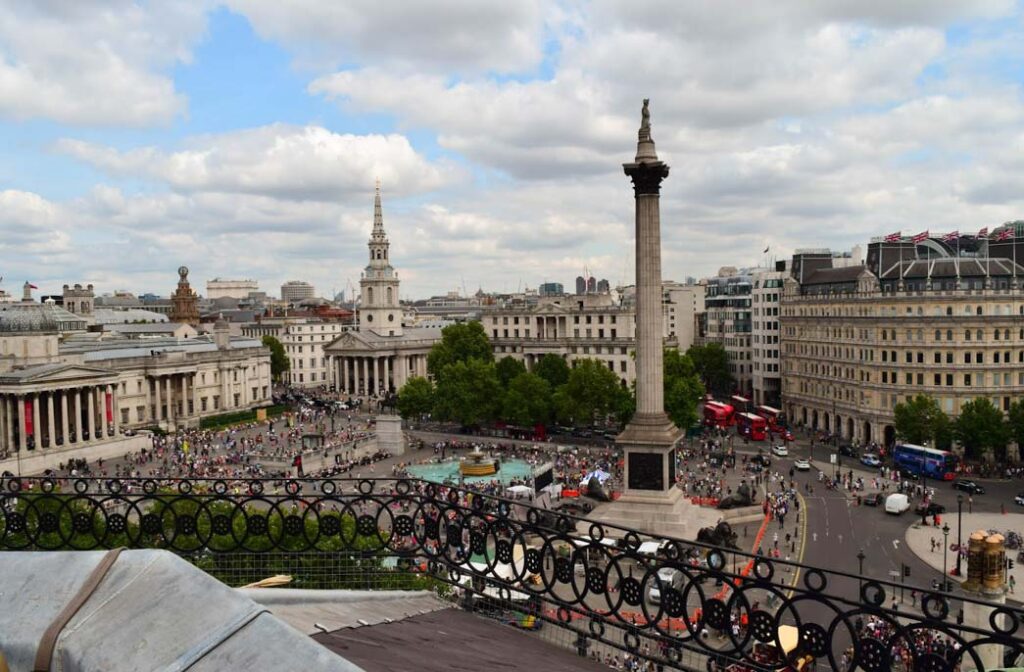 15. Houses of Parliament
This stunning neo-Gothic edifice is the seat of the British legislature and is made up of the House of Lords and the House of Commons. You can enter for free, but you will have to make a reservation ahead to watch the parliamentarians in a heated debate.
16. Greenwich Naval College
Do you want to have a breathtaking view of London City? You will get a spectacular view of London at Greenwich Park if you climb to the hilltop at the center of the park.
The Thames is clearly visible as it makes its way into the city. The park is free and makes a for perfect picnic destination. While you are here another amazing place that is free to check out is Queen's House and Naval College halls.
I have covered these in my post on things to do in Greenwich.
17. Kensington Gardens
This garden holds a lot of treasures such as the Round Pond, the Peter Pan Statue, the Albert Memorial, the Serpentine Gallery, and the Diana Memorial Playground.
After getting a feel of the spectacular sights at the gardens, you can head down to any of the Royal Parks adjoining it; St James Park, Hyde Park, and Green Park. And the best part, everything is free!
18. Natural History Museum
The Natural History Museum houses an unbelievably huge collection of over 80 million natural objects. The museum was opened in the 19th century and is open to the public free of charge.
While you are here you can also check out the V&A Museum. Natural History Museum is one of the best places to visit with families. If you are looking for free places to visit in London with family or visiting with kids then add this place to your list.
Just a word of warning is it super packed during the school holidays but kids and adults love this place. South Kensington, London SW7 5BD
19. Science Museum
At the Science Museum, visitors can see the earliest steam locomotives, hot air balloons, gliders and many technological inventions. You could take your kids to the Science Museum, and they will surely have a swell time.
20. Wallace Collection
Even though this gallery is small, it is one of the best in London and provides visitors a fantastic insight into the life of the aristocrats and nobility of the 18th century.
The gallery is in a bespoke Italian-styled mansion and is packed full with artwork from the 17th and 18th centuries. A visit to Wallace Collection is a must. If you are looking for free things to do in London for couples, then I would highly recommend The Wallace collection.
This art, vibe and decor has a touch of romance about it yes even the men will appreciate the history held within the walls of this place.  I will post more pictures on this soon as I have yet to edit the pictures.
21. Houses Of Parliament Public Galleries
The Houses of Parliament, also known as the Palace of Westminster, is home to the UK's government and is one of the most iconic buildings in London.
Visitors can explore the public galleries, which offer stunning views of the House of Commons and the House of Lords. Admission to the galleries is free, but you'll need to book your tickets in advance.
22. Leaden Hall Market
Located in the heart of the City of London, Leadenhall Market is a beautiful covered market that dates back to the 14th century.
It's known for its stunning Victorian architecture and impressive wrought iron and glass roof. You can stroll through the market's many shops, restaurants, and pubs, which offer a range of food, drink, and merchandise.
The market is also home to a number of events throughout the year, such as the Christmas lights switch-on, which draws huge crowds.
23. Somerset House
Somerset House is a magnificent neoclassical building located on the banks of the River Thames in central London. It's home to a range of cultural and artistic events throughout the year, including exhibitions, concerts, and performances.
The courtyard of Somerset House is a popular gathering spot, especially during the summer months when it hosts an open-air cinema and other outdoor events. Admission to the building is free, but some events may require tickets. Be sure to stop by for some tea while exploring the grounds.
24. St Dunstan In The East Church
St Dunstan In The East Church is a historic church located in the City of London. The church was first built in the 12th century and has undergone several renovations and rebuilds over the centuries.
Today, it's known for its beautiful gardens, which are a peaceful oasis in the heart of the bustling city. Visitors can explore the gardens and admire the ruins of the church's original structure, which were left standing after it was bombed during World War II.
The Ceremony of the Keys is a traditional ceremony that takes place every night at the Tower of London. It's been performed for over 700 years and involves locking up the Tower for the night.
Visitors can book free tickets to attend the ceremony, which takes place at 9:30 pm every night.
26. Columbia Road Flower Market
Columbia Road Flower Market is a popular Sunday market in East London that's known for its colorful array of flowers and plants.
The market is open every Sunday from 8 am to 3 pm and features over 50 independent florists and plant sellers. Visitors can browse the stalls, sample street food, and enjoy live music and entertainment. The market can get crowded, so it's best to arrive early to beat the crowds.
27. Oxo Tower Viewing Gallery
The Oxo Tower is a well-known landmark on the South Bank of the River Thames. Visitors can take the lift to the viewing gallery on the 8th floor for stunning panoramic views of the city.
The gallery is free to visit, and there's also a bar and restaurant on the 8th floor where you can enjoy a meal or a drink with a view.
28. Free London Walking Tour
Among the cool and free things to do in London are the free walking tours taking you on a journey through history of this beautiful city. There are about 5 different free walking tours that take place during different days of the week.
From the tour of secret London, to Jack the Ripper tour to the Royal London tour.
29. Hamstead Heath
Hampstead Heath is a large park in North London that's known for its stunning views of the city skyline. The park covers over 800 acres and features a range of landscapes, from woodlands to ponds to grassy fields.
Visitors can go for a walk, have a picnic, or even go for a swim in the park's outdoor swimming ponds.
30. Free Lunchtime Concerts London At Royal Opera House In Covent Garden
The Royal Opera House in Covent Garden is home to some of the world's best opera and ballet performances. However, if you're on a budget, you can still enjoy the venue's world-class music with its free lunchtime concerts.
These concerts are held on Mondays and Fridays during the season and feature performances by Royal Opera House musicians and guest artists.
The concerts are held in the Paul Hamlyn Hall, and admission is on a first-come, first-served basis, so arrive early to secure a seat. The concerts offer a great opportunity to experience some of the best classical music in London without breaking the bank.
Other Free Things To Do In London
Planning Your Visit To London
Map Of Free Things To Do In London