Last Updated on 9 November, 2023
London may not be the cheapest city in the world, but this doesn't mean that there aren't any great bargains to be found. Sit back as I share the best places for cheap shopping in London.
From high street shops and vintage stores to outlet shopping and markets, here are some of the best places to shop in London without breaking the bank. No London itinerary is complete without shopping. I have shared tips on how to save money when visiting London, this is perhaps what to do with all the money left from those savings.
Best Places To Shop In London On A Budget
If you love a good retail therapy, London is blessed in that department and then some. Practically every area has is only little hub of shopping but each one I guess serves a different purpose. Most people will know about Oxford Street as the main shopping area.
While you will find the likes of Primark in Oxford Street and brands like New Look or H&M. These are not the only brands or best places to shop in London on a budget in addition to London's trendy charity shops for thrifters to love designer labels. So whether you want to pick up a London souvenir or just for love of shopping lets get into the best places to shops in London.
High Street Shops – Perfect For Cheap Clothes Shopping
The most affordable way to shop in London is by hitting the high street. There are high-street shops pretty much anywhere in the city, but Oxford Street has most of them in one area. A word of warning though – this is Europe's busiest shopping street and can get incredibly packed, especially during weekends and sale periods. Try to visit in the mornings or on weekdays.
No list of cheap shops would be complete without Primark. They offer men, women and children's fashion, shoes, accessories, beauty and homeware at incredibly affordable prices. Although sometimes the quality may be questionable, it's still worth heading there. Their Oxford Street branch is one of the best in the country. By far one of the best places to shop in London for cheap clothes.
499-517 Oxford St, Mayfair, London, W1K 7DA
Another affordable high street shop is New Look. They are great for men, women and girls' fashion, accessories and beauty. They have great seasonal pieces and a particularly high quality shoe selection at reasonable prices.
73/89 Oxford St, Soho, London W1D 2ES
H&M has a great range of fashion for men, women and children. Their kids clothes are particularly good value, with items starting at £2.99. To bag high fashion for high street prices, keep an eye out for their collaborations with prominent designers.
174-176 Oxford St, Fitzrovia, London, W1D 1NX
TK Maxx is amazing if you're looking for big brands at cheap prices. They sell everything from homeware, clothing, footwear, beauty, accessories furniture and giftware. You can find a huge range of designer products at prices up to 60% less than their recommended retail price (RRP).
15-17 Long Acre, Charing Cross, London WC2E 9LH
Vintage Stores – One Of The Best Places For Cheap Shopping In London
London is a fantastic place to shop if you love vintage-style fashion. Some stores even have big designer names like Chanel and Moschino, but for a fraction of the price you would usually pay. There's no reason to feel guilty about buying a ton of clothes either – did you know that buying second-hand clothing is an eco-friendly way to shop? We have covered vintage shops in Shoreditch and Notting Hill vintage stores on the blog.
Rokit is one of the London favourites, starting as a stall in Camden Market in 1986. They now have four shops in London: two on Brick Lane, one in Covent Garden and their biggest one in Camden. Rokit are a treasure trove of vintage finds, from knitwear including warm sheepskin items, to 1960s style party outfits and ski jackets and snow suits.
Apart from being easy on your wallet, you can feel good about the environment too – Rokit has recycled over a million tons of clothing since they first opened.
225 Camden High Street, London, NW1 7BU
What Goes Around Comes Around
What Goes Around Comes Around began as a stall in Camden Market. They became so popular that the owners opened a permanent store and showroom, in addition to the stall which still exists. The store focuses on menswear, offering 1980s retro style streetwear such as varsity jackets, Adidas tracksuits, Converse sneakers and Levis jeans.
Mezzanine 3, The Stables Market Chalk Farm Rd, Camden Town, London NW1 8AH
Beyond Retro is probably East London's most well-known vintage store. They first opened in 2002 in Brick Lane, and offer a wide range of vintage bargains for both men and women. As well as launching an online site, they now also have a store in Moscow, and four stores in Sweden.
Their success comes down to their passion for original design and the environment. Beyond Retro source their products from charities and recycling companies.
110-112 Cheshire Street, London, E2 6EJ
Outlet Shopping In London Cheaply
Outlet stores are where brands and designers send their reduced stock to be sold at a much lower price. This is a great way to save money, and usually you'll be buying the exact same item they have in their retail store, but for a fraction of the price.
ICON Outlet is a huge outlet centre covering 210,000 square feet. They have over 60 brands selling good for up to 70% off. Here you can find names such as Nike, Adidas, Ted Baker, Guess and Calvin Klein. It's around 15 minutes by Tube from Central London.
Peninsula Square, Greenwich Peninsula, London SE10 0DX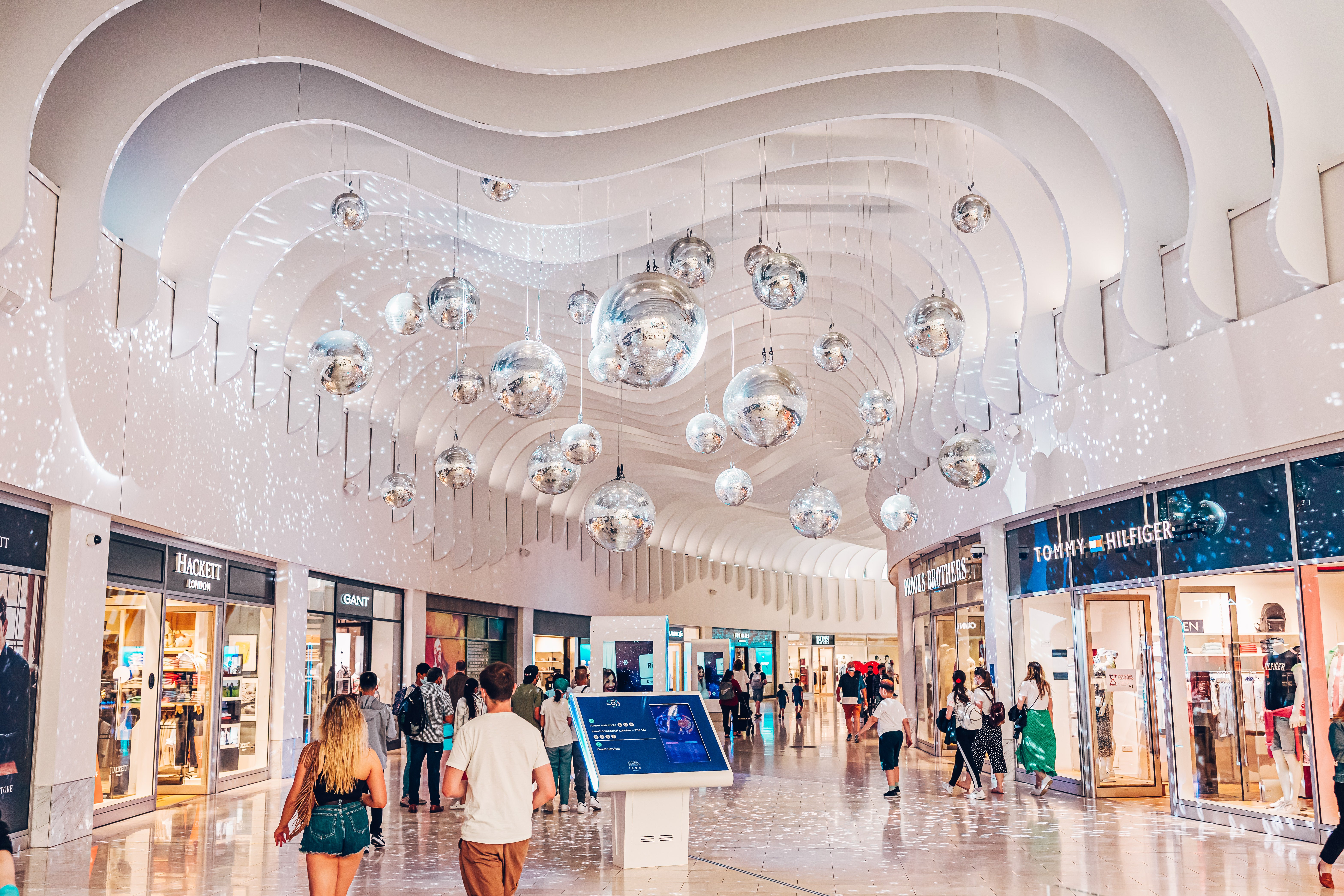 London Designer Outlet (LDO) is a great place to pick up a bargain. You can find top brands like H&M, Gap and Adidas at discount prices. Spread over three floors, there is also a huge selection of restaurants and cafes if you get hungry, as well as a Cineworld cinema.
Wembley Park Blvd, Wembley HA9 0FD
Markets – For Bargain Shopping
Another place for cheap clothes shopping in London are markets! London is blessed with an abundance of markets, and they have been a central part of the city for centuries. The markets in London range from fashion and street food, to arts and antiques.
Most of the markets are reasonably priced as well, so you'll be sure to spot unique finds without putting a dent in your wallet. We have covered markets from every corner of London, from North London markets, West to East and South London Markets. Including some of the best Saturday and Sunday Markets for food and fashion.
Camden Market
Camden Market is one of the most popular visitor attractions in the city, and for a good reason. With 700 shops and stalls, you'll be sure to score a bargain here. Some items you can find here include: arts and crafts, quirky furniture, fetish clothing, souvenirs, handmade jewellery, vintage goods and old records. There is also a global street food market with cheap prices.
Camden Lock Pl, London NW1 8AF
Brick Lane Market
Every Sunday, Brick Lane Market comes to the streets of East London. You can find everything here, from second-hand furniture to fresh fruit and veg. There are different sections of the market that specialise in different things – visit Backyard Market for arts and crafts, Sunday Upmarket for unique gifts and Boiler House Food Stall for snacks and drinks.
For additional inspiration, check out my post on things to do in Shoreditch as well my other posts on street art in Shoreditch, and shopping in Brick Lane.
Brick Ln, Spitalfields, London E1 6QR
Portobello Road Market
Fans of the British romcom Notting Hill starring Hugh Grant and Julia Roberts will recognise this place from the film. Portobello Road Market is located in the same neighbourhood, and is one of the world's largest antique markets.
On Saturdays, you'll find up to 1000 stalls of antiques and collectibles. Throughout the rest of the week, there are stalls selling second-hand items, clothing and household items. For additional info, read my post on Portobello Road which also has additional images to give you an overview of what to expect.
306 Portobello Rd, London W10 5TA
There you have it my recommended places for cheap shopping in London. Also, note that if you are looking for the perfect hotels for shopping in London check out my post on hotels in Soho London which gives you access to London's Westend.
If you want to be close to the vintage markets in Shoreditch then check out my post on the best hotels in Shoreditch as well as the cheap hotels in Kings Cross if you want to be as close as possible to Camden. For a complete guide on the best places to stay in London see here.