London is a top shopping location for people from all over the world. The capital city is most known for its historic landmarks and famous places that have been luring tourists for years.
It doesn't matter whether you're looking to break the bank, or you're pinching pennies, there's a wide variety of streets in London ready to meet your retail needs!
You might recognise some of these street names from TV or movies. Each shopping street in London has its own vibe and specialty.
So, just read below to find the best shopping streets in London for one of your wonderful personal experiences. Here is a guide on why you shouldn't miss shopping in London and why these streets become so remarkable – this coming from a recovering shopaholic.
Best Shopping Streets in London
Back in the city center, one of the best destinations for shopping in London is Bond Street in Mayfair. Comprised of New Bond Street and Old Bond Street, this road is all about luxury! Bond Street is famous for its luxury goods shops and art galleries.
From Cartier and Louis Vuitton to Givenchy, Burberry, and Prada, Bond Street is a mecca for those who are looking for designer labels. This shopping street in London also holds the only Victoria's Secret and Abercrombie & Fitch in the entire U.K.
New Bond Street is especially a great place for you if you love all things hedonistic. This is arguably one of the most famous fashion streets in London. You can find everything from watch boutiques, jewellery shops, shoes, bags and more.
If your budget won't stretch to the luxury boutiques of Bond Street, it is worth just walking down the road to take a look at some of the most glamorous window displays in the city.  Be sure to also check out cool things to do in Mayfair here. While in the area, be sure to add Mount Street to your list of places to check out.
Nearest Stations: Bond Street, Piccadilly Circus
Looking for clothing, jewellery accessories, shoes, watches, or souvenirs? London's Oxford Street has it all.  
Oxford Street is called the centre of London's shopping world and holds well over 300 shops with 4 underground stations. It actually houses flagship stores for numerous companies.
Oxford Street is not only the busiest shopping place in London, but it's also the largest shopping area in existence. I mean who doesn't like to navigate such streets in London?
On this road, you'll find shops known around the world, such as TK Maxx, H&M, Selfridge's, Debenhams, Uni Qlo, and the largest Primark in the world. While in the area also check out South Molton Street.
Nearest Stations: Oxford Circus, Bond Street & Marble Arch 
Carnaby Street was the heart of shopping in London in the 1960s and still offers quirky and glam stores, international brands, and unique one-of-a-kind shops.
It boasts over 150 various shops and over 50 restaurants and bars. Carnaby Street is an excellent location to shop off the main roads of London and is a wonderful place to get lost! Be sure to replenish yourself with a visit to Kingly Court for some food before resuming retail therapy. 
If you love to stumble upon interesting shops and bars during your visit, Carnaby is a great destination! From cobbled roads to small centres, alleys, and dead ends, this street on the edge of Soho is all you need to make a glorious memory of shopping in London. 
Nearest Stations: Oxford Circus, Piccadilly Circus 
Portobello, the largest antique market all over the world, showcases over 1,000 dealers in one localised district in the west of London. This is easily the busiest market in London and it's best to visit Portobello first thing in the morning if you want to avoid the crowds.
Portobello Road locates hundreds of stalls, stands, shops, and arcades along, providing some of the most unique antiques available in the capital city. Bric-a-brac, jewelry, art, artifacts, crystal, silver, gold, books, and clothes – whatever you could be after, you are sure to find it on this road! While you are here don't miss out on the bargains from Notting Hill charity shops.
Something I love about Portobello is that you may have a chance to come face-to-face with some of London's most experienced market operators. They would be more than happy to haggle and bargain with anyone who is up to the task! 
One thing to remember: The antique showcases at Portobello Road are a Saturday operation, with many stalls opening around 9 am and usually packing up by 4 pm.
In addition to stalls, there are also several food trucks set up on Saturdays so that you can refuel with delicious delights whilst you shop! While you are here don't miss the opportunity to explore Notting Hill.
Nearest Stations: Ladbrooke Grove
Savile Row is another famous destination for shopping in England's capital. There are lots of good shops in the area – from men's tailoring to Victorian specials like Burlington Arcade, Savile Row is packed with great retail therapy.
You simply cannot miss this place if shopping in Mayfair.
Nearest Stations: Oxford Circus 
Sloane Street highlights the very best of London's lifestyle. This street is famous for its elegant catwalk of iconic luxury brands, unparalleled service, and exclusive products.
It offers an impressive list of flagship stores including Tom Ford, Saint Laurent, Chloe, Salvatore Ferragamo, Rag & Bone, Roberto Cavalli, Valentino, Giorgio Armani, Alberta Ferretti, Marni, and Gucci. Perfect for those looking to do shopping in Chelsea.
Sloane Street is also worth a visit for retail therapy alongside Old Brompton Road, and Fulham Road.  
Nearest Stations: London Victoria station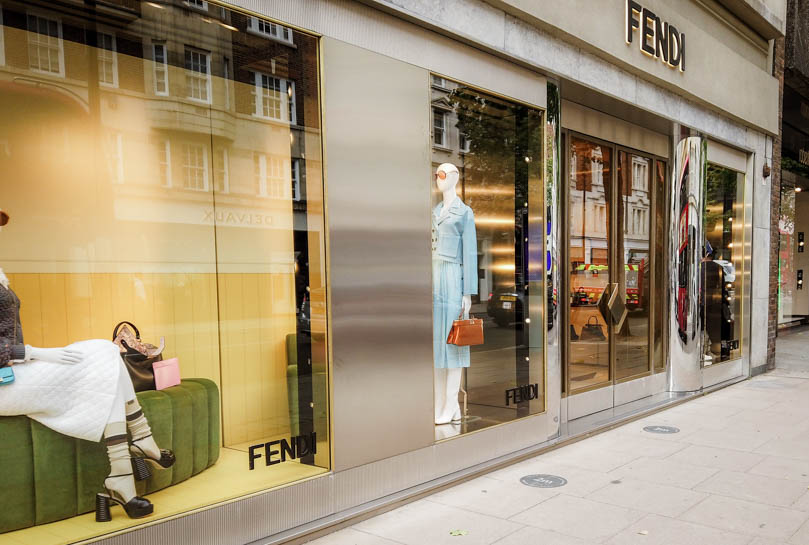 Brompton Road (Knightsbridge)
Shopping in Brompton Road (Knightsbridge) is certainly not for those traveling on a budget! Knightsbridge offers some of the most prestigious and reputable retail and fashion names in the world including Prada, Gucci, Burberry, Agent Provocateur, and even Christian Louboutin – this road is all about high fashion.
Knightsbridge also houses two of the best-known and most luxurious department stores in Europe: Harvey Nichols and Harrod's. Harrod's is definitely worth navigating even if you don't have the intent to buy anything. Some goods in Harrod's food halls can oftentimes be affordable. Make sure you stop for a cup of tea or coffee in Knightsbridge, in between swiping plastic.
Nearest Stations: Knightsbridge / Harrods (KH) stop
Regent Street is perhaps the most atheistically pleasing of all the shopping districts listed above. This street was designed by master architect Sir John Nash in the 19th century.
It has huge sweeping vistas and various decorations throughout the year including impressive Christmas displays. Regent Street is a picturesque location to spend your pennies!
Located here is Hamleys – the largest toy store in London and a must-visit place for those traveling with children!
Nearest Stations: Oxford Circus, Piccadilly Circus
Shopping in Shoreditch is such fun. Located in London's east end is Brick Lane a lively, colourful and active part of London filled with creatives.
From artists to designers and this creativity can be experienced whether that is through the street art that fills the walls of Shoreditch or whether that is through the food in the area or the amazing array of vintage shops that line Brick Lane.
In addition to all of that, you will find markets, curry houses, and independent boutiques in addition, this is where you will find the UK's biggest collection of independent vintage boutiques. There is enough here to so make sure you also check out the list of places to visit in Shoreditch.
I hope you've enjoyed going through the best shopping streets in London. There are so many great locations to indulge in retail therapy in England's capital, and lots of fun things to buy.
These 8 well-known streets are great if you're looking for a gift or souvenir. In addition to these also worth checking out Kings Road and Covent Garden.
If you're into vintage finds, you can take a look at my blog post about Top 8 Vintage Shops In Shoreditch. Happy browsing!
Map Of Famous Shopping Streets In London