Last Updated on 2 September, 2023
London, the bustling capital of the United Kingdom, is known for its iconic landmarks, rich history, and vibrant culture.
While popular attractions like the Tower of London, Buckingham Palace, and the British Museum are certainly worth a visit, there's a whole world of non-touristy things to do in London as well as many experiences waiting to be discovered.
Below, we'll delve into the hidden gems of London and explore 40 unique activities that will make your trip truly memorable.
When To Visit London
London is a busy city and one that is on many a bucket list which means that when it comes to when to visit whether you are looking for a quiet season or a cheap time to visit London it helps to have a plan.
We have shared lots of posts to help you decide on the best time to visit London in addition to that post we have posted about things to do in London in all seasons from Winter to Summer, Spring and Autumn.
And for each season with have shared tips on things to do in London for each month on the calendar so that you are up to date on activities and event happening in each month. You can see the guide for London in January all the way up to December.
Where To Stay In London
As mentioned above, how much you spend on hotels will depend on when you visit London as well as where you stay of course. We have shared tips on the best hostels in London for those on a budget and 45 amazing luxury hotels in London for those with unlimited budgets.
For those in the middle, we have post on the best hotels near Borough Market which are central and near attractions like the Tower of London, Tower Bridge, The Shard, Sky Garden as well as these cool hotels in Southwark and those hotels near London Eye.
For tips on the best neighbourhoods in London see this guide, and for those visiting with family check out our post on where to stay with family in London.
Non-touristy Things To Do In London
Many of these are perfect for those looking for free things to do in London to ease the budgeting for a trip to London. So let's get started on the list of less touristy things to do in London.
Picnic on Primrose Hill
London is not just a concrete jungle; it also boasts several beautiful green spaces. One such hidden gem is Primrose Hill.
Located in the borough of Camden, this tranquil park offers breathtaking panoramic views of the city skyline.
Pack a picnic basket with your favorite treats, lay out a blanket, and enjoy a leisurely afternoon basking in the sun while taking in the stunning scenery.
Street Art Tour in East London
If you have an appreciation for urban art, a street art tour in East London is a must-do. Shoreditch, Brick Lane, and Hackney Wick are renowned for their vibrant street art scene, featuring works by both local and international artists.
Join a guided tour or explore independently to discover hidden murals, graffiti, and thought-provoking art installations that add a unique charm to the city's streets.
Shop for Artisanal Goodies at Broadway Market
For a taste of the local culture and a chance to support independent businesses, head to Broadway Market in Hackney.
This bustling street market is held every Saturday and offers an array of artisanal goods, including fresh produce, gourmet food, handmade crafts, and vintage clothing.
Take a leisurely stroll, sample delicious treats, and soak up the lively atmosphere of this hidden gem.
Hidden London Tours
Delve beneath the surface and explore the secrets of London with Hidden London Tours. These guided tours take you off the beaten path to discover hidden tunnels, abandoned stations, and forgotten spaces that reveal the city's fascinating history.
From the mysterious depths of Churchill's War Rooms to the haunting beauty of the Victorian Crossrail project, these tours offer a unique perspective on the hidden side of London.
Lunch Inside Gorgeous Leadenhall Market
Step into a world of timeless elegance at Leadenhall Market, a stunning covered market located in the heart of the financial district.
With its ornate Victorian architecture, high-end boutiques, and gourmet eateries, this hidden gem is a feast for the senses.
Grab a bite to eat at one of the market's many restaurants, and immerse yourself in the vibrant atmosphere of this historical and cultural landmark.
Cottage-Spotting in Dulwich Village
Escape the hustle and bustle of the city and step into the picturesque village of Dulwich. Known for its charming cottages, quaint streets, and leafy parks, Dulwich offers a tranquil retreat from the urban chaos.
Take a leisurely stroll through the village, admire the architectural beauty of the cottages, and enjoy the peaceful ambiance of this hidden oasis. When you are ready for a little break, grab a pint at these cute Dulwich pubs.
Vintage Shopping in East London
London is a paradise for vintage enthusiasts, and East London is the place to be for retro fashion and unique finds.
From vintage boutiques to thrift stores and weekend markets, there's something for every vintage lover. Explore areas like Shoreditch, Brick Lane, and Spitalfields, where you'll uncover a treasure trove of clothing, accessories, vinyl records, and quirky collectibles. See our guide on the best vintage shops in Shoreditch for where to start.
Stroll Along Regent's Canal Towpath
Escape the hustle of the city and embark on a peaceful stroll along Regent's Canal towpath. Stretching for miles through the heart of London, this scenic waterway offers a tranquil oasis amidst the urban landscape.
Enjoy a leisurely walk, observe the colorful narrowboats, and soak up the serenity of this hidden gem. You can also opt to rent a bicycle or a narrowboat for a unique and immersive experience.
Bermondsey Beer Mile
Calling all beer enthusiasts! The Bermondsey Beer Mile is a hidden gem for craft beer lovers. Located in the heart of Bermondsey, this stretch of railway arches is home to numerous independent breweries and taprooms.
Take a leisurely stroll along the Beer Mile, stopping at different breweries to sample a wide range of local brews. Immerse yourself in the vibrant beer culture, chat with passionate brewers, and discover new favorites along the way.
Sir John Soane's Museum
For a unique and eclectic museum experience, visit the Sir John Soane's Museum in Lincoln's Inn Fields. This hidden gem houses the vast and fascinating collection of renowned architect Sir John Soane.
Explore the beautifully curated rooms, which are packed with artworks, sculptures, antiquities, and architectural models.
From Egyptian sarcophagi to Hogarth's satirical prints, this museum is a treasure trove of historical and cultural artifacts.
Wander around the Posh Streets of Belgravia
If you're looking to immerse yourself in the luxurious side of London, a stroll around the posh streets of Belgravia is a must.
This affluent neighbourhood, known for its grand Georgian townhouses and exclusive boutiques, exudes an air of elegance and sophistication.
Marvel at the stunning architecture, window-shop at high-end designer stores, and enjoy the refined ambiance of this hidden gem.

Grab Some Food at Dalston Eastern Curve Garden
Escape the city's hustle and bustle and step into the peaceful oasis of Dalston Eastern Curve Garden. Tucked away behind the bustling streets of East London, this hidden gem is a community garden and café that offers a tranquil escape from urban life.
Indulge in delicious homemade food, sip a cup of tea, and unwind in the serene surroundings of this secret garden.
Maltby Street Market
For a unique and mouthwatering culinary experience, head to Maltby Street Market in Bermondsey. This vibrant food market is tucked away in a narrow street and offers a wide array of delectable treats.
From artisanal cheeses and freshly baked pastries to international street food and craft cocktails, Maltby Street Market is a haven for foodies.
Explore the stalls, savor the flavors, and soak up the lively atmosphere of this hidden gem.
Shop for Handmade Goods on Brick Lane
Brick Lane, in the heart of East London, is famous for its vibrant street art, multicultural vibe, and diverse food scene.
But it's also a haven for independent designers and artisans. Explore the eclectic shops and market stalls, where you'll find unique handmade goods, vintage clothing, quirky accessories, and one-of-a-kind souvenirs. Support local artists and bring home a truly special memento of your London adventure.
Rent a Paddleboat in Battersea Park
Escape the crowds and enjoy a leisurely paddle on the peaceful waters of the boating lake in Battersea Park. Rent a paddleboat and glide along the serene lake, taking in the scenic views of the park's lush greenery and wildlife.
It's the perfect activity for a sunny day, whether you're looking for a romantic outing or a fun family adventure.
Visit The Peace Pagoda in Battersea Park
Battersea Park is not only a tranquil oasis in the heart of London but also home to a hidden gem—the Peace Pagoda. Located within the park, this beautiful Buddhist monument stands as a symbol of peace and harmony.
Take a moment to admire its intricate architecture, explore the surrounding gardens, and soak in the serene atmosphere. It's a perfect spot for reflection and finding inner peace amidst the bustling city.
Swim in the Outdoor Pools of Hampstead Heath
On a warm summer day, head to Hampstead Heath and cool off in its refreshing outdoor swimming pools. The Heath boasts three swimming ponds—Hampstead Mixed Pond, Ladies' Pond, and Men's Pond—where you can take a dip surrounded by nature.
These natural swimming spots offer a unique and invigorating experience, allowing you to connect with the great outdoors while enjoying a leisurely swim.
Deer Spotting in Richmond Park
Escape to the vast wilderness of Richmond Park, where you can witness the beauty of nature and spot majestic deer freely roaming the parkland.
Richmond Park is home to hundreds of red and fallow deer, and observing these graceful creatures in their natural habitat is a truly awe-inspiring experience.
Take a leisurely walk through the park, keep your eyes peeled, and have your camera ready for unforgettable wildlife encounters.
Regency-era Stroll through the Water Gardens and Woodlands of Bushy Park
Step back in time and immerse yourself in the Regency era as you explore the water gardens and woodlands of Bushy Park.
Located near Hampton Court Palace, this hidden gem offers a tranquil escape from the city. Admire the beautiful water features, stroll through the picturesque gardens, and embrace the serenity of the lush woodlands. It's a perfect retreat for nature lovers and history enthusiasts alike.
Picnic on Hampstead Heath
Indulge in a quintessential British pastime—having a picnic on Hampstead Heath. This vast green space offers endless opportunities for al fresco dining surrounded by nature.
Pack a delicious spread of sandwiches, snacks, and refreshing drinks, find a cozy spot amidst the rolling hills or beneath a shady tree, and savor the flavors while enjoying the breathtaking views of the city skyline.
Bar Crawl on Wilton Way
If you're in search of a vibrant nightlife scene away from the tourist hotspots, Wilton Way in Hackney is the place to be.
This hidden gem is lined with eclectic bars and pubs, each with its own unique charm. Embark on a bar crawl along Wilton Way, sampling craft beers, signature cocktails, and enjoying the lively ambiance. It's a fantastic way to experience the local nightlife and mingle with the vibrant Hackney crowd.
Watch a Football Match
Immerse yourself in the electric atmosphere of a football match by attending a game at one of London's iconic stadiums.
From the grandeur of Wembley Stadium to the historical charm of Stamford Bridge and Emirates Stadium, London offers a range of options for football enthusiasts.
Cheer for your favorite team, experience the passionate crowd, and witness the thrill of the beautiful game firsthand.
Shopping on King's Road in Chelsea
For a unique shopping experience away from the mainstream high streets, head to King's Road in Chelsea.
This trendy and upscale neighbourhood is renowned for its stylish boutiques, high-end fashion stores, and chic home decor shops.
Explore the charming side streets, browse the designer collections, and indulge in a spot of retail therapy in this fashion-forward district.
Visit One of London's City Farms
Experience the countryside in the heart of the city by visiting one of London's city farms. These hidden gems provide a fantastic opportunity to interact with farm animals, learn about sustainable agriculture, and connect with nature.
From Mudchute Park and Farm in East London, Hackney City Farm to Vauxhall City Farm in Central London, there are several city farms dotted around the city, each offering a unique experience for animal lovers of all ages.
Museum of the Home
Step into the Museum of the Home, located in the historic Geffrye Almshouses, and embark on a journey through time to explore the concept of home and how it has evolved over centuries.
From period rooms showcasing domestic interiors to thought-provoking exhibitions on the meaning of home, this museum offers a fascinating insight into the personal, social, and cultural aspects of home life.
Visit Kew Garden
Discover a world of botanical wonders at Kew Gardens, a UNESCO World Heritage Site and one of the most beautiful gardens in the world.
Explore the vast collection of plants, including exotic species from all corners of the globe. Marvel at the iconic Palm House, stroll along the treetop walkway for a bird's-eye view, and immerse yourself in the tranquility of this botanical paradise.
Sit in on Court Hearings at the Royal Courts
For a unique and educational experience, attend a court hearing at the Royal Courts of Justice. Located in the heart of London's legal district, this iconic building is home to the High Court and Court of Appeal.
By observing court proceedings, you can gain a firsthand understanding of the British legal system and witness justice in action. Check the schedules in advance and ensure you follow the rules and etiquette while inside the courtroom.
Visit Westminster Cathedral
While Westminster Abbey may be the more famous landmark, Westminster Cathedral is a hidden gem that shouldn't be missed among many amazing churches in London worth visiting.
This stunning Roman Catholic cathedral is renowned for its Byzantine-style architecture, magnificent mosaics, and breathtaking interiors.
Take a guided tour to learn about the history and symbolism of the cathedral, climb to the top of the bell tower for panoramic views of the city, and soak in the spiritual ambiance of this hidden gem.
Experimental Cocktail Club
If you're a fan of mixology and innovative libations, a visit to the Experimental Cocktail Club in Chinatown is a must.
This hidden speakeasy-style bar offers a sophisticated and intimate setting to enjoy expertly crafted cocktails. Sample unique concoctions, chat with the talented mixologists, and let the stylish ambiance transport you to the glamorous world of Prohibition-era drinking.
Rent a Self-Drive Boat Along a Canal
Experience the charm of London's canals by renting a self-drive boat for a leisurely cruise. Whether it's the picturesque Regent's Canal or the peaceful Grand Union Canal, navigating these waterways offers a unique perspective on the city.
Gather your friends or family, pack a picnic, and set sail on your own adventure, exploring hidden corners of London at your own pace.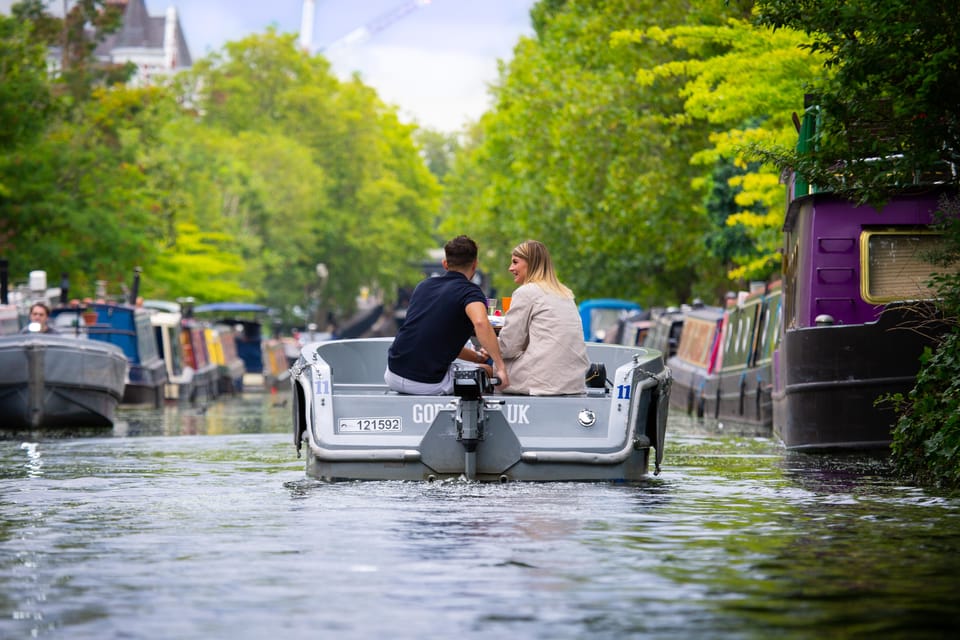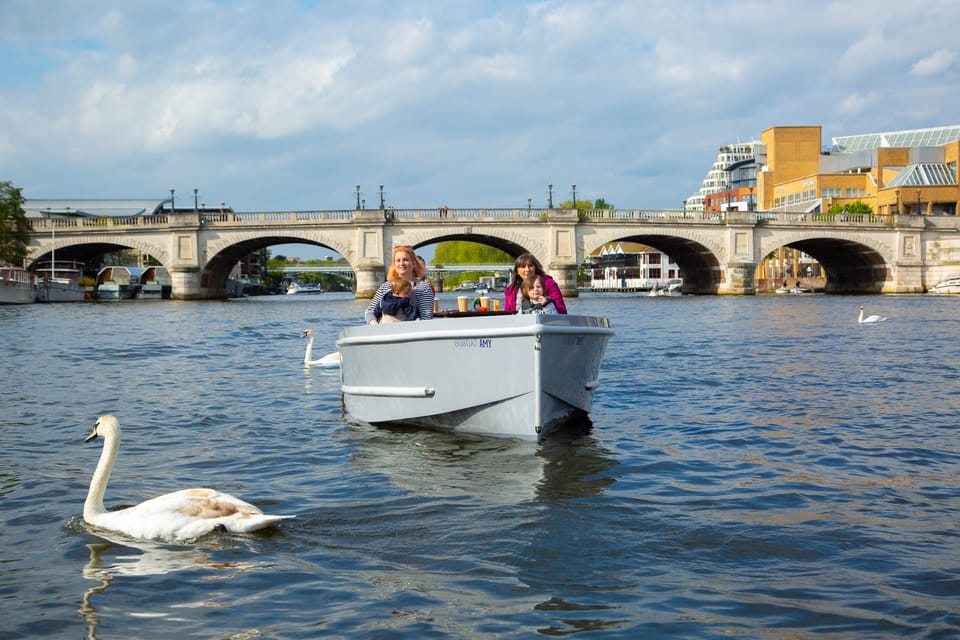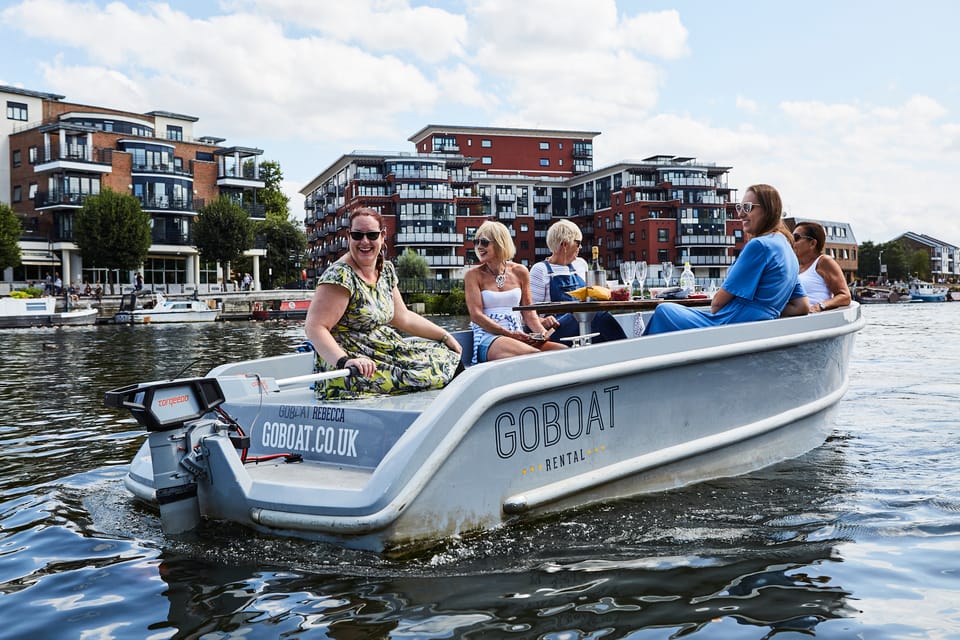 The Nightjar in Shoreditch
Delve into the world of speakeasies and jazz at The Nightjar, a fun bar in Shoreditch and a hidden gem tucked away in Shoreditch. Step inside this intimate and atmospheric bar, known for its creative cocktails and live jazz performances.
Sip on expertly crafted drinks, be transported by the soulful tunes, and soak up the vibrant and vintage-inspired ambiance. It's a truly unforgettable experience for cocktail enthusiasts and music lovers alike.
Go on a Treetop Adventure at Battersea Park
Embrace your inner adventurer and embark on a thrilling treetop adventure at Battersea Park. The Go Ape course offers an exhilarating experience as you navigate your way through high ropes, ziplines, and suspended obstacles.
Test your agility, conquer your fears, and enjoy panoramic views of the park from above. It's a perfect activity for adrenaline junkies and those seeking a unique outdoor adventure.
See a Movie at Retro Electric Cinema, One of London's Oldest Cinemas
Step back in time and catch a movie at the retro Electric Cinema, one of London's oldest cinemas. Located in Notting Hill, this hidden gem combines vintage charm with modern comfort. Sink into plush leather armchairs, enjoy a drink from the bar, and immerse yourself in the magic of the silver screen.
With its eclectic film selection and unique atmosphere, the Electric Cinema offers a nostalgic cinematic experience like no other. We have also shared posts on the best cinemas in Southwark as well as those in Kensington and Chelsea linked above.
Check out Food at Pop Brixton
For a taste of London's vibrant food scene away from the tourist traps, head to Pop Brixton. This innovative and sustainable community project brings together a diverse range of street food vendors, restaurants, and bars in shipping containers.
From international cuisine to local delicacies, Pop Brixton is a food lover's paradise. Indulge in delicious flavors, soak up the lively atmosphere, and support independent businesses. While you are in the area check out this list of cool things to do in Brixton.
Highgate Cemetery
For a unique and atmospheric experience, visit Highgate Cemetery. This historic burial ground is the final resting place of many notable figures, including Karl Marx and George Eliot.
Explore the winding paths, intricate tombstones, and Victorian Gothic architecture that make this cemetery a hauntingly beautiful place.
Take a guided tour to learn about its fascinating history and legends or simply wander through the peaceful and atmospheric surroundings.
Spend a Night in a Museum – Museum Lates
Experience the magic of spending a night in a museum at one of London's iconic cultural institutions. Various museums, such as the Natural History Museum and the Science Museum, offer special sleepover events where visitors can explore the exhibits after hours, participate in hands-on activities, and even sleep beneath the iconic dinosaur skeletons.
It's a truly unforgettable experience that allows you to see the museum in a whole new light.
Visit God's Own Junkyard
Prepare to be dazzled by the neon wonderland of God's Own Junkyard. Located in Walthamstow, this hidden gem is a visual feast of colorful neon signs, vintage props, and eclectic artwork.
Explore the collection of neon masterpieces, learn about the craft of sign-making, and immerse yourself in the vibrant and electric ambiance of this unique attraction.
It's a paradise for photographers, art enthusiasts, and anyone with an appreciation for neon art.
Visit the Novelty Automation Museum
Unleash your inner child and indulge in the whimsical wonders of the Novelty Automation Museum. Located in Holborn, this hidden gem is filled with quirky and interactive mechanical contraptions, automata, and arcade games.
Embark on a journey of laughter and amazement as you explore the imaginative creations of artist Tim Hunkin. It's a playful and entertaining experience that will leave you with a smile on your face.
Kingly Court Food Court
Discover a hidden culinary gem tucked away in the heart of Carnaby Street—Kingly Court Food Court.
This three-story food haven is home to a variety of international cuisines, from Thai and Mexican to Japanese and Italian.
Indulge in a culinary adventure, sampling flavors from around the world, and enjoy your meal in the vibrant and bustling atmosphere of this hidden gem.
Hampstead Hill Gardens and Pergola
Escape the urban chaos and step into the tranquil beauty of Hampstead Hill Gardens and Pergola. This hidden gem offers a serene retreat with stunning gardens, pergolas, and panoramic views of the city.
Take a leisurely stroll through the landscaped gardens, relax on a bench surrounded by lush greenery, and enjoy the peaceful ambiance of this hidden oasis.
Exploring London Mews
Discover the charm of London's hidden mews, picturesque streets lined with colorful houses and cobblestone lanes. These hidden gems can be found throughout the city, offering a glimpse into London's architectural heritage and providing a tranquil escape from the bustling streets.
Take a leisurely walk through mews such as Kynance Mews in Kensington or Lancaster Road in Notting Hill, and immerse yourself in the enchanting atmosphere of these secret corners of the city.
Afternoon Tea on a Sightseeing Bus
Combine two quintessential British experiences—afternoon tea and sightseeing—by enjoying an afternoon tea on a sightseeing bus.
Hop aboard a vintage double-decker bus, sit back, and relax as you tour the city's iconic landmarks while indulging in delicious sandwiches, scones, and pastries.
It's a unique way to see the sights, enjoy a traditional British treat, and create lasting memories of your time in London. For additional inspiration see our guide on the best afternoon tea in London with views.
Visit Eltham Palace
Step into a world of Art Deco elegance at Eltham Palace. This hidden gem seamlessly blends medieval grandeur with 1930s glamour, offering a unique and captivating experience.
Explore the opulent interiors, stroll through the beautifully landscaped gardens, and learn about the fascinating history of this royal residence turned modern masterpiece. It's a must-visit for architecture enthusiasts and history buffs alike. For additional inspiration check out our list of Palaces in London you should visit.
Visit Little Venice
Escape the bustling city and discover the picturesque charm of Little Venice. Located where the Regent's Canal and the Grand Union Canal meet, this hidden gem offers a tranquil and scenic oasis.
Take a leisurely boat ride along the canals, enjoy a waterside stroll, and admire the charming canal boats and colorful houseboats.
With its serene ambiance and idyllic setting, Little Venice is a hidden gem that feels worlds away from the busy streets of London.
Barbican Conservatory
Escape to a tropical paradise amidst the concrete jungle at the Barbican Conservatory. This hidden gem is the second-largest conservatory in London, housing a variety of exotic plants, trees, and vibrant blooms.
Take a leisurely stroll through the lush greenery, relax on a bench surrounded by nature, and appreciate the serenity of this hidden oasis in the heart of the Barbican Centre. It's a perfect retreat for plant lovers and a unique way to experience the city's urban landscape.
Map Of Non-Touristy Places To Visit In London
London is a city full of surprises, and exploring its non-touristy side can be a truly rewarding experience. From hidden parks and markets to unique museums and cultural attractions, there are countless opportunities to discover the lesser-known gems of this vibrant city.
Whether you're a history buff, food lover, nature enthusiast, or art aficionado, there's something for everyone in London's hidden corners.
So step off the beaten path, embrace the local culture, and create unforgettable memories with these unique and exciting activities. Map below to help you locate each of the places mentioned above.
FAQs
Q: Are these non-touristy activities suitable for families with children?
A: Yes, many of the non-touristy activities mentioned in this guide are suitable for families with children. From picnics in the parks to city farms and treetop adventures, there are plenty of options for family-friendly fun.
Q: Do I need to book in advance for the hidden London tours?
A: It's recommended to book in advance for the hidden London tours, as they tend to be popular and have limited spots available. Check their websites or contact the tour providers for more information on booking procedures.
Q: Can I visit Sir John Soane's Museum for free?
A: Yes, admission to Sir John Soane's Museum is free. However, donations are encouraged to support the preservation and maintenance of this unique institution.
Q: Are the outdoor pools in Hampstead Heath open all year round?
A: The outdoor pools in Hampstead Heath are open seasonally, usually from late May to early September. It's best to check their official website or contact them directly for specific opening dates and times.
Q: Are the city farms in London free to enter?
A: Most city farms in London are free to enter, but they often rely on donations to support their operations. Consider making a contribution to help sustain these valuable community spaces.
Q: Are there vegetarian and vegan food options available at the Kingly Court Food Court?
A: Yes, the Kingly Court Food Court offers a wide range of food options, including vegetarian and vegan choices. You'll find a variety of cuisines to suit different dietary preferences.