When planning a trip to London one cannot miss out on West London, a vibrant and culturally rich region that offers a multitude of exciting activities and attractions for locals and tourists alike. Whether you're a history enthusiast, nature lover, shopping aficionado, or theater buff, West London has something to captivate your interest.
We have covered all major parts of London, from South London, North London, East London and Central London. Below, we will explore the notable areas of West London and highlight the top things to do in each area. So let's dive in and discover the hidden gems of this captivating part of the city!
Notable Areas of West London
Many of these places are must-visit spots on any London itinerary as well as being well sought-after places when looking for places to stay in London both for locals and tourists. Note that areas like Covent Garden, Mayfair and Soho are also extensively covered in our post on Central London.
Notting Hill
Notting Hill, famous for its picturesque streets and colorful houses, is a must-visit destination in West London. Immortalized by the iconic movie starring Hugh Grant and Julia Roberts, this area offers a unique blend of bohemian charm and upscale living. Stroll along Portobello Road, the heart of Notting Hill, and explore its vibrant market filled with antiques, vintage clothing, and delightful street food. Don't miss the renowned Notting Hill Carnival, Europe's largest street festival, which takes place annually in August.
Holland Park
Nestled between Kensington and Notting Hill, Holland Park is a peaceful oasis in the midst of the bustling city. This beautiful park boasts tranquil gardens, enchanting woodlands, and the stunning Kyoto Garden, a Japanese-style garden that exudes serenity and tranquility. Enjoy a leisurely walk amidst the colorful blooms, relax by the tranquil ponds, and soak in the peaceful atmosphere of this hidden gem.
South Kensington
South Kensington is a cultural hub and a haven for art and science enthusiasts. Discover the world-renowned Natural History Museum, which houses an extensive collection of fossils, minerals, and exhibits on the natural world. Right next to it, you'll find the awe-inspiring Victoria and Albert Museum, showcasing exquisite art and design from around the globe. Don't forget to visit the Science Museum, where interactive exhibits and immersive experiences await curious minds of all ages. There are plenty of cool cafes and restaurants to grab breakfast or brunch before embarking on exploring.
Earls Court
Earls Court is a vibrant neighbourhood that seamlessly blends residential charm with a lively atmosphere. Explore the eclectic mix of shops, cafes, pubs and restaurants along Earls Court Road. If you're a music lover, catch a show at the iconic Apollo Hammersmith, an iconic music venue that has hosted legendary artists over the years. Immerse yourself in the lively energy of this neighbourhood and enjoy the unique blend of modernity and tradition.
Chelsea
Chelsea, synonymous with luxury and sophistication, is a haven for fashion enthusiasts and art lovers. Take a leisurely stroll along the famous Sloane Street and King's Road, where high-end boutiques and trendy shops beckon. Immerse yourself in the contemporary art scene at the Saatchi Gallery, showcasing innovative works by emerging artists. Indulge in culinary delights at the renowned Michelin-starred restaurants scattered throughout the area. Chelsea offers a taste of the finer things in life.
Fulham
Fulham, located on the northern bank of the River Thames, is a charming neighbourhood with a relaxed vibe. Enjoy a leisurely walk along the picturesque riverside, visit the historic Fulham Palace with its beautiful gardens, or catch a football match at the iconic Craven Cottage stadium, home to Fulham Football Club. With its abundance of pubs, restaurants, and shops, Fulham offers a delightful experience for both residents and visitors.
Covent Garden
Also featured in our post on Central London, Covent Garden offers a vibrant and eclectic atmosphere. Famous for its bustling Covent Garden market, street performers, St Pauls Church and artisan shops, this lively district attracts locals and tourists alike. Its lively ambiance makes it an ideal spot to soak in the city's culture and entertainment.
Chiswick
Chiswick, situated on the banks of the River Thames, is a leafy suburb with a rich historical heritage. Explore the enchanting Chiswick House and Gardens, an architectural gem surrounded by stunning landscapes. Take a leisurely stroll along Chiswick High Road, lined with boutique shops, cafes, and restaurants. With its charming riverside setting and vibrant community, Chiswick offers a tranquil escape from the hustle and bustle of the city.
Kensington
Kensington is synonymous with elegance and sophistication. Home to the iconic Kensington Palace, the official residence of the Duke and Duchess of Cambridge, this area offers a glimpse into the lives of royalty. Explore the palace's opulent rooms, stroll through the manicured gardens of Kensington Gardens, and immerse yourself in the rich history and grandeur of this royal borough.
Shepherd's Bush
Shepherd's Bush is a bustling neighbourhood known for its vibrant shopping scene and cultural attractions. Indulge in retail therapy at Westfield London, one of the largest shopping centers in Europe, offering a vast array of shops, restaurants, and entertainment options. For music lovers, the Shepherd's Bush Empire is a must-visit venue, hosting an eclectic mix of concerts and performances. Immerse yourself in the vibrant atmosphere of Shepherd's Bush and discover its hidden gems.
Mayfair
In the heart of the city lies Mayfair, an elegant district known for its upscale boutiques, high-end restaurants, and luxurious residences. The area exudes sophistication and is a favorite haunt of the city's elite. This is where you will find Bond Street, Mount Street and many of London's famous shopping areas.
Holborn
Holborn, a bustling commercial hub with a rich historical backdrop. It's a melting pot of professionals, students, and history enthusiasts. Alongside modern offices and academic institutions, Holborn boasts impressive architectural gems, making it a fascinating blend of old and new.
Soho
Soho, renowned for its lively nightlife and creative flair. This bohemian district is filled with theaters, music venues, and trendy bars and pubs, making it a hub for artists and performers. Soho's vibrant streets are perfect for exploring diverse cuisines, experiencing the arts, and immersing yourself in the city's lively spirit. Whether you're seeking sophistication, culture, history, or artistic expression, these areas of London offer an enticing journey through the soul of this extraordinary city.
Things to Do in West London
1. Natural History Museum
The Natural History Museum is a treasure trove of natural wonders, housing a vast collection of specimens from the animal and plant kingdoms. Explore the dinosaur exhibits, marvel at the impressive blue whale skeleton in the Hintze Hall, and journey through the Earth Galleries to learn about the planet's geological history. With interactive displays and captivating exhibitions, the Natural History Museum offers an educational and entertaining experience for visitors of all ages.
2. Leighton House Museum
Discover the enchanting world of Victorian artist Frederic, Lord Leighton, at the Leighton House Museum in Kensington. This unique museum showcases Leighton's former home, a beautifully restored Victorian mansion filled with stunning artwork and intricate decorations. Admire the Orientalist designs, intricate tiles, and the iconic Arab Hall, which features a stunning golden dome and mesmerizing mosaics. Explore the various galleries and immerse yourself in the artistic vision of Lord Leighton.
3. Kew Gardens
Escape the urban jungle and immerse yourself in the tranquility of Kew Gardens, a UNESCO World Heritage Site. This botanical paradise spans 326 acres and showcases an extraordinary collection of plants from around the world. Explore the iconic Palm House, stroll along the Treetop Walkway for a bird's-eye view of the gardens, and admire the vibrant floral displays. Kew Gardens is a haven of serenity and natural beauty.
4. Sipsmith Distillery
For gin enthusiasts, a visit to the Sipsmith Distillery in Chiswick is a must. Discover the art of gin-making as you embark on a guided tour of the distillery. Learn about the distillation process, the botanicals used, and the history of this beloved spirit. Engage your senses with tastings of Sipsmith's handcrafted gins and experience the passion and craftsmanship that goes into every bottle. Don't forget to pick up a bottle or two as a memento of your visit.
Portobello Road
Among the most famous West London markets, Portobello Road is synonymous with the world's largest antiques market and offers a delightful shopping experience. Browse through the stalls brimming with vintage treasures, unique collectibles, and quirky artifacts. Discover hidden gems, uncover rare finds, and immerse yourself in the vibrant atmosphere of this iconic market. Don't forget to sample the mouthwatering street food and grab a freshly brewed coffee from one of the charming cafes along the road.
5. See a Show in London's West End
No visit to West London is complete without experiencing the magic of London's West End. Catch a world-class theater production in one of the iconic venues, such as the Theatre Royal Drury Lane or the Lyceum Theatre. Be transported to different worlds through mesmerizing performances, breathtaking sets, and unforgettable music. From classic musicals to contemporary plays, the West End offers a diverse range of shows that cater to every taste and preference. Immerse yourself in the glamour and excitement of the theater and create memories that will last a lifetime.
6. Hampton Court Palace
Step back in time and immerse yourself in the grandeur of Hampton Court Palace, a magnificent Tudor palace with stunning gardens and captivating history. Explore the opulent State Apartments, wander through the beautifully landscaped gardens, and get lost in the famous Hampton Court Maze. With its rich history, intricate architecture, and fascinating stories, Hampton Court Palace offers a captivating journey through time.
7. Kensington Gardens
Adjacent to Kensington Palace, Kensington Gardens is a tranquil haven in the heart of the city. Spanning over 270 acres, these meticulously manicured gardens offer a peaceful retreat from the bustling streets. Take a leisurely walk along the tree-lined avenues, relax by the serene Serpentine Lake, or have a picnic on the lush green lawns. The gardens are also home to various statues, memorials, and fountains, adding to the charm and beauty of this natural oasis.
8. Wallace Collection
The Wallace Collection is a hidden gem nestled in the heart of London's West End. Housed in a stunning historic townhouse, this museum displays an extensive collection of artworks, furniture, and decorative arts from the 15th to the 19th centuries. Admire masterpieces by renowned artists such as Titian, Rembrandt, and Velázquez, and marvel at the opulent interiors of the museum. The Wallace Collection is a haven for art connoisseurs and history enthusiasts.
9. William Hogarth House
Step into the world of renowned 18th-century artist William Hogarth at the William Hogarth House in Chiswick. This beautifully preserved Georgian townhouse was the residence and workplace of the famous painter and printmaker. Explore the museum and gallery, which showcases Hogarth's works and provides insights into his life and artistic contributions. Immerse yourself in the rich history and artistic legacy of one of England's most celebrated artists.
10. Kensington Palace
Kensington Palace, located within the beautiful Kensington Gardens, is a historic royal residence that has been home to many members of the British royal family. Step into the lavish world of kings and queens as you explore the State Apartments and the stunning King's and Queen's State Apartments. Marvel at the exquisite architecture and elegant interiors, and learn about the fascinating stories and scandals that unfolded within these walls. Don't forget to take a stroll through the picturesque gardens surrounding the palace, where you can enjoy serene walks and admire the beautiful landscapes.
11. Osterley Park and House
Escape the city and immerse yourself in the tranquility of Osterley Park and House, a stunning National Trust property located in Isleworth. Explore the opulent interiors of the Georgian mansion, with its grand rooms and exquisite decorations. Take a leisurely stroll through the extensive parkland, dotted with gardens, meadows, and a beautiful lake. Osterley Park and House are among London's stately homes you should add to your itinerary, they offer a peaceful retreat where you can connect with nature and admire the architectural beauty of the estate.
12. Shopping in London's West End
West London is a shopper's paradise, especially when it comes to the renowned shopping streets of Oxford Street, Bond Street, and Regent Street. These iconic destinations are lined with a vast array of shops, from high-street brands to luxury designer boutiques. Indulge in some retail therapy as you explore the countless stores and department stores, such as Selfridges, Liberty, and Hamleys. From fashion and beauty to electronics and homeware, you'll find everything you need and more in London's West End.
13. Ham House
Immerse yourself in history at Ham House, a beautifully preserved 17th-century mansion located on the banks of the River Thames in Richmond. Step back in time as you explore the opulent rooms, adorned with exquisite artwork, textiles, and furniture from the Stuart and Jacobean eras. Stroll through the stunning gardens, which feature intricate parterres, a cherry orchard, and a peaceful wilderness area. Ham House offers a fascinating glimpse into the lives of the aristocracy during the 17th century.
14. Petersham Nurseries Cafe
Indulge in a unique dining experience at Petersham Nurseries Cafe, nestled in the serene surroundings of Richmond. This charming cafe is located within a garden center and offers a delightful blend of seasonal ingredients, organic produce, and rustic charm. Enjoy a leisurely lunch or afternoon tea amidst the enchanting greenery, surrounded by flowers and plants. The cafe's menu features a selection of delectable dishes, with a focus on fresh, locally sourced ingredients. Whether you're craving a hearty meal or a light salad, Petersham Nurseries Cafe promises a memorable culinary experience.
15. Richmond Park
Nature lovers will delight in a visit to Richmond Park, one of London's largest and most beautiful royal parks. Spanning over 2,500 acres, this expansive park is home to herds of deer, ancient oak trees, and picturesque landscapes. Explore the numerous walking and cycling paths, or simply find a quiet spot to relax and soak in the serene surroundings. Don't forget to visit the famous Isabella Plantation, a captivating woodland garden bursting with color and fragrance.
16. Little Venice
Escape the hustle and bustle of the city and discover the picturesque neighbourhood of Little Venice. Located where the Grand Union and Regent's Canals meet near Paddington, this charming area is characterized by its tranquil waterways, tree-lined streets, and quaint houseboats. Take a leisurely boat trip along the canals, enjoy a picnic by the water's edge, or explore the charming cafes and restaurants that line the streets. Little Venice offers a peaceful retreat that feels a world away from the busy streets of London. You can also catch a boat from here taking you to Camden Town and its famous Camden Market.
Piccadilly Circus
No visit to London is complete without a visit to the iconic Piccadilly Circus. This bustling square is known for its dazzling neon signs, bustling crowds, and vibrant atmosphere. Take a moment to admire the famous statue of Eros and soak in the energy of this vibrant hub. Piccadilly Circus is surrounded by theaters, shops, and restaurants, making it the perfect place to immerse yourself in the buzz of the city and experience the true essence of London. Just around the corner is Shaftsbury Avenue which is not to be missed while in the area.
17. Leighton House Museum
Step into the world of Victorian art and culture at the Leighton House Museum in Kensington. This stunning museum was the former home of acclaimed artist Frederic, Lord Leighton. Immerse yourself in the opulence and grandeur of the Victorian era as you explore the beautifully restored interiors and admire Leighton's masterful artwork. The museum showcases an extensive collection of paintings, sculptures, and decorative arts, providing insights into the artistic legacy of Lord Leighton. From the iconic Arab Hall to the enchanting studio, every corner of Leighton House is a testament to the artist's vision and creativity.
18. Shopping at London's Famous Department Stores
Indulge in a shopping spree at London's famous department stores, such as Harrods, Selfridges, and Liberty. These iconic establishments offer a luxurious retail experience, with an extensive range of high-end fashion, beauty, and lifestyle brands. Lose yourself in the opulent surroundings as you browse the latest designer collections, discover unique and exclusive products, and enjoy exceptional service. A visit to these legendary department stores is a quintessential London experience.
19. Chiswick House
Step into the world of neoclassical architecture at Chiswick House, a magnificent Palladian villa surrounded by beautiful gardens. Designed by renowned architect Lord Burlington in the 18th century, this architectural masterpiece showcases elegant interiors, stunning artwork, and meticulously landscaped gardens. Take a leisurely stroll through the gardens, inspired by the principles of Italian Renaissance gardens, and admire the statues, fountains, and vibrant flowerbeds. Chiswick House is a true gem of West London's cultural heritage.
20. Richmond Theatre
For theater lovers, a visit to the Richmond Theatre is a must. This beautiful Victorian theater showcases a diverse range of performances, from classic plays to contemporary productions. Immerse yourself in the world of theater as you witness captivating performances by renowned actors and talented ensembles. The Richmond Theatre offers a charming and intimate setting, ensuring a memorable and immersive theater experience.
21. Notting Hill Carnival
Experience the vibrant and colorful celebration of Caribbean culture at the Notting Hill Carnival. Held annually on the streets of Notting Hill, this lively event attracts millions of visitors from around the world. Immerse yourself in the infectious rhythms of calypso and reggae music, marvel at the dazzling costumes and elaborate floats, and indulge in delicious Caribbean cuisine. The Notting Hill Carnival is a testament to London's multicultural spirit and offers a unique and unforgettable experience.
22. Brompton Cemetery Catacombs
Explore the eerie underground world of the Brompton Cemetery Catacombs, located in Chelsea. This historic cemetery, established in 1840, is home to an intricate network of catacombs that house the remains of thousands of individuals. Take a guided tour and delve into the fascinating history of this unique burial site. Learn about the stories of those interred within the catacombs and gain insights into the Victorian mourning culture. The Brompton Cemetery Catacombs offer a glimpse into a bygone era and provide a hauntingly captivating experience.
23. See a Show at Apollo Hammersmith
The Apollo Hammersmith is a legendary music venue that has hosted some of the world's biggest music acts. Located in Hammersmith, this historic theater offers an intimate setting and excellent acoustics, ensuring an unforgettable concert experience. From rock and pop concerts to comedy shows and theater productions, the Apollo Hammersmith's diverse lineup caters to a wide range of tastes. Immerse yourself in the electric atmosphere, sing along to your favorite songs, and enjoy an incredible night of live entertainment at this iconic venue.
24. Kyoto Garden
Discover a serene slice of Japan in the heart of Holland Park at the Kyoto Garden. This exquisite Japanese-style garden offers a peaceful retreat from the bustling city. Take a moment to admire the meticulously manicured landscapes, tranquil ponds, and cascading waterfalls. The garden features traditional Japanese elements, including a teahouse, stone lanterns, and a beautiful collection of Japanese maple trees. Enjoy a moment of tranquility and immerse yourself in the beauty of this enchanting garden.
25. Westend Nightlife
When the sun sets, the vibrant nightlife of West London comes alive. The West End is renowned for its world-class theaters, buzzing bars, and trendy nightclubs. Catch a show at one of the iconic theaters, where you can witness breathtaking performances and captivating storytelling. After the curtains close, immerse yourself in the electric atmosphere of the West End's bars and clubs. From cozy pubs serving traditional ales to stylish cocktail lounges and lively dance floors, there's something to suit every taste and mood. Experience the excitement and energy of Westend nightlife and create unforgettable memories.
26. Oxygen Freejumping
For an adrenaline-fueled adventure, head to Oxygen Freejumping in Acton. This trampoline park offers a thrilling experience for visitors of all ages. Bounce, flip, and soar through the air as you explore a variety of trampoline zones, including dodgeball courts, foam pits, and obstacle courses. Whether you're a seasoned jumper or trying it for the first time, Oxygen Freejumping guarantees a fun-filled and exhilarating experience. Release your inner child, challenge yourself, and enjoy hours of high-flying excitement at this unique attraction.
27. Shop Until You Drop at Westfield White City
If you're a shopaholic, a visit to Westfield White City is a must. This sprawling shopping center is one of the largest in Europe and offers a paradise for retail therapy. With hundreds of stores ranging from high-street brands to luxury fashion houses, you'll find everything you need under one roof. Browse the latest fashion trends, discover unique accessories, and explore the vast selection of homeware, electronics, and beauty products. When you need a break from shopping, indulge in a meal at one of the center's many restaurants, catch a movie at the cinema, or simply relax and people-watch in the vibrant atriums. Westfield White City is a shopper's dream come true.
28. Shopping in Chelsea's Sloane Street and King's Road
Chelsea's Sloane Street and King's Road are synonymous with luxury shopping. These iconic streets are lined with designer boutiques, flagship stores, and upscale fashion retailers. From renowned fashion houses to independent boutiques, you'll find an array of high-end brands and exclusive collections. Explore the latest trends, discover unique pieces, and indulge in the ultimate luxury shopping experience. Afterward, take a leisurely stroll along King's Road and immerse yourself in the chic and stylish atmosphere of this fashionable neighbourhood. For more on shopping in London see our shopping guides for Chelsea, Knightsbridge, Mayfair and Covent Garden.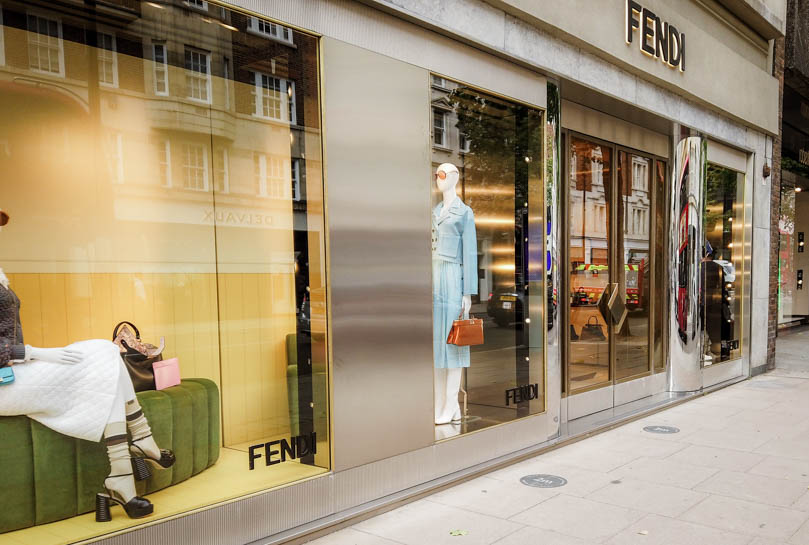 29. Visit Sunn House and Park
Escape the hustle and bustle of the city and discover the tranquil beauty of Sunn House and Park in Chiswick. This historic house, surrounded by picturesque gardens, offers a serene retreat where you can relax and unwind. Take a leisurely walk through the park, admire the beautiful landscapes, and enjoy a picnic amidst nature. Sunn House and Park provide a peaceful oasis away from the crowds, allowing you to reconnect with nature and find solace in its serene surroundings.
30. Visit Saatchi Gallery
Art enthusiasts shouldn't miss a visit to the Saatchi Gallery in Chelsea, among must visit museums and galleries in Kensington and Chelsea. This contemporary art gallery showcases innovative and thought-provoking works by emerging artists from around the world. Explore the diverse range of exhibitions, installations, and multimedia artworks that challenge conventions and push boundaries. The Saatchi Gallery offers a platform for new voices and perspectives in the art world, making it a must-visit destination for those seeking artistic inspiration and discovery.
31. Explore Colorful Streets and Mews of Notting Hill
Immerse yourself in the vibrant atmosphere of Notting Hill by exploring its colourful streets and mews. Wander through Portobello Road, known for its bustling market and charming shops. Admire the pastel-colored houses and picturesque facades that line the streets, creating a whimsical and picturesque backdrop. Capture Instagram-worthy photos, discover hidden gems tucked away in the mews, and soak in the bohemian charm of this iconic neighbourhood. Notting Hill's colorful streets are a feast for the eyes and offer a unique glimpse into the area's rich cultural heritage.
The Best Tours in West London
West London is a treasure trove of captivating attractions and hidden gems, and one of the best ways to explore this vibrant region is through a guided tour. Whether you're a history buff, a nature lover, or a culture enthusiast, there are numerous tours available that cater to various interests. Here are some of the best tours in West London that offer unique and immersive experiences:
These are just a few of the best tours available in West London, offering a range of experiences that cater to different interests and preferences. Whether you're a history enthusiast, an art lover, or simply looking to explore the beauty of the area, these tours provide a fantastic way to immerse yourself in the wonders of West London.
FAQ
Q: What are some other attractions in West London? A: Other notable attractions in West London include the Royal Botanic Gardens, Kew, the Saatchi Gallery, Fulham Palace, and the Chelsea Physic Garden.
Q: Are there any good restaurants in West London? A: Yes, West London is known for its vibrant culinary scene. You'll find a wide range of restaurants offering various cuisines, from Michelin-starred fine dining establishments to cozy cafes and traditional pubs. We have covered many must try restaurants in Covent Garden, Mayfair, Soho, Marylebone.
Q: Can you recommend any hotels in West London? A: There are several excellent hotels in West London, catering to different budgets and preferences. Some popular options include The Milestone Hotel and Residences, The Kensington Hotel, and The Portobello Hotel. You can also read our guides here on luxury hotels in Chelsea and Kensington.
Q: How can I travel around West London? A: West London is well-connected by public transportation, including the London Underground (Tube), buses, and Overground trains. You can also explore the area on foot or rent a bicycle to enjoy the scenic routes and parks.
Q: Are there any events or festivals in West London? A: West London hosts various events and festivals throughout the year. Notable ones include the Notting Hill Carnival, the Chelsea Flower Show, and the Hampton Court Palace Festival. Check the local event calendars for specific dates and details.
And that's our guide on West London, a treasure trove of attractions and activities that cater to diverse interests. Whether you're exploring the vibrant streets of Notting Hill, immersing yourself in the cultural scene of South Kensington, or enjoying the tranquility of Holland Park, you're sure to find something that captures your imagination.
From historic palaces and museums to beautiful gardens and iconic shopping streets, West London offers a rich tapestry of experiences. So pack your bags, put on your walking shoes, and get ready to uncover the hidden gems of this captivating part of the city.