Looking for unusual places to stay in London? You are in luck! London is so amazing that you can fulfill your dreams of not only staying the most quirky hotels in London but cool hotels in London, trendy, unusual.
From floating hotels to those with a unique style about them. If you are looking for special places to stay in London want trendy London hotels, boutique hotels in London with a side of hidden gem feel to them then you are in luck!
These will have you taking in views from some of the city's hidden tourist spots. From Canary Wharf to London's Little Venice.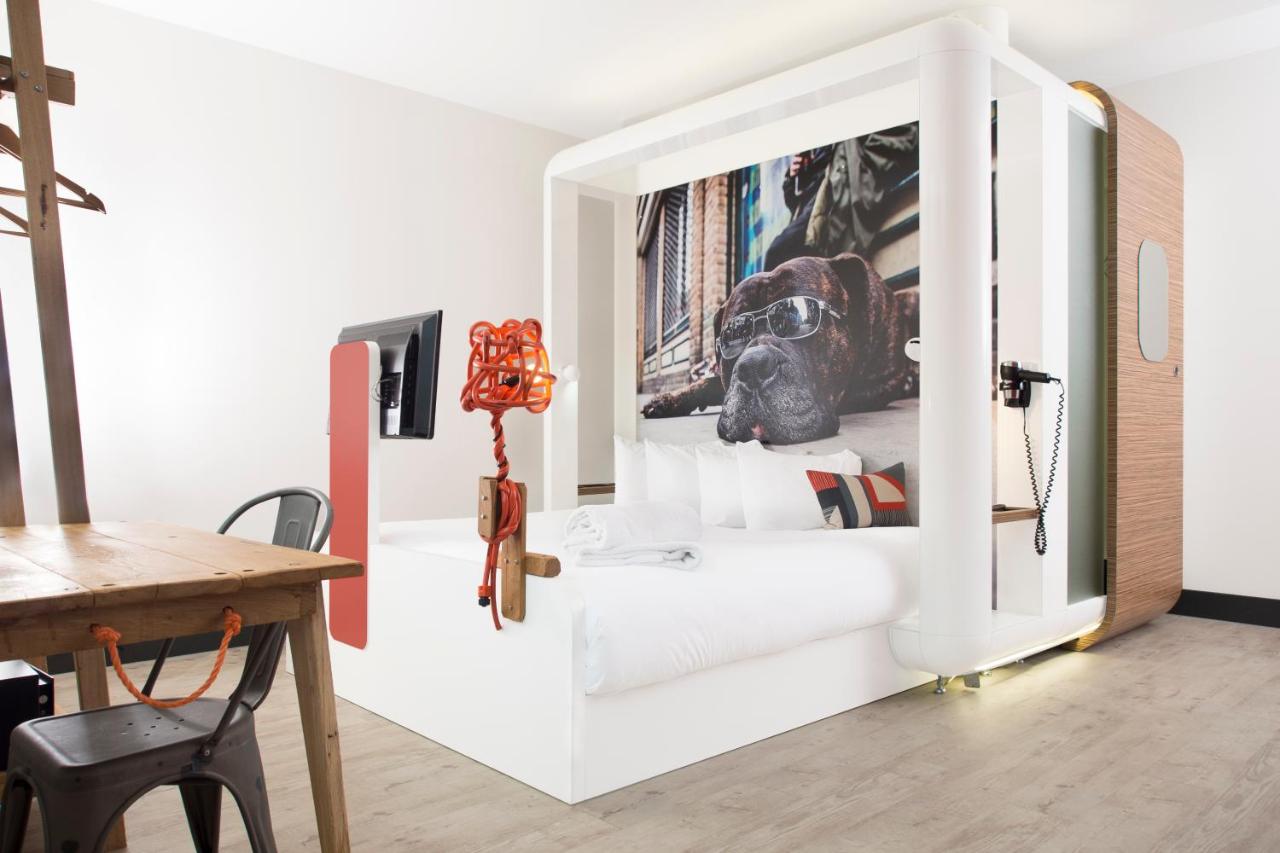 Unusual Places To Stay In London:  Funky & Quirky Hotels In London
Add a touch of luxury to your stay in London without blowing the budget below are some cool and unusual places to stay in London. Stay in London's top quirky hotels that offer modern amenities in a unique way.
Enjoy the views of London from the comfort of your very own boat for that night, sip coffee in the morning from one of London's famous canals; Regents Canal.
Many of which are close to many of London's tourist attractions, from, Natural History Museum, Leicester Square's entertainment centre, Tower Bridge, Covent Garden and many more.
Also, explore the city with ease as many are within walking distance to the London tube. For more on cool places to stay in London, check out the links below to Booking.com's hotel reviews and prices for each of the hotels.
As prices per night change depending on the season I have avoided to add those below but these are some of the most affordable places to stay that also provide a unique and memorable stay in London.
This is among the most unusual hotels in the UK. If you want to experience cool places to stay in London then StowAway need to be up on your list of quirky and interest hotels in London to check out.
USP of the Stowaway Waterloo is its idea of being affordable while also being luxury re-defined. The location of the hotel in Central London and its proximity to the Waterloo station and the Tube makes it more appealing.
You not only have views of London Eye but you are a short walk to Big Ben, Westminster Abbey, London Eye, Trafalgar Square and so many more of London's tourist attractions.
A retro hotel in London just at a walking distance from Aldgate East and Aldgate Tube station in East London. The hotel's quirky interiors and a restaurant named Motley dishing out delicacies special to these parts of London – all make a treat to remember.
Strategically located, this luxury yacht hotel is Absolute Pleasure in all terms! The yacht is at Canary Wharf West India Quay and is accessible from the Docklands, and the London City airport.
The guests will enjoy impressively opulent interiors, theatre and other entertainments in the famous West End of London. You are a minutes walk from shopping malls in West London, you also London's Docklands Museum nearby too.
Those looking for an out-of-the-ordinary hotel in East London can definitely head out to the Dutch-based hotel of citizen M. This is one of London's affordable trendy hotels in London.
Guests can have a relaxing time at Old Street or Liverpool Street. You are within London's trendy and quirky part of the city here.
If you love food, art and want to be among London's creative then this place is one to check out. For more on Shoreditch check out my posts on Eating Through East London, taking an Alternative Street Art Tour in Shoreditch to Shopping in Shoreditch.
Want to experience one of the most quirky places to stay in the UK? Get a taste of cool decor and fine dining experience make The Curtain, in Shoreditch a prime hotel.
The hotel is near Hoxton Square and just at a walking distance from Sky Garden, which is London's highest public garden.
The Curtain hotel is a five-star hotel, with members' club and rooftop pool facilities. The hotel also has a ballroom, a screening room, and a sprawling event space.
Fans of Shakespeare and his works, love to stay at the Mercure London Bridge hotel. Cozy and located in South Bank, the hotel is ideal for those who head off to the Shakespeare's Globe Theatre.
There are 144 guest rooms and a pet-friendly hotel. You are right by the river and all the cool tourist sights nearby. From The Shard to Borough Market and Tower of London.
Looking for special places to stay in London? Maybe unusual romantic places to stay UK? Then check out the Sunborn Yacht Hotel. The location of this famous yacht hotel in Royal Victoria Dock is a big winner.
The guests here can access Symphony Spa in one of the city's hidden hotels in London. Another hotel that is within walking distance to London's O2 entertainment centre which you can get to in a rather unique way, by way of the Emirates Cable Cars featured in my post on Top Tourist Attractions In London Not To Miss.
One of the branches of this group of hotels is The Hoxton in London. One of the cool hotels in London located at Shoreditch and in close proximity to places like the bustling Liverpool Street, Old Street Tube Station, the hotel is great for international tourists.
If your idea of a luxurious trip includes staying in an eclectic space, then Artist Residence London near Chelsea, Westminster, and Tate Britain are great.
One of the cool art hotels in London where you can pick from the assortment of rooms and suites that include Small, Small Plus, Loft, and Grand Suites to name a few.
One of the coolest hotels in London in terms of decor as well as being built in a still of boutique hotels in central London.
A chain of hotel, citizenM on London Bankside is another branch of this chain and is equally quirky with contemporary interiors.
The hotel's proximity to Tate Modern and Southbank also add to the convenience. The Vitra furniture, XL-sized beds, and Wi-Fi makes the hotel a great workspace too.
Looking to stay in the city's most interesting London hotels? What better way to have a memorable stay in London than to stay on a boat!
What will strike you first is the location of this classy hotel 'The Boathouse' in Central London's Floating Pocket Park. The location is the highlight since from here the tourists can go on various walks to places like Westminister Borough.
Located in Paddington where you will find London's Little Venice, another gem that needs to be on your sightseeing itinerary in London.
Located in the bustling South Bank area is the Ibis Southwark hotel. This is a stylish hotel located near the Borough Market and The Shard & Tower Bridge. Its location is a plus along with its unlimited all-inclusive breakfast platter.
Want a slice of themed hotels in London? Perhaps in search of charming hotels in London? Check on this beautifully decorated top luxury hotel in Liverpool Street in Shoreditch London, Batty Langley is just at a walking distance from The Brick Lane and the Tower of London too.
Enjoy staying at grandly decorated rooms and experiencing the Tapestry Room for once-in-a-lifetime opportunity.
So have sampled any the unusual places to stay in London listed above? Which one was your favorite?
Map Of Funky & Quirky Hotels In London

Also See
Pin For Later