Canary Wharf is widely known for its towering skyscrapers and modern lifestyle, but dig a little deeper, and you'll find there's even more to explore.
If you're visiting this trendy part of London or searching for ideas of things to do in Canary Wharf, look no further!
From the abundance of shopping options, cool tours, picturesque walks and lively eateries – there truly is something in Canary Wharf for everyone. Join us as we take a closer look into what makes this area so unique.
A Guide To The Must-See Attractions And Events In Canary Wharf
If 37+ fun things to do in Canary Wharf are not enough for you, we have even more! Further below you will not only find a map of all the Canary Wharf attractions listed below but a short list of additional things to do near Canary Wharf that are perfect for a solo, family trip or dare we say even a date?
You can find everything you could possibly need in this part of London. Plenty of cafes, bars, Canary Wharf brunch spots, delicious breakfast joints as well as cool places for Afternoon tea in Canary. If you want to stay local we also have the perfect list of hotels in Canary Wharf with river views.
If you're looking for places to visit while in Canary Wharf, then be sure to grab breakfast at The Breakfast Club. It's a lively spot with a cool vibe and great food, so it's hard to go wrong when dining here.
Found on Crossrail Place, their all-day menu is guaranteed to tempt your taste buds, and their award-winning English breakfasts are always popular.
In addition to traditional favourites, they also serve up an array of more innovative dishes like Caribbean jerk chick beans and ricotta French toast, perfect for trying something new! So if you want a unique place serving delicious diner-style dishes, The Breakfast Club is definitely worth visiting.
View this post on Instagram
2. Crossrail Roof Gardens
Canary Wharf is one of the United Kingdom's premier places to visit and work. Located in London's Eastend, it has a wide variety of places to explore and interesting activities to do.
Crossrail Roof Gardens is one of the must-see places in Canary Wharf – one of London's many green spaces. Its ivy-covered walkways and ponds lined with willow trees make it an especially peaceful refuge and place to explore nature right in the heart of London. Its among must-see beautiful gardens in London.
A great location for a leisurely stroll or jog, you can find patches of much-needed wildlife outdoor living space here, so don't forget your camera! The gardens are open daily, so plan a visit to this unique place during your stay in Canary Wharf, and you'll be sure to love it!
3. Crossrail Tunnel at One Canada Square
The Crossrail Tunnel at One Canada Square is great to explore. It marks the 'super sewer tunnel', which opened in 2017 and is a testament to modern engineering.
Its remarkable feat is its ability to withstand up to 12 meters of floodwater annually, safeguarding the area from rainfall and tidal surges. The tour around this unique location offers an illuminating insight into the building works and operations behind the scenes – as well as introduces you to some of London's most iconic places along the way.
With several places of interest to explore on the route, make sure not to miss this incredible experience while visiting Canary Wharf; its inspiring history will make your visit worthwhile.
4. Visit Crossrail Place
Canary Wharf is bustling with both local and international visitors. One attraction that shouldn't be missed while in this busy part of London is Crossrail Place.
Serving as the perfect spot to spend a day or an evening, Crossrail Place has something for everyone – from shopping enthusiasts to food connoisseurs.
Whether you're searching for a new wardrobe from leading high-street brands, a bite to eat at the Breakfast Club restaurant or a movie night at one of the complex's many cinemas, there's no way you won't leave feeling satisfied.
For those looking for an extra challenge after taking on the trendy eateries, Crossrail Place also houses many gyms that can help you burn away any remaining energy!
If you're looking for what to do in Canary Wharf, check out Pergola on the Wharf. This area is a culinary heaven filled with vibrant hidden gems, each offering delicious food and drinks of different cuisines.
This can be an enjoyable experience whether you dine alone or with friends. You can also treat yourself while indulging your taste buds by shopping around its various retail stores and adding something unique to your wardrobe.
To further cap off an unforgettable day in that space, sit under one of their scenic rooftops and let Canary Wharf's skyline captivate you with its magnificence.
Canary Wharf offers a range of interesting attractions, not least the Museum of London Docklands. Housed in West India Quay and full of interactive exhibitions and educational activities, the museum tells the story of London's river, people, trade and transformations from 1666 to the present day. If you are looking for cool free things to do in London this is up there among the cool museums in London you should visit.
The museum has recently become even more popular since they released their 'Explorers Gateway' App, allowing visitors to explore their favourite collections with added virtual reality experiences.
Pack a picnic and enjoy learning about this crucial part of London at this family-friendly attraction.
View this post on Instagram
7. Roam Jubilee Park
Canary Wharf's Jubilee Park is the perfect destination for a leisurely stroll or jog. The outdoor park features plenty of paths and green grassy areas full of trees, plants and open spaces that offer magnificent views of the area.
Pack a picnic lunch and enjoy lunch beside a picturesque pond with ducks roaming about, or head over to the tennis courts for a game with friends or family.
Jubilee Park also boasts an exciting children's play area, with numerous different play items and swings to entertain the young.
For visitors looking for something more challenging, the park has two fitness trails providing timed workouts challenging even experienced athletes. No matter what form of recreational activity you are looking for, Jubilee Park has it all!
If you're looking for exciting things to do on your visit to Canary Wharf, then look no further! Go Boats offer an abundance of seasonal fun with self-drive boat hire.
Enjoy some drinks and snacks while exploring the river Thames against a backdrop of iconic skyscrapers – it's truly a sight to behold! Visiting during warmer months?
Take the opportunity to jump in and take a dip while admiring the cityscape from the water. Don't forget your camera! Whether you're alone or with friends, there's something for everyone at Go Boats. Have a go and make your visit to Canary Wharf unforgettable!
If you're looking for something fun and different to do in Canary Wharf, why not pay a visit to the Cargo Canary Wharf Market Halls?
This exciting indoor East London market has over thirty new traders and is the perfect place to explore a wide range of cuisines and delicacies from countries across the globe.
You can also pick up unique souvenirs, jewellery and art from independent sellers. Pack up an appetite and pop along for an afternoon of delicious foodie finds, or shop for something special to take back home.
10. Canary Wharf Winter Lights Festival
Canary Wharf, Winter Lights Festival, is a fantastic seasonal event. Every winter, the grounds of Canary Wharf come alive with amazing installations and sculptures lighted up in fantastic colours, providing a beautiful evening atmosphere.
Throughout the festival, you can experience interactive installations using creative technologies; giant illuminated structures and other digital artworks from talented international artists.
The festival also offers interesting activities like walk-in cubes where you can watch short stories through audio-visual projections or explore stories about the diverse culture of London's local people.
I highly recommend visiting this wonderful event during your stay in London since it provides an excellent opportunity to admire stunning illumination artworks as well as learn about the vibrant culture of London citizens.
While working though a London itinerary, Canary Wharf should definitely be on your list of places to experience. With its spectacular river walk, grand architecture and vibrant markets, there is something for everyone.
One of the exciting things to do in Canary Wharf is a visit to Mercato Metropolitano Canary Wharf where you will find an eclectic mix of independent food and drink vendors from across the globe.
Visitors can enjoy diverse flavours spanning from Indian to Italian or indulge in a traditional British Afternoon Tea.
Mercato Metropolitano boasts fantastic cuisine, and the atmosphere is unlike any other, with an open-air area allowing guests to dine al fresco or browse colourful stalls displaying locally sourced handicrafts and artisan products. If you are a lover of food don't miss an opportunity to add Mercato Mayfair or Seven Dials Market to you itinerary.
If you're looking for a unique way to spend an afternoon, why not hire one of Canary Wharf's Skuna hot tub and BBQ boats for an experience like no other?
Set sail into the London canals and embrace the tranquil atmosphere as you recline in the sunken hot tub whilst sipping your cool drink.
Have fun barbecuing on board – or visit one of the surrounding restaurants – with delicious, locally sourced ingredients provided. With a diverse array of attractions conveniently located nearby, make sure to add this to your list of things to do in Canary Wharf!
View this post on Instagram
Canary Wharf is a great destination for locals and tourists alike. If you're looking for a fantastic night out, one not to be missed is Big Easy BBQ and Crabshack.
This American-themed restaurant is located on West India Quay and offers an amazing all-you-can-eat buffet of frog legs, jalapeno poppers, and Louisiana-inspired dishes.
As well as savoury options, the restaurant also serves unique dazzling desserts like deep-fried popcorn ice cream and Mississippi mud pie! Make sure to arrive with an appetite, as Big Easy BBQ and Crabshack's endless servings are worth every penny.
If you are looking for an exciting way to spend a night out on the town in Canary Wharf, then visiting Electric Shuffle is the place for you!
With a tidy menu of global dishes, brunch and cocktails, this vibrant venue is perfect for any evening. It also offers shuffleboard and prosecco socials as unique alternatives to other activities available in the area. A great option for fun-seekers without breaking the bank!
View this post on Instagram
15. Skating At Canary Wharf's Winter Ice Rink
Canary Wharf's winter ice rink is a great spot to spend the day skating with family and friends. The seasonal rink is open each winter, offering a cold-weather escape.
It's located beneath Canada Place and offers a festive atmosphere with regular DJ sessions throughout the day. Plus, it's easily accessible by Jubilee Line from central London, or you can take advantage of the outdoor picture opportunities and get there in style(maybe bring your own skates!). Ice skating at Canary Wharf's Winter Ice Rink is bound to be an unforgettable experience!
16. The Breakfast Pub
If you're looking to get the day started right when in Canary Wharf, then head to The Breakfast Pub, the world's first Breakfast pub.
It's known for its large, varied and delicious breakfast dishes, all cooked with fresh ingredients. Try their signature Full English, French Toast or simply a great-tasting coffee as you catch up on the news of the day.
Their prices are always reasonable, and they serve lunch, so be sure to stop by if you are in the area!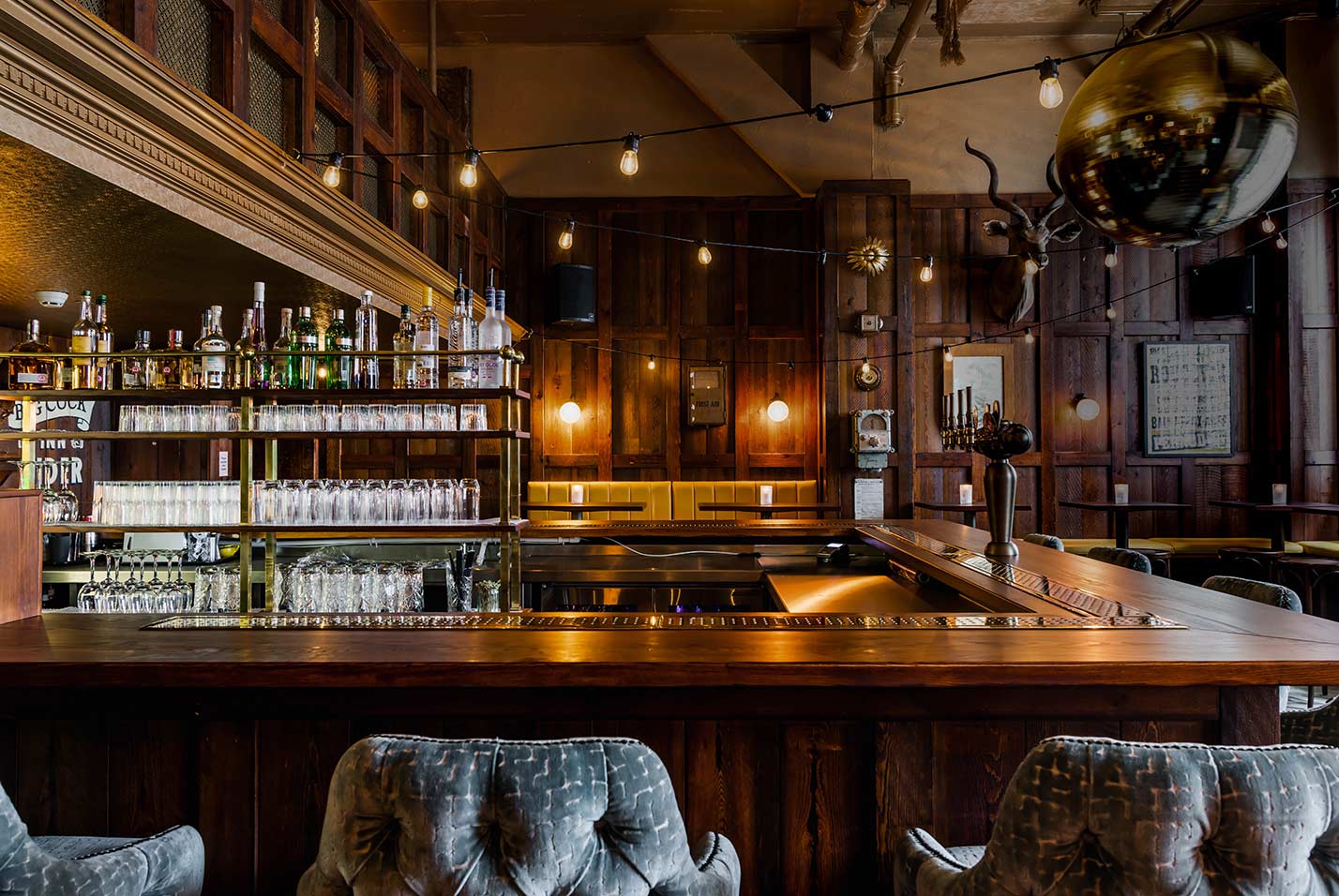 It's so exciting to experience Fairgame's one-of-a-kind funfair in Canary Wharf again. This interactive and immersive experience brings a brand new twist to classic fairground games such as Roll-A-Ball Derby and Skeeball.
Plus, you can test your skills on fan favourites like Shoot the Clown and Whac-A-Mole. Put your competitive streak to the test for an unforgettable day of unlimited fun!
And if you're feeling peckish, head over for London's hottest street food from Burger & Beyond, Rudy's Neapolitan Pizza, and Dos Mas Tacos. Get ready for a thrill like no other at Fairgame!
18. Visit Billingsgate Market
Billingsgate Market is one of the places you should consider when making a trip to Canary Wharf. It is one of the oldest fish markets in the UK, and visitors can explore what's on offer and understand how it works.
On their market tour, visitors will see different species of fish from all over the world, including tropical species sold alongside salmon, trout, cod, haddock and more.
Not only will you find fresh seafood there, but you'll also be able to shop for various places associated with fishing, such as buckets, nets and containers. Billingsgate Market makes for a truly enlightening experience, and I highly recommend it to anyone looking for places to visit in Canary Wharf!
19. Enjoy Drinks With A View At The Gun Pub
If you're looking for what to do in Canary Wharf, London, then you should definitely visit The Gun Pub. Enjoy your drinks with a stunning view – sample their excellent beer and cider selection, or go for something from the extensive wine list.
Their location sat, on the banks of the River Thames makes it the perfect spot for dusk drinks with friends. Make a reservation before popping along to guarantee yourself one of the best spots in Canary Wharf! For more inspiration check out our guide on the best pubs in Canary Wharf.
When planning a visit to Canary Wharf, an afternoon tea aboard the Sunborn Yacht Hotel should definitely be on the itinerary.
Guests have their choice of two traditional 'cream' teas or the popular High Tea, which comes complete with delicious homemade sandwiches and British specialities like scones and clotted cream.
Every afternoon becomes a memorable experience as patrons are surrounded by tranquil yacht views and excellent service – complete with chilled Champagne options for added luxury. Don't forget to bring along a camera for stunning photos and lingering memories of this incredible experience!
21. One Canada Square
Located at the very heart of Canary Wharf is easily recognisable due to its impressive 50-storey skyscraper, One Canada Square. Inside is home to a selection of upscale restaurants, bars and offices all offering picturesque city views and several retail stores for a spot of shopping.
Take the lift up to 'SkyPod' for some incredible 360-degree views across London and its iconic landmarks, or if you're feeling adventurous, ascend 883 steps up to the top of the building for a stunning bird's eye view of Canary Wharf from 56 metres in the sky.
For those interested in history, you can explore its rich past and commemorate two world wars in honour of Canada's fallen soldiers. An interactive exhibition uncovers how this area was devastated by bombing during WW2, with time-specific information pertinent to both World Wars and modern-day society.
22. Open Water Swimming(Seasonal summer only)
A unique activity in Canary Wharf, London, is to participate in open water swimming at LoveOpenWater Swimming. This activity is not available year-round, as it is only available during the summer months.
If you don't mind swimming in slightly chilly waters, then I would definitely recommend partaking in what will be a truly exhilarating experience!
The helpful staff will ensure you have all the necessary equipment and instruction before setting off on your outdoor swimming adventure.
If you ever find yourself in Canary Wharf and are looking for something fun to do outdoors on a hot summer's day, then why not check out what LoveOpenWater Swimming offers?
View this post on Instagram
23. Shopping At One Of Canary Wharf's 5 Malls
If you are looking for what to do in Canary Wharf, then look no further than its five shopping malls. With around 300 stores and 50 restaurants and cafés, the time spent shopping in one of Canary Wharf's malls is an experience that will not disappoint.
There is everything from jewellery shops, shoe shops, clothing shops, sports shops and more. You can find prime brands such as Apple and AllSaints, up-and-coming designers, and delicious dining options from a range of international cuisines at the numerous eateries.
No matter what your taste or budget, there is something for everyone when it comes to shopping in Canary Wharf.
24. Explore Yearly And Seasonal Art Installations Around Canary Wharf
For additional Canary Wharf attractions in one of London's most prestigious business hubs, look no further than its abundant array of art installations!
Every year and through each season, visitors have the opportunity to explore new pieces of art installed throughout the area. From sculptures by renowned artists to outdoor art displays, plenty of dazzling exhibitions exist.
If a particular installation takes your fancy, check out its website for more information on the artist and what inspired their work. Each piece is sure to bring a unique aesthetic charm and delight. Have fun exploring all that Canary Wharf has to offer!
Located on the Isle of Dogs, the Canary Wharf area is well-known for its spectacular skyline, luxurious restaurants and art galleries.
However, many don't know that it also lies hidden within its territory in the UK's most beautiful canalside area West India Quay. Filled with reworked warehouses and spectacular views, it's no surprise why so many people flock to this area for a family-friendly day out.
Here you can find many activities to entertain even the most difficult of kids, such as Segway tours, private boat rides along the canal or kayaking at Limehouse Cut. Be sure to take a walk along the historic wharves or explore commercial riverside buildings while getting an education on what life was like living and working at these places back in the day.
With plenty to do and see while exploring West India Quay, an adventure there should definitely be on your list of what to do in Canary Wharf.
26. Take in views and enjoy food and drinks at Bokan 38 bar and 39 rooftop
Canary Wharf in London is home to many great attractions, and one way to make the most of your visit is to take in views and enjoy food and drinks at Bokan 38 bar and 39 rooftops.
This spot offers a unique viewpoint of the city, where you can relax with a signature cocktail or two while admiring postcard-perfect close-up views of iconic landmarks from the east side of London.
If you're feeling adventurous, try their mouthwatering selection of seafood and European dishes for an unforgettable dining experience during your visit. For similar places be sure to read our guide on the best restaurants in London with views.
27. Explore Wood Wharf
One of the best ways to experience all that Canary Wharf has to offer is to explore Wood Wharf. Located just off the Isle of Dogs, this bustling part of town is full of delightful attractions, from maritime-themed art to interesting restaurants and shops.
Take the time to wander around and admire modern architecture – there are plenty of fascinating high-rise buildings in this unique place.
Keep an eye out for some special events like open mic nights, then finish up with a delightful meal at one of the many establishments scattered around Wood Wharf. The vibrant energy and atmosphere guarantee an unforgettable trip.
Canary Wharf is a great destination if you're looking for fun activities to do. One of the most incredible spots is Hawksmoor floating bar.
You can admire stunning views of the River Thames while sipping delicious cocktails, beers and wines. Aside from a great selection of drinks, Hawksmoor also has plenty of food options such as oysters, fish finger sandwiches and burgers – so it is perfect for grabbing dinner before your night out.
On Sundays, they offer an extravagant brunch menu with waffles and champagne, too – definitely worth checking out!
29. Wharf Kitchen – Jubilee Place
If you're looking to dine with a view, Wharf Kitchen in Jubilee Place has amazing offerings. This high-end restaurant offers a wide selection of European cuisine in an elegant setting with views of Canary Wharf's iconic skyline.
They offer set lunch prices, so there is something available for everyone within their menu. It's perfect for a special occasion or any day you feel like treating yourself to something extra luxurious.
In addition to the delicious food, they also have an excellent drinks list ranging from craft beers and ciders to fine wines, international spirits and cocktails.
Whether you decide to eat alone, in a group or even just pop by for drinks after work, you won't be disappointed with Wharf Kitchen in Canary Wharf.
30. Seoul Bird For Korean Street Food
For those looking for an adventure in the bustling Canary Wharf, London, a great place to check out is Seoul Bird for Korean street food. Located on Pennington Street, this spot offers a range of flavoursome dishes, including hot pot noodles and bibimbap.
For dessert, you can get their signature ice cream rolls featuring bold flavours such as chocolate Oreo and brownie cheesecake.
There's plenty of seating for those who want to sit down and enjoy their meal too! I highly recommend this spot if you're looking for a bit of culture mixed with some delicious food.
Looking for a fun night out in the Canary Wharf area of London? Look no further than Everyman Cinema! Perfectly situated alongside the River Thames, this cinema is ideal for anyone wanting to catch a flick in style and comfort.
With its plush sofas, bean bags and regular showings of classic films, Everyman ensures an unbeatable combination of great service and a relaxed atmosphere.
Feel free to grab yourself some tasty snacks from their on-site cafe before choosing a film showing from their comprehensive schedule – there truly is something for everyone at the Everyman Canary Wharf Cinema.
32. Visit Trinity Bouy Wharf
Trinity Bouy Wharf is a great place to visit while you're in Canary Wharf. Its unique location on the River Thames provides stunning views of the docklands, and with its collection of interesting art galleries and inspiring modernist architecture, it's sure to keep visitors happy.
Guided tours are available, which offer insights into the revolutionary maritime engineering projects in the area, as well as the old-fashioned boat marina.
Aside from admiring some amazing structures, you can also enjoy a variety of events and activities at Trinity Bouy Wharf, including educational programs, concerts and creative workshops.
An added bonus is its close proximity to shops, cafés and iconic local attractions like The O2 arena and Design Museum. Here, you'll find plenty of memorable experiences that will make your trip truly unforgettable.

33. Have Brunch At Boisedale Canary Wharf
If you're looking for a delicious brunch in Canary Wharf, London, look no further than Boisdale Canary Wharf. Located in the heart of the city's financial district, this acclaimed restaurant offers luxurious dining options to suit everyone's taste.
From smoked salmon omelettes and fluffy pancakes to poached eggs and full English breakfasts, all dishes are made fresh with quality ingredients.
Perfectly complementing your meal is an impressive selection of wines, champagnes and cocktails overlooking the spectacular view of the waterside terrace. Boisdale Canary Wharf is definitely a must-visit when exploring London's vibrant food scene.
34. Take A River Cruise
If you want to gain a different perspective while seeing some of London's greatest sights, then a Canary Wharf river cruise is just the thing.
You can set off from almost anywhere along the Thames River and let the boat take you past The Tower of London, Shakespeare's Globe, as well as many other amazing landmarks that are best appreciated from the water.
There are plenty of cruises to choose from with varying levels of duration and services so you can make your experience fit with your trip. Make sure to book ahead, though – these boat rides get busy during peak times!
Can't make it to the Caribbean this summer? No sweat – head to Canary Wharf instead! With Bikram Yoga, you can experience everything a trip in the tropics has to offer without having to leave London.
Offering a vigorous 90-minute session in an intimate studio in the heart of Canary Wharf, this hot yoga class promises to be an exercise unlike any other.
Led by professional instructors and accompanied by a sauna-style atmosphere that's perfect for relaxation and detoxification, this is a great way to both get fit and catch up with your friends.
So grab your mat and join in for a round of Bikram Yoga today; Canary Wharf will be waiting for you.
View this post on Instagram
36. Walk Along The South Quay
Canary Wharf is a popular destination for both tourists and locals alike. One of the best activities to do there is to walk along the South Quay, a promenade that offers stunning views of the Thames River and its surroundings.
Along the walk, visitors can marvel at up-close sights of the docks, marinas, and rich greenery. The activity is free of charge and suitable for all ages – making it a must-do on any trip to Canary Wharf. You can also book a historical walk of East London's Wapping Docks which also stop at famous pubs along the route around the river.
37. Traffic Light Tree by Pierre Vivant
Exploring Canary Wharf is a fantastic way to spend your leisure time. Among the many attractions found here, don't miss out on the Traffic Light Tree by Pierre Vivant.
This sculpture is located just outside Billingsgate Fish Market and features an array of coloured lights that captures the essence of the city.
During the day, the tree is lit up with striking red, orange and green lights to truly create a unique sightseeing experience that you won't forget. Visiting the tree will add roots to your journey while giving you plenty of photo opportunities to capture this amazing piece of art.
Other Things To Do Near Canary Wharf
Below are a few other places close to Canary Wharf that are worth considering, some of which you can also find in our post on things to do in Greenwich.
Canary Wharf is one of London's most exciting destinations, offering a range of fun and adventurous activities. Here are some of the top things to do near Canary Wharf:
Climb The O2: Get a bird's eye view of London by climbing The O2, a 52-meter high walkway that takes you to the top of the iconic dome-shaped building. The experience is thrilling, and the view from the top is breathtaking.
Mudchute City Farm: Escape the hustle and bustle of the city and spend some time with the animals at Mudchute City Farm. You'll find a variety of farm animals, including cows, pigs, sheep, and goats. There's also a café and a farm shop where you can purchase fresh produce.
Emirates Cable Cars: Take a ride on the Emirates Cable Cars and get a unique perspective of London. The cable cars run from the Royal Docks to Greenwich, and you'll get to see some of London's most famous landmarks along the way.
O2 designer outlet: If you're looking for some retail therapy, head to the o2 designer outlet. You'll find a range of designer stores offering discounts on their products.
Stave Hill: Get some exercise and enjoy the great outdoors at Stave Hill. The park offers stunning views of the London skyline and is a great place for a picnic.
Cutty Sark: Discover the history of one of the world's most famous ships at Cutty Sark. The ship has been beautifully restored, and you can explore its decks and learn about its history.
National Maritime Museum: If you're interested in maritime history, the National Maritime Museum is a must-visit. The museum has a vast collection of artifacts and exhibits that tell the story of Britain's maritime past.
Map Of Places To Visit In Canary Wharf
How To Get To Canary Wharf
Getting To Canary Wharf is pretty easy. You have access to Canary Wharf via Jubilee Line as well as DLR lines. With plenty of stations from Canary Wharf Jubilee and DLR stations to South Quay, Crossharbor and West India Quay being a short walk away.
If you are coming from City Airport, you can also get to Canary Wharf from City Airport fairly easily via DLR as well.