Travelodge Hotel offers easy access to many attractions and restaurants and cafes, as well as comfortable accommodations and friendly service. It is the perfect choice for business or leisure travelers looking for a budget stay.
From the hotel, you can view many of the local attractions. The rooms are spacious and well-appointed, with all the amenities you need for a comfortable stay.
Its purpose is to ensure that, as a traveler, you can focus on the things that matter most during your stay, whether business or leisure. For example,  the hotel offers complimentary breakfast and Wi-Fi in all rooms.
Travelodge also has various room types to find the perfect room for your stay. If you are looking for a cheap hotel near London Eye, you cannot find better than this in London and in this location!
What To Expect When Staying At Travelodge Hotel Near London Eye
Travelodge has a contemporary look and feels where you can relax, work, and socialize in comfort and style. The colors selected create an ambiance that is both calming and energizing.
When you walk in, your eyes will be immediately drawn to the colorful paintings on the walls, which were chosen to add a touch of elegance to the space. You will see that the furniture is modern and sleek, yet still inviting and comfortable.
It also has thoughtful features and touches throughout its next-generation rooms, stylish Bar Cafés, and thoughtfully selected amenities. The bar cafes look over the city and are a great place to relax after a long day of meetings or sightseeing.
When nighttime gets closer, you can look forward to a great night's sleep in your king-sized bed with new blackout curtains designed to help you get the most restful sleep possible. In the morning, you can enjoy a hot cup of coffee or tea in your room.
Every room has fantastic bathrooms, a simple, bright white suite, and complimentary hair and body wash. You will love the way you feel after using these products. They vary in size, but they all have a rainfall shower head that will make your showering experience even more enjoyable.
There is plenty of power with the new bedside USB for charging your devices. You will never have to worry about being unable to use your favorite electronic devices while staying at Travelodge.
Location: 195-203 Waterloo Rd, Baron's Pl, London SE1 8UX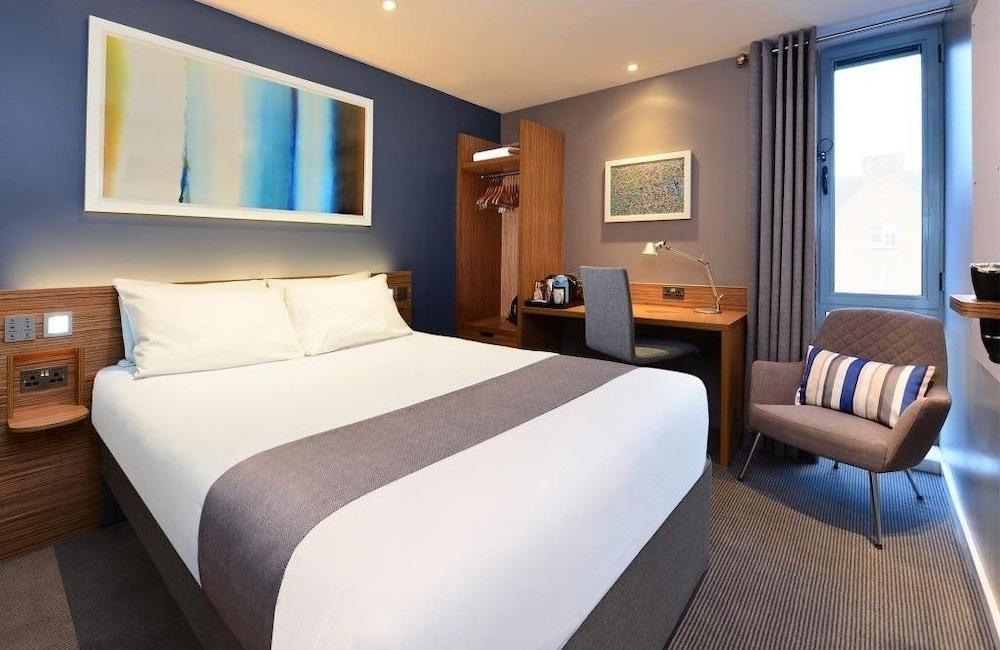 Things To See And Do Nearby – London Attractions Near Travelodge Hotel
Note, many of these are right at the doorstep of the hotel or just a short stroll.
Big Ben
London Eye
National Theatre
London SEA Life Aquarium
Oxo Tower
Imperial War Museum
Shrek Experience
London Southbank
Shakespeare's Globe
Number 10 Downing Street
Trafalgar Square
Covent Garden
Borough Market
Mercato Metropolitano
Below is a map showing just how close you are to London attractions from the hotel. The red marker is the hotel and in blue are attractions within walking distance to the hotel.
Note that you can also take the bus just outside the hotel with many dropping you off at each of these attractions in under 5-10 minutes in most cases.  Just have your Oyster Card ready for your contactless card as buses do not accept cash.
More London Travel Tips