Last Updated on 17 May, 2023
Are you looking for the best things to do in Wimbledon, London? Look no further – as we takes you with us to explore Wimbledon.
From hitting up some of the area's most popular attractions to exploring its unique streets and destinations, plenty of activities keep visitors entertained.
Covering where to eat in Wimbledon, what to see and do, and how best to enjoy a stay in one of London's most charming villages. So get ready – we've got an unforgettable journey ahead!
23 Best Things To Do In Wimbledon
I am sure you have heard of Wimbledon Open which happens every summer in London as London's tennis tournament kicks off.
But there is more to Wimbledon than Wimbledon Open. We have already covered amazing places for brunch in Wimbledon or these cool pubs in Wimbledon worth stopping by for a pint or two.
Let's now look at some of the cool things to do in Wimbledon. We have also shared a cool map below to help you easily map out where to start.
Wimbledon Farmers' Market is the perfect spot for keen shoppers looking to find neatly packaged ingredients bursting with natural flavour.
Taking place every week, this outdoor event enables visitors to purchase seasonal farm-direct produce, delicious cheese, delicious meats and a variety of beautiful flower varieties.
This South London market is ideal for those who are passionate about supporting local growers and farmers while enjoying high-quality food.
Be prepared to be spoilt with fresh Mediterranean vegetables and fresh fish caught right off the nearby fishing boats, pastries from the home bakers, and much more besides – there is something for everyone here!
View this post on Instagram
2. Visit the Wimbledon Village
A great way to experience what Wimbledon, London offers is to visit the village. This distinctive area is known for its quaint buildings and delightful vibe, making it an ideal destination.
With a plethora of charming shops, scrumptious restaurants, and local cafés, tourists can find something special in Wimbledon Village.
Whether you're looking for a unique souvenir in one of the local boutiques or sampling what the eateries have to offer, a visit to this historic district will leave you with fond memories that will last a lifetime.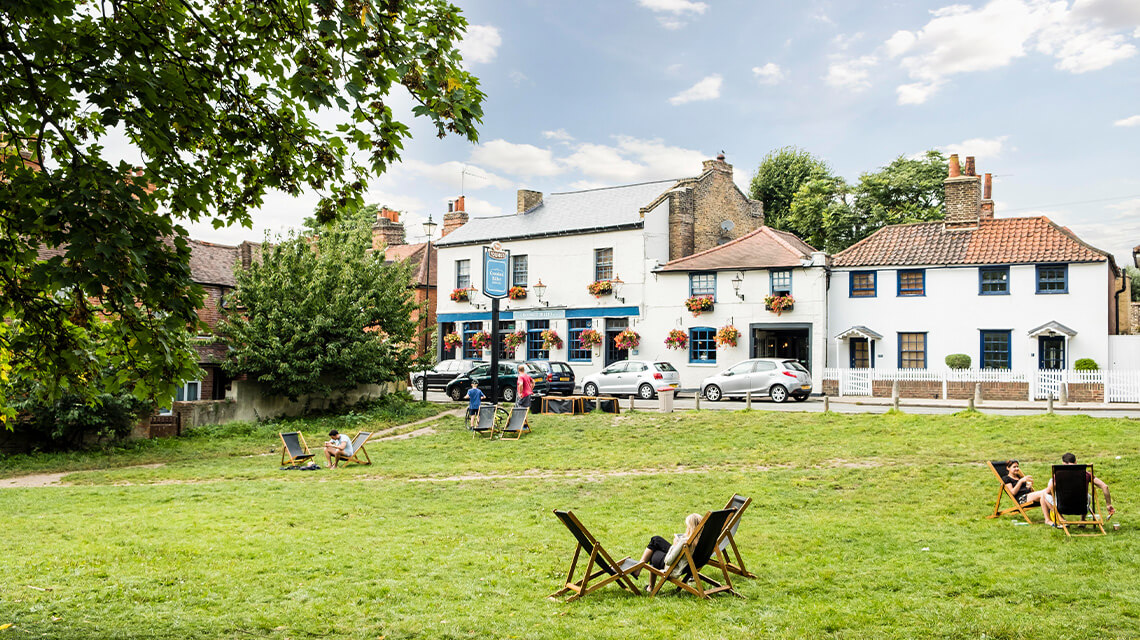 3. Centre Court Shopping Centre
If what to do in Wimbledon is on your mind, then Centre Court Shopping Centre should be part of your plans.
Located near the All England Lawn Tennis Club grounds, this shopping centre combines Wimbledon's excitement and energy with a vibrant shopping destination.
It boasts over 40 stores and eateries spread across three floors, so you'll find something for everyone. Whether it's stocking up on fashion basics at one of the many retail stores or indulging in some delicious snacks while people-watching, there's no shortage of options at Centre Court Shopping Centre – so take some time out of your Wimbledon stay to explore what it has to offer!
If you're in Wimbledon and looking for a unique activity, how about booking a horse riding session?
The team at Wimbledon Horse Riding can offer lessons, equestrian courses, and leisurely hacks in scenic parkland with twenty-five trained horses and ponies.
Their team of capable instructors can cater to all levels, from the beginner to the more experienced rider. It's a fantastic way to enjoy the local scenery and appreciate the countryside surrounding London. Book your session online today for a great experience!
View this post on Instagram
When in Wimbledon, London, a visit to Wat Buddhapadipa is a must. An oasis of peace and tranquillity in the heart of the bustling city, this prominent modern Buddhist temple stands out with its traditional Thai-style gilded roof and monolithic white walls.
Within these walls lies a world of elaborate murals and an impressive Buddha statue-filled garden that is perfect for quiet reflection. Spend some time here to slow down and enjoy the serene atmosphere – it'll be worth your while.
If you're looking for a relaxing afternoon out in Wimbledon, London, look no further than Cannizaro Park. With expansive greenery, ornately landscaped gardens and ample opportunities to explore the nature of the area.
It's a great place to find a peaceful haven right in the middle of the bustling city. Take advantage of all the opportunities to view art shows nearby – bird watchers can spot numerous species of native and migratory birds in their natural habitats while walking around.
If you're looking for a unique and culturally enriching experience in London, visit the New Wimbledon Theatre. It is an Edwardian theatre built with incredible baroque and neo-classical details, so it has that classic old-world atmosphere.
They host touring plays, musicals and shows throughout the year – from pop culture favourites like Disney classics to award-winning plays from world-famous playwrights.
Whatever your taste in entertainment may be, there's something for everyone at New Wimbledon Theatre.
If you're in Wimbledon, London, then why not take the opportunity to explore the great exhibits at the Wimbledon Lawn Tennis Museum? It is a great way to discover the history of this amazing sport and learn more about all the different tennis games.
The museum will give you access to various interactive multimedia exhibits and activities. You can also visit some of Wimbledon's most iconic courts, such as Court 1 – the oldest court in tennis!
Plus, souvenirs are available for purchase so you can commemorate your experience. Guided tours with audio guides are provided for those looking for a truly exceptional experience.
So take advantage of this unique chance to appreciate our world's favourite pastime. The entry fee for adults costs £13 and £8 for children.
9. Morden Hall Park is a great sport for a Picnic
Looking to get away from the hustle and bustle of city life but remain close? Look no further than Morden Hall Park in London's Wimbledon district.
This National Trust-maintained garden offers a wonderful opportunity to relax and take in the park's natural beauty with its tranquil ponds, meandering streams, ancient bridges, and majestic gardens.
Enjoy a picnic on the lush lawns or by one of the many bridges, to which there is an abundance; listen to the birds chirping in the trees or the creek gurgling as it passes through mossy patches – a guaranteed sensory overload!
And if you are feeling adventurous and want a closer view of some of the wildlife species that call Morden Hall home, why not follow one of their nature trails? Don't forget to take a camera – don't miss out on capturing all this park offers!
10. The Wimbledon Windmill Museum
If you're looking for a unique and fun place to visit during your trip to London, I'd highly recommend the Wimbledon Windmill Museum.
Located in Merton Park, this museum houses one of Britain's finest and best-preserved windmills – an eight-sided tower with six sails. Inside, visitors will find an interactive exhibition that reveals the fascinating history of windmills in England.
From the anecdotes of their early construction, operation and maintenance to more modern methods of wind power generation, there's plenty of interesting information to digest and explore. And don't forget to try out some traditional corn grinding while you're there!
11. Southside House (Now Closed)
One of the top things to do in Wimbledon is visit Southside House. This beautiful Grade II listed 16th-century manor house is one of the last examples of its kind in London and is rich in history.
Formerly the home of several Baronets, today it's open for visitors to learn about fascinating moments from its past or simply explore the incredible grounds and gardens – a perfect day out for those seeking an escape from city life.
For those who want a relaxed break, including meals and accommodation, there are appealing packages available at Southside House as well.
Whether you have just a few hours to spare or are looking for an overnight experience, Southside House will ensure you have an enriching visit to Wimbledon!
12. Stroll around Wimbledon Common
Wimbledon Common is a great place to visit if you're looking to explore the local area. You can access it easily via train or tube, and it's worth visiting for a walk or run.
You can take several different routes, all of which will allow you to enjoy the common's many features like grassland, woodland and ponds.
If the weather permits, there are plenty of spots to sit and admire the wildlife which inhabits this expansive area. It's easy to marvel at its beauty, and it makes for a great day out in Wimbledon.
13. Take a cooking class at Hashi Kitchen
Taking a cooking class at Hashi Kitchen in Wimbledon, London, is an experience you will never forget. A knowledgeable chef, Reiko, teaches students the ingredients and techniques needed to create delicious Japanese-inspired dishes like ramen, mochi making and bento boxes.
With its hands-on approach to learning, this cooking class will teach you everything you need to know on how to make Japanese cuisine using only the freshest ingredients.
You'll be able to take home your creations along with some expert knowledge gained during the lesson. So if you're up for fun, interactive way of exploring different flavours, a cooking class at Hashi Kitchen should be right up your alley!
View this post on Instagram
If you're looking for an interesting and historical activity to enjoy in Wimbledon, London, you should put the Museum of Wimbledon on your list.
Established over a century ago in 1916, this museum is run by the Wimbledon Society and staffed entirely by volunteers. It's not just a great place to learn more about local history – exhibits here also include pieces from other cultures brought to London throughout the years.
Plus, if you have any questions about their collection or the area, the volunteers are happy to help answer them! Take time in London to visit The Museum of Wimbledon for a unique new experience.
15. Grab a drink at a cocktail from Hemingway's
If you're looking for something to do in Wimbledon, London, why not stop at Hemingway's for a delicious drink? They serve their divine cocktails in various creative vessels, from top hats to welly boots!
It's a luxurious experience that you don't want to miss out on. The atmosphere is warm and inviting, perfect for a leisurely evening with friends. Take the time to indulge yourself with a delectable cocktail from Hemingway – it'll be an experience you won't forget!
View this post on Instagram
If you find yourself in Wimbledon, London and are accompanied by children, visiting the Polka Theater on Broadway is a great option.
It is a renowned local theatre dedicated to children's productions, and they even have an accompanying café, a toy store, a garden and a playground.
If your children prefer art, you can enrol them at art-K, which offers numerous art workshop options for kids and youth of all ages.
17. Visit Wimbledon Park
Wimbledon Park should be on your priority list if you're looking for a fun recreational outlet. Its facilities cover everything from watersports in both indoor and outdoor settings to golf courses if you wish to tee off after work.
When here, don't miss out on the opportunity of playing a few rounds of tennis with friends or joining in some volleyball sessions on courts surrounded by lush green meadows.
You'll never be short of options when you take a trip here, and make your leisure time as enjoyable and adventurous as possible simultaneously!
View this post on Instagram
If you are in Wimbledon, London, looking for a unique and adventurous experience, look no further than the Jurassic Encounter Adventure Golf course.
Featuring 18 holes of golf surrounded by amazing waterfalls and caves, this spot has plenty of challenges for those who play.
Additionally, the golf course comes with unpredictable thrills due to its moving and roaring dinosaurs. It's just the right place if you are looking for something fun and exciting to do in Wimbledon!
19. Try to solve the puzzle of the escape room at the Mystery Cube amusement park
A trip to London wouldn't be complete without a visit to the Mystery Cube amusement park in Wimbledon. Here, you and your friends can embark on a thrilling journey full of mystery and adventure!
At Mystery Cube, your goal is to solve puzzles and explore secret passages to escape from the "locked" room before time runs out. This one-hour game is suitable for groups of 2-6 people, making it a great way to spend an afternoon with family or friends in London.
Whether it's your first time or you're a seasoned escape room veteran, the challenge at Mystery Cube promises to bring out your inner detective while offering plenty of fun along the way.
If you're looking for a unique way to explore Wimbledon, London, then following the Wimbledon Way is a great option! The picturesque 6-mile walk starts from the downtown area of Wimbledon and takes you past various points of interest, including dwellings and sites connected with celebrities who once lived here.
You'll eventually arrive at the All-England Club, where you can truly experience the history of one of Wimbledon's most iconic landmarks. As you take the winding path through its streets, parks, commons and heaths, there are plenty of opportunities to appreciate parts of England that have remained unchanged since generations ago.
It's an enjoyable walk throughout one of London's boroughs and an unforgettable experience that will stay with you long after your trip is over.
Every June, Wimbledon is host to one of the world's best-known and most popular tennis championships – the Wimbledon Open.
The tournament has been held since 1877 and attracts many tourists who want to experience the charm and grandeur of this unique event. For an exciting two-week event, tickets are available through official outlets and should be booked in advance as they tend to sell out quickly.
Whether you are a spectator at Centre Court or an armchair fan following the action on TV, experiencing the Wimbledon Open is sure to be an unforgettable experience that shouldn't be missed!
Exploring the Wimbledon Art Fair is a great way to see and appreciate amazing talent from all around the world. This annual event held in London attracts top art experts who discover emerging artists as well as renowned old masters.
It's also an exciting, unique opportunity for novice art lovers and experienced connoisseurs alike to explore a variety of mediums, including paintings, sculptures, digital prints and photographs.
From traditional to contemporary artworks, there's something for everyone at this fascinating event – so plan your visit soon!
View this post on Instagram
23. Visit the All England Lawn Tennis Club
If you're visiting London for some tennis action, the All England Lawn Tennis Club (AELTC) is an absolute must-see.
Here you'll have the opportunity to tour their iconic venue and explore their museum and learn about the history of tennis in modern times.
With a library full of publications dedicated to Wimbledon, it's a great place to take a break from sightseeing while learning more about this legendary tournament. You can also shop for exclusive memorabilia at the AELTC shop and make your trip even more special.
Map of Places To Visit In Wimbledon