Are you a cycling enthusiast living or working in Canary Wharf? Look no further! Below, we will explore the top bike shops in Canary Wharf that offer exceptional products and services to cater to your cycling needs.
Whether you're searching for a new bike, cycling accessories, require repairs or servicing, or simply want to upgrade your cycling gear, these bike shops have got you covered.
Canary Wharf, located in the heart of London, is a bustling area known for its iconic skyscrapers, vibrant business district, and beautiful waterfront views.
It is also a hub for cycling enthusiasts who enjoy exploring the city on two wheels. Whether you're a commuter, a weekend warrior, or a leisure rider, having a reliable bike shop nearby is essential.
Gear and Accessories for Cyclists
Apart from bikes, bike shops also offer a wide range of gear and accessories to enhance your cycling experience. Here are some essential items you may consider:
Bike Shop In Canary Wharf And Nearby
Below we will introduce you to some of the best bike shops in Canary Wharf, where you can find top-quality bikes, professional repairs and servicing, custom-built options, and a wide range of cycling gear and accessories.
Further below you can also find a map to help you locate each of the Canary Wharf bike shops mentioned.
NipNip – Bike Repairs and Servicing
Location: Canary Wharf, 6 Westferry Circus, London E14 4HD
Website: nipnip.co.uk
NipNip is a trusted name when it comes to bike repairs and servicing in Canary Wharf. Their team of experienced mechanics ensures that your bike is in excellent condition and ready for your next adventure.
From basic tune-ups to complex repairs, NipNip provides efficient and reliable service, helping you maintain the optimal performance of your bike.
Chrisp Street Community Cycle Centre
Location: Vesey Path, London E14 6BT
Website: communitycycles.co.uk
Chrisp Street Community Cycle Centre is more than just a bike shop. It's a community-driven initiative that promotes cycling and engages with local residents. Apart from offering bikes and accessories, they also provide training sessions, workshops, and cycling events. This center is a valuable resource for those looking to connect with fellow cyclists and contribute to the cycling community.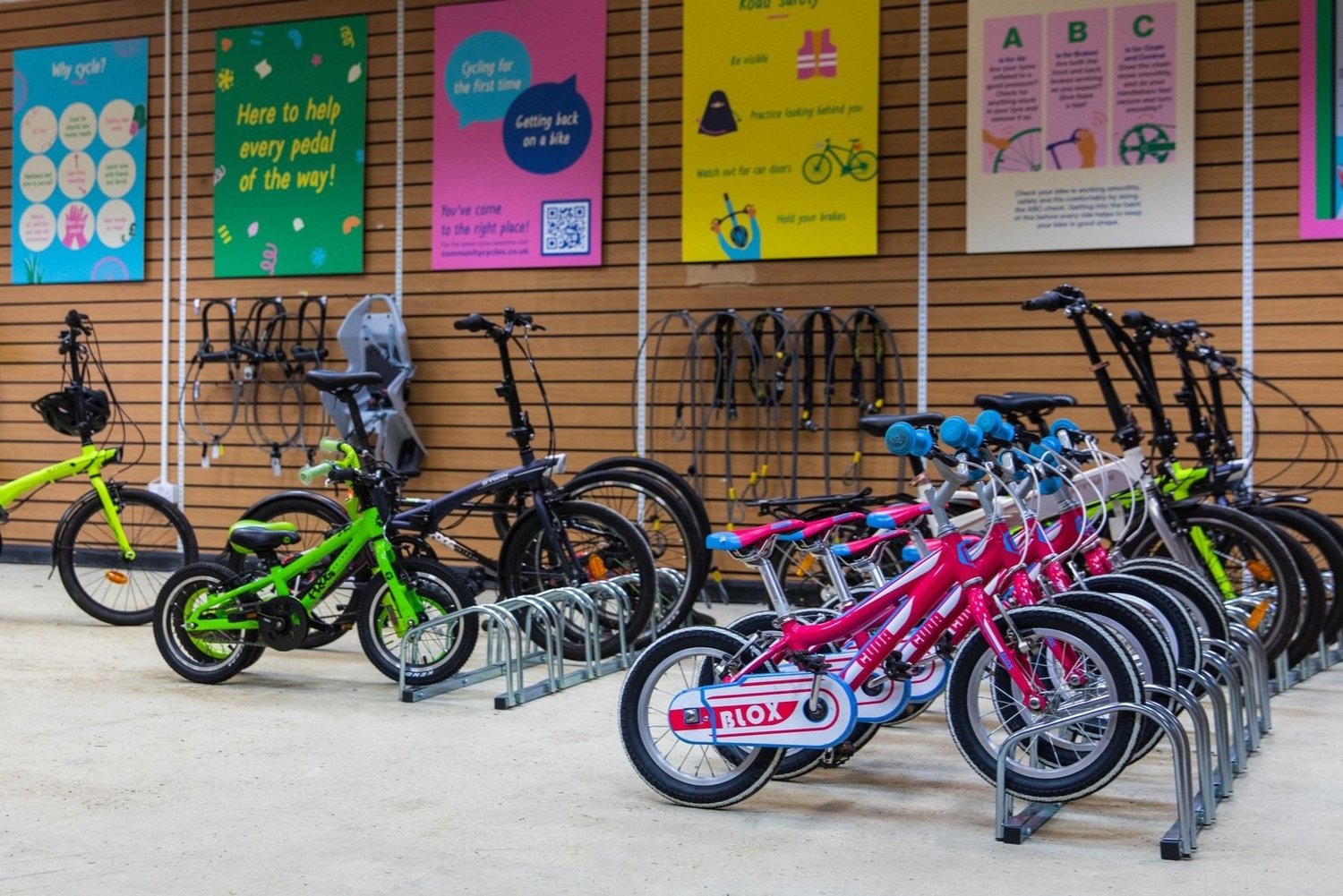 Roger Garage Custom Bikes
Location: 18, Tivoli Mews, London E14 7GU
Website: rogergaragecustombikes.com
If you're seeking a unique and personalized cycling experience, Roger Garage Custom Bikes is the place to visit. They specialize in building custom bikes tailored to your exact specifications and preferences.
Whether you want a sleek road bike, a rugged mountain bike, or a stylish city cruiser, Roger Garage Custom Bikes can bring your vision to life.
London Carbon Repairs
Location: 2 Regent House (Block F), Metre Squared, London E14 9SZ
Website: londoncarbonrepairs.co.uk
For cyclists seeking professional repairs and maintenance services, London Carbon Repairs is the go-to destination. They specialize in carbon bike repairs and have a skilled team of technicians who can handle various bike-related issues.
Whether you need frame repairs, wheel truing, or component upgrades, London Carbon Repairs delivers high-quality service with attention to detail.
Aztec's Bikes
Location: 4 Corsican Sq, London E3 3XS
Website: aztecsbikes.com
Aztec's Bikes is a well-established bike shop near Canary Wharf, known for its wide selection of bikes from reputable brands.
They offer bikes for all ages and skill levels, ensuring that everyone can find the perfect ride. With friendly staff and a welcoming atmosphere, Aztec's Bikes is a great place to explore and discover your next cycling companion.
E14 Bikes
Location: 33 Aberfeldy St, Aberfeldy Village, London E14 0NU
E14 Bikes is a local bike shop dedicated to serving the cycling community in Canary Wharf. They provide a range of bikes suitable for different purposes, including commuting, leisure, and sport.
Their knowledgeable staff can assist you in finding the right bike and provide expert advice on accessories and maintenance.
Decathlon Surrey Quays
Location: 9 Maritime St, London SE16 7FU
Website: decathlon.co.uk
Decathlon Surrey Quays is a comprehensive sports store that includes a dedicated cycling section. They offer a wide range of bikes, apparel, accessories, and equipment for cyclists of all levels.
With their extensive selection and competitive prices, Decathlon Surrey Quays is a popular choice among cycling enthusiasts in Canary Wharf.
Map Of Bike Shops Near Canary Wharf
Why Choose A Local Bike Shop?
When it comes to purchasing a bike or seeking repairs and maintenance, choosing a local bike shop has several advantages. Here are some reasons why you should consider supporting your local bike shop:
Personalized Service: Local bike shops often provide personalized service and attention to detail, ensuring that your specific needs are met.
Expert Knowledge: The staff at local bike shops are usually avid cyclists themselves and possess in-depth knowledge about different types of bikes, accessories, and repairs.
Community Support: By choosing a local bike shop, you contribute to the growth and sustainability of your local cycling community.
Convenience: Having a bike shop nearby means easy access to repairs, servicing, and expert advice whenever you need it.
Finding the Perfect Bike
When purchasing a bike, it's crucial to consider various factors to ensure that you find the perfect match. Here are a few key considerations:
Purpose: Determine the primary purpose of your bike, whether it's commuting, off-road adventures, leisurely rides, or competitive cycling.
Size and Fit: Choosing the right frame size and ensuring a comfortable fit is essential for an enjoyable riding experience.
Budget: Set a budget that aligns with your requirements and explore options within that range.
Test Ride: Whenever possible, test ride different bikes to get a feel for their performance and suitability.
Quality Repairs and Servicing
Regular maintenance and timely repairs are crucial to keep your bike in optimal condition. Here are a few signs that indicate your bike may need servicing:
Squeaky or Grinding Noises: Unusual noises while pedaling or braking could indicate issues with the drivetrain, bearings, or brake system.
Difficulty Shifting Gears: If you experience problems shifting gears smoothly, it may be time for an adjustment or replacement of components.
Worn Brake Pads: Inspect your brake pads regularly and replace them if they are excessively worn down.
Loose or Wobbly Parts: Loose handlebars, stems, or wheels can compromise safety and should be addressed promptly.
To ensure top-quality repairs and servicing, rely on reputable bike shops with experienced mechanics who can diagnose and resolve issues efficiently.
Custom Bikes for a Unique Riding Experience
For riders seeking a one-of-a-kind cycling experience, custom-built bikes offer the ultimate solution. Custom bikes are built to your exact specifications, incorporating your preferred components, materials, and design elements. This allows you to have a bike that perfectly matches your riding style and preferences.
Working with a skilled bike shop that specializes in custom builds, such as Roger Garage Custom Bikes, ensures that every detail is tailored to your requirements, resulting in a truly unique and personalized ride.
Cycling Community Engagement
Cycling is not just about riding; it's also about being part of a vibrant community. Bike shops often organize events, group rides, and workshops to engage with the cycling community and foster a sense of camaraderie. By participating in these activities, you can meet fellow cyclists, share experiences, and gain valuable insights.
Get involved with your local bike shop and stay updated on community events to make the most of your cycling journey.
When it comes to finding the best bike shop in Canary Wharf, you have a variety of options to choose from. LAP Bikes, London Carbon Repairs, NipNip, Chrisp Street Community Cycle Centre, Roger Garage Custom Bikes, Aztec's Bikes, E14 Bikes, Cheetah Bikes London, and Decathlon Surrey Quays are all excellent choices for fulfilling your cycling needs.
Whether you're searching for a new bike, need repairs and servicing, or want to upgrade your gear, these bike shops offer exceptional products, services, and expertise. By choosing a local bike shop, you support the cycling community and benefit from personalized assistance, expert knowledge, and a dedicated service experience.
So, gear up and get ready to explore Canary Wharf and beyond on your trusted two-wheeler!
FAQs
Q: Are the bike shops mentioned in the article open to all types of riders, including beginners? A: Yes, the bike shops mentioned cater to riders of all skill levels, including beginners. They provide expert guidance to help you find the right bike and offer support for your cycling journey.
Q: Can I test ride bikes at these bike shops before making a purchase? A: Most bike shops encourage test rides to ensure that you're comfortable with the bike's fit and performance. Contact the respective shops or visit their websites for more information.
Q: Do these bike shops offer bike maintenance workshops or training sessions? A: Some bike shops, such as Chrisp Street Community Cycle Centre, organize workshops and training sessions. Check their websites or contact them directly for details on upcoming events.
Q: Can I find electric bikes at these bike shops? A: Yes, some of the mentioned bike shops offer a selection of electric bikes. Inquire with the individual shops to explore their electric bike options.
Q: Are there any discounts or promotions available at these bike shops? A: Bike shops may have seasonal promotions or discounts on specific products. It's advisable to check their websites or visit the shops directly to inquire about any ongoing offers.
---
Other Bike Shops In London
Bike Shops In Shoreditch | Bike Shops In London Bridge | Bike Shops In Battersea | Bike Shops In Kensington | Bike Shops In Clapham | Bike Shops In Peckham | Bike Shops In Covent Garden | Bike Shops In Canary Wharf