Last Updated on 24 October, 2020
Notting Hill is a trendy area of London lined with cafes, upscale boutiques and high-end restaurants. It is also known for having one of the busiest markets selling vintage fashion and antiques. Some of its famous spots are Portobello Road and Westbourne Grove which attracts tourists from all over the world. The area also has several Airbnbs that are perfect for travelers looking for cool and trendy vacation rentals in Notting Hill.
11 Amazing Airbnbs in Notting Hill
Notting Hill is located in the cool and trendy Royal Borough of Kensington and Chelsea so you can expect apartments that also fit the bill. Whether heading to London for a couple's getaway or a family vacation, Notting Hill Airbnbs offer amazing and comfortable homes for short let stays that allow you to explore this amazing area of London which is a must on any London itinerary. Below are our highly recommended Airbnbs in Notting Hill, London.
The entire stylish apartment is perfect two to four guests staying for short or long periods. It has an en-suite bathroom and one bedroom that accommodates a king-size bed. Tucked in a quiet neighborhood and located on the upper ground level, the flat has a variety of modern amenities to ensure your stay is comfortable. Some of these facilities are fully equipped semi-separate kitchen, well-lit dining room, furnished lounge with comfy seats and flat-screen television.
Guests can also explore nearby places such as Hyde Park and Little Venice, which are worth checking out. Close by is Westbourne Grove, a famous high fashion street lined with impressive shopping stores and restaurants. Check rates and availability here.
High ceilings and large windows that allow lots of natural light is one of the main selling points of the apartment. Its two bedrooms and single bathroom are enough for seven guests, with two extra sofa beds in the living room being used as sleeping space. Other amenities in the flat include a full kitchen, television, washing machine, dryer and Wi-Fi. The space is also ideal for young children and provides a high chair, baby tub and travel cot as part of the package.
The apartment located near Portobello Market and Hyde Park makes it a great location for those planning to explore the area. Guests can choose to walk or take the Tube to these popular sights nearby. Check rates and availability here.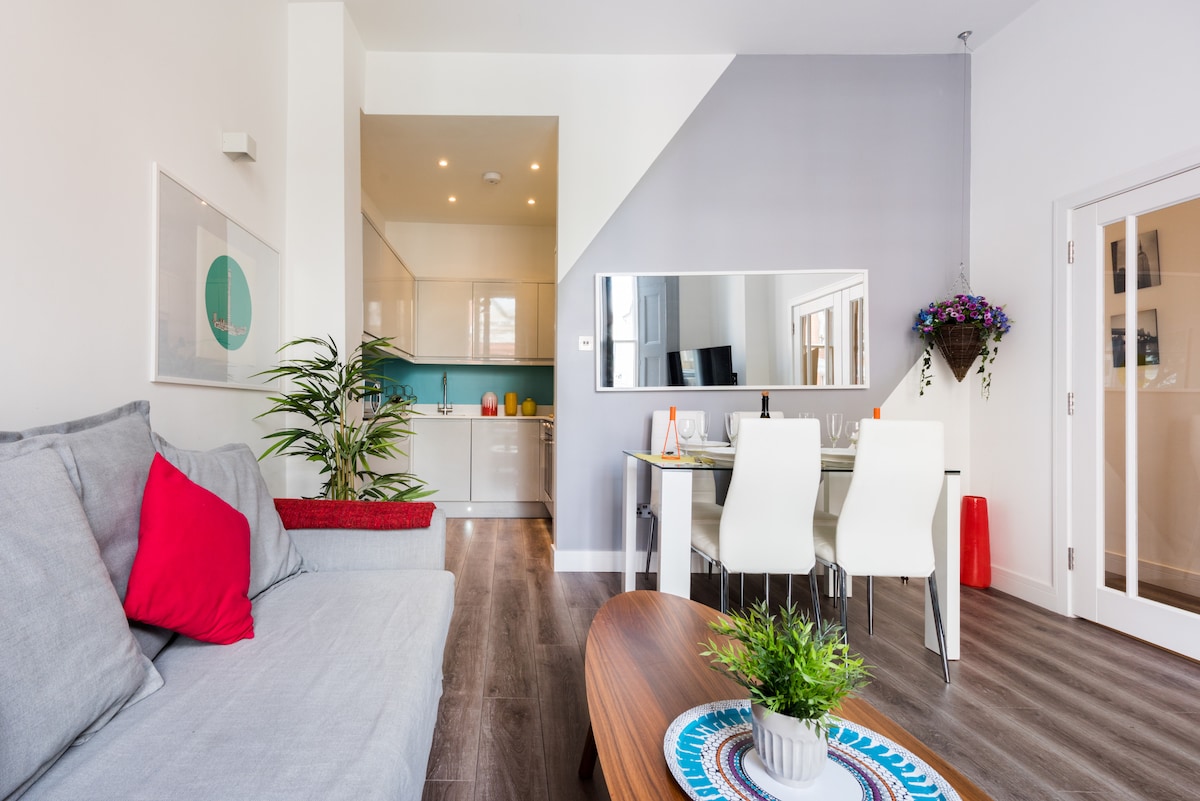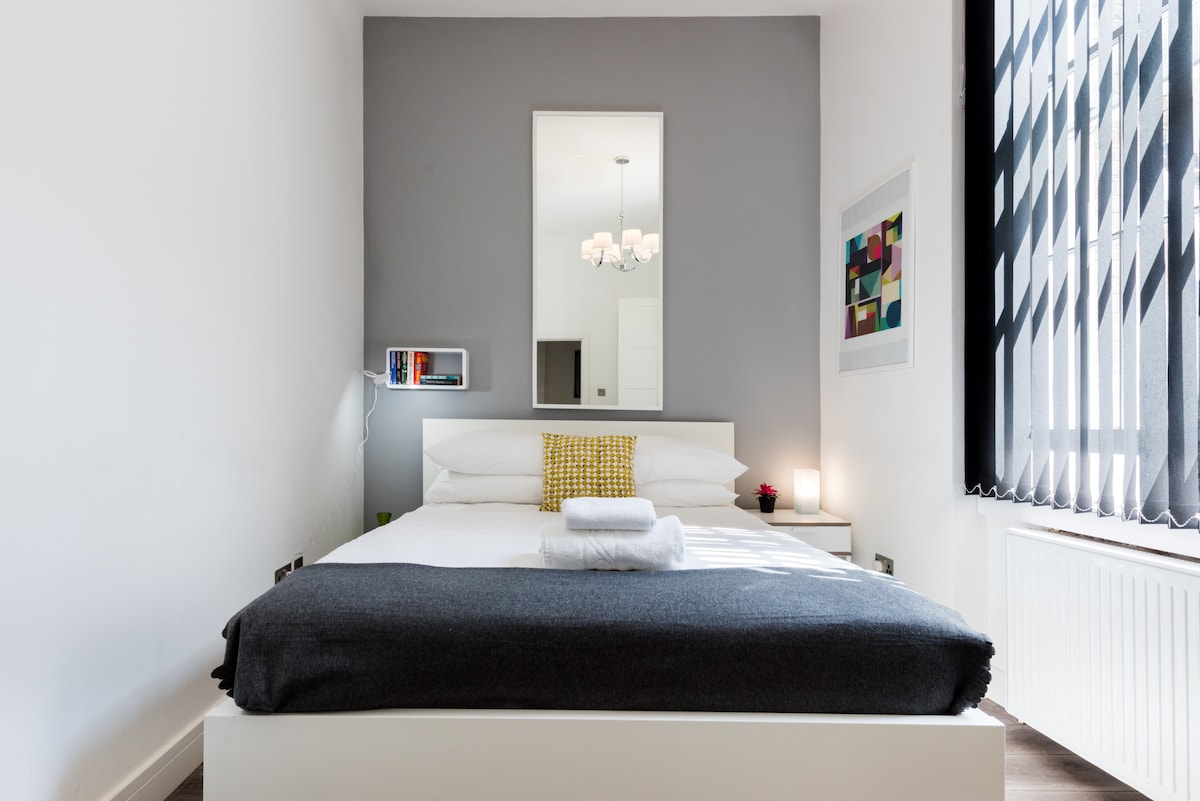 The high-end luxury apartment offers enough space for at least two guests. Its oak wood floor, double-glazed windows and bespoke amenities make it perfect for guests with sophisticated taste. The one-bedroom is furnished with a double bed, wardrobe and fresh bed linen, while the bathroom is decorated in exquisite black tiles with underfloor heating.  In the living room, is a comfortable sofa, television, coffee table and dining table. A bespoke Italian kitchen fitted with quality equipment, wireless internet, heating and an elevator is also part of the apartment booking package.
Prince's Mansion is surrounded by several attractions that are worth checking out like Hyde Park. It is also easy to access several underground stations from the property such as Paddington, Bayswater, Queensway, and Notting Hill gate. Check rates and availability here.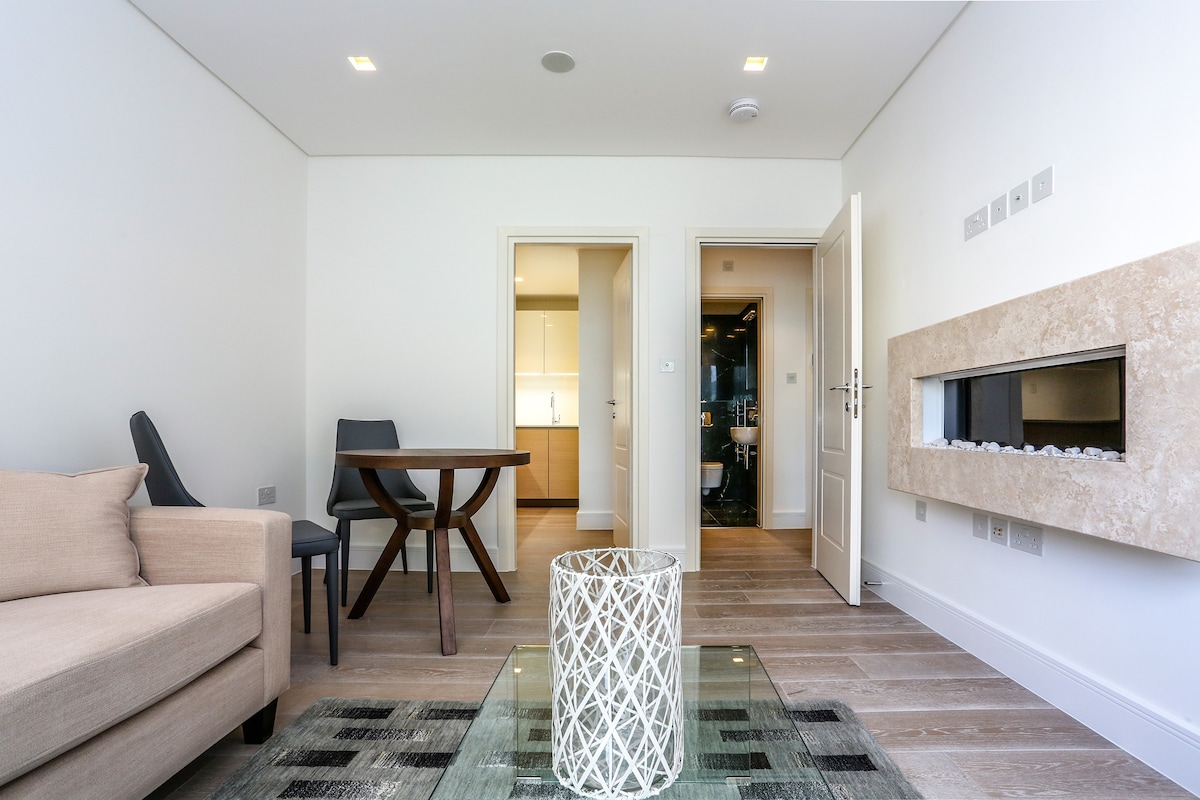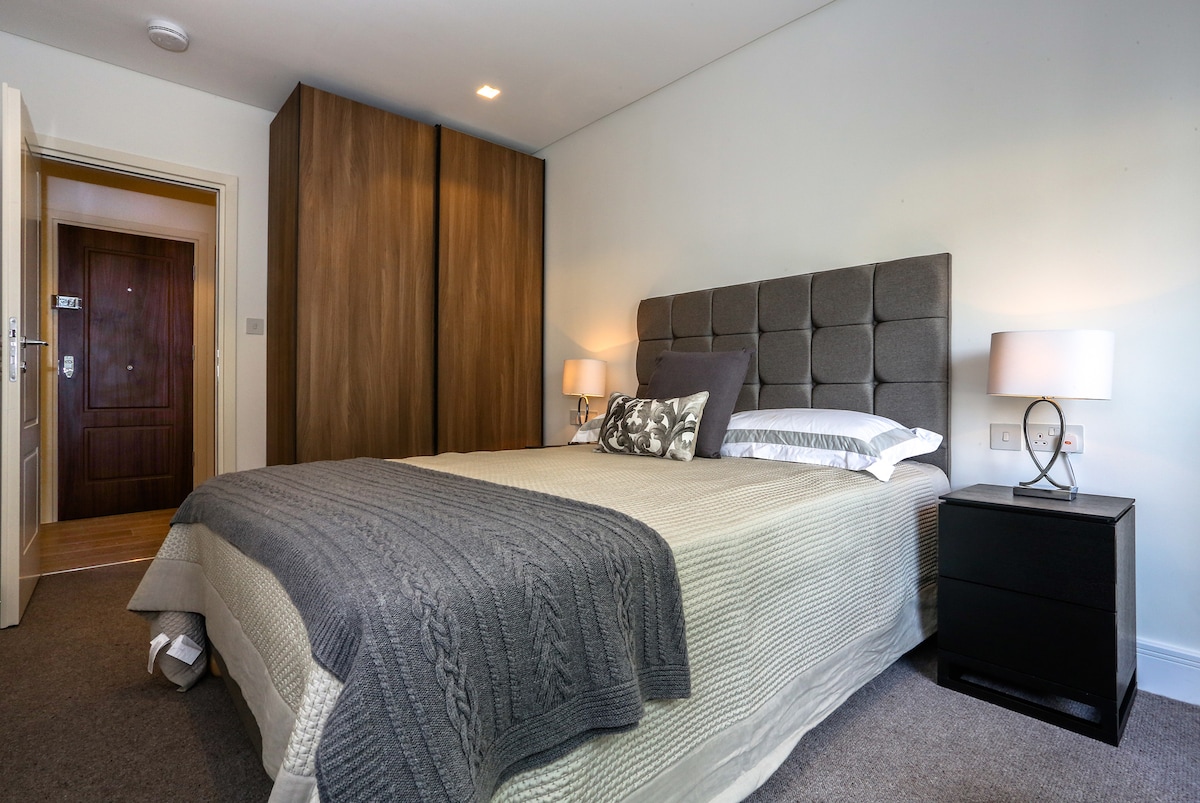 Premium Duplex is a modern flat located on the third floor and ideal for four guests. It has a single bedroom and bathroom with a double bed that is neatly made using fresh linen. The living room on the first level has a comfy sofa that can be converted into a bed for two people. On the same level is an equipped kitchen that guests can use to prepare meals. The second level, which can be accessed through a stairway leads to the bedroom and bathroom.
Guests also have access to Wi-Fi connection, heating, washing machine and dryer when staying at the apartment. The fantastic location of the duplex makes getting to nearby attractions in Notting Hill easy by foot or Tube. Check rates and availability here.
The apartment was recently renovated is an ideal living space for five people or less. Its one bedroom is tastefully furnished a queen bed with clean linens and a fitted bathroom filled with essential toiletries, towels and a hairdryer. The living room is cozy and has a sofa bed that can be converted to a bed at night. Guests can also watch television in the room and connect to Wi-Fi connection in the flat. Preparing meals is easy with a fully equipped kitchen with appliances such as a toaster, dishwasher, kettle and plenty of cooking pans.
M12 is strategically located, allowing guests to visit the Notting Hill, Bayswater and Portobello market. The area has several restaurants, cafes and department stores in the nearby Westbourne Grove. Check rates and availability here.
The designer apartment in a Victorian building with a modern interior and high ceilings make the rooms look larger, making it the best for five people. Each of the two bedrooms is furnished with a king-sized bed and the bathrooms fitted with new fixtures like a bathtub and shower. Guests can spend time on the large couch in the reception room, watch HD television plus connect to Wi-Fi available in the entire flat. The flat also has a kitchen that is fully equipped and has a bar area with stools.
The exclusive location of the property allows guests to walk to nearby tourist attractions, restaurants, department stores and the farmer's market. Check rates and availability here.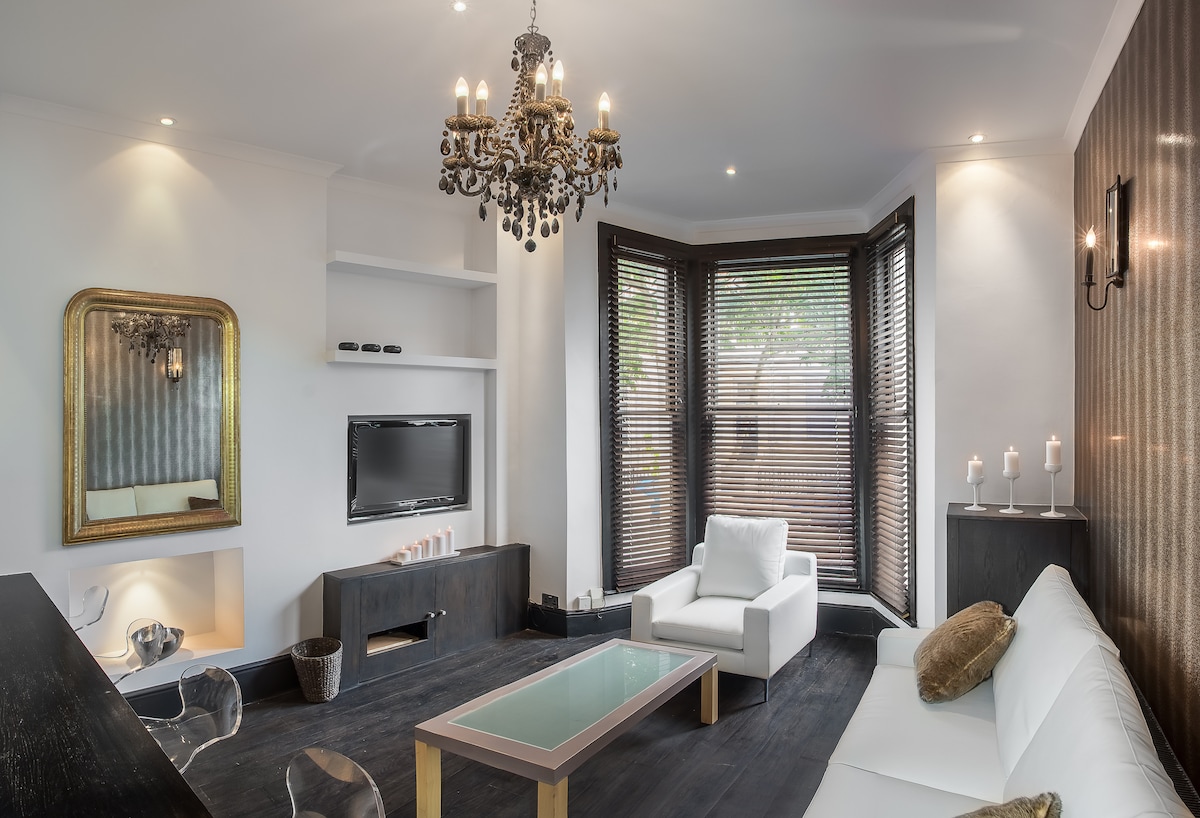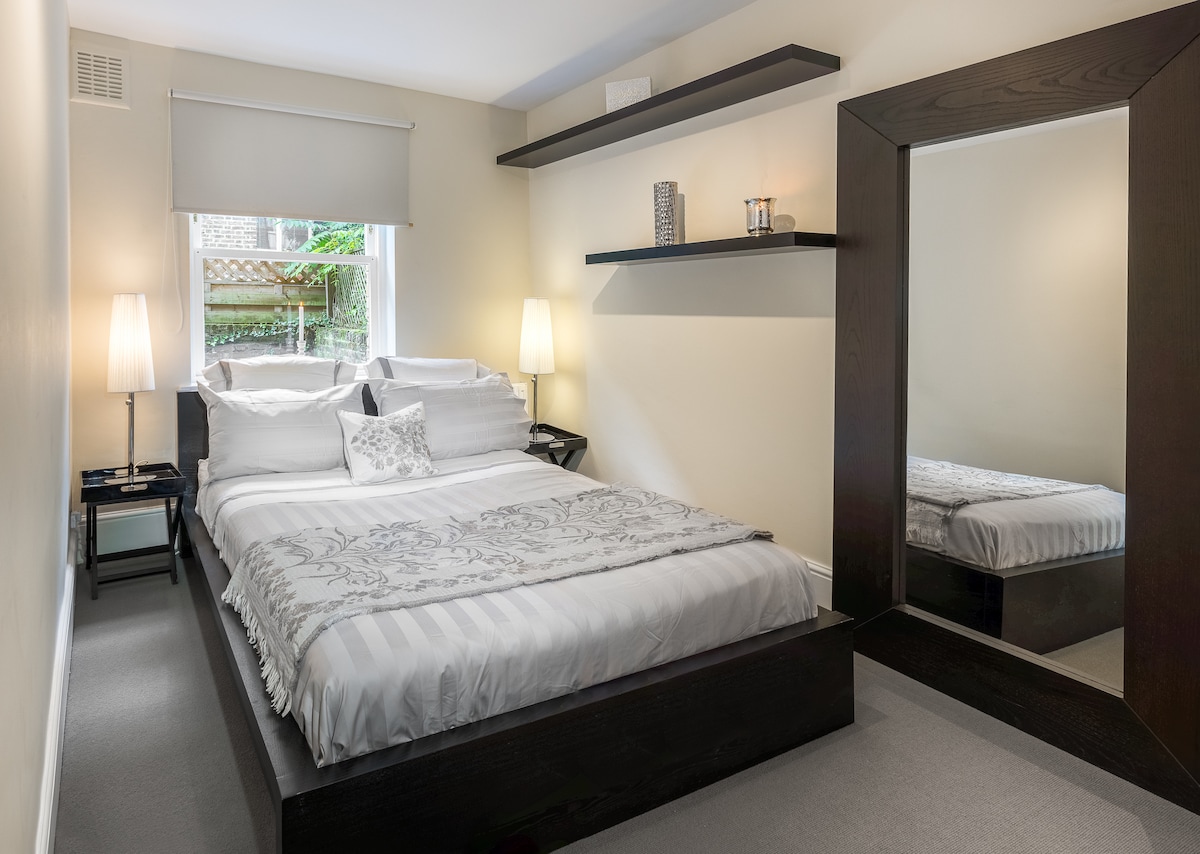 Super cozy and quiet, the apartment has features that guarantee a luxury stay. The beautifully decorated space has one bedroom with an en-suite bathroom, kitchen and open plan living room. It is perfect for three guests who are provided with bed linen, towels, toiletries and tons of little luxuries. Outside the room is a small patio furnished with tables and chairs for relaxing in the afternoons.
Besides spending time in the apartment, guests can visit the shops, bars and restaurants nearby and interact with locals. The area is also linked to other parts of London by train. Check rates and availability here.
Located on the ground floor, the contemporary styled studio is a great place to stay for those on a two-person trip. It is self-contained with a double size bed, bathroom and open plan kitchen. Fresh linen and towels are provided in the rooms, while the kitchen is equipped with a microwave oven, hob and refrigerator. For entertainment, guests can watch the mounted television or connect to the wireless internet access throughout the studio. Also, the cute studio is in a good location close to several shops and Hyde Park.  Check rates and availability here.
The self-contained studio is one of many within a gorgeous house at the center of Notting Hill. Its immaculate décor makes its stand out as soon as guests walk into the living space. The two guests that can be comfortably accommodated in the studio get a double bed with clean bed linen and a bathroom with a power shower. Meals are prepared in the kitchen which is equipped with a hob and other important appliances. Guests also have access to shared spaces in the studio like the terrace and balcony area. For entertainment, guests can connect to the internet using the available Wi-Fi, watch television or take a walk to several attractions near the property. Check rates and availability here.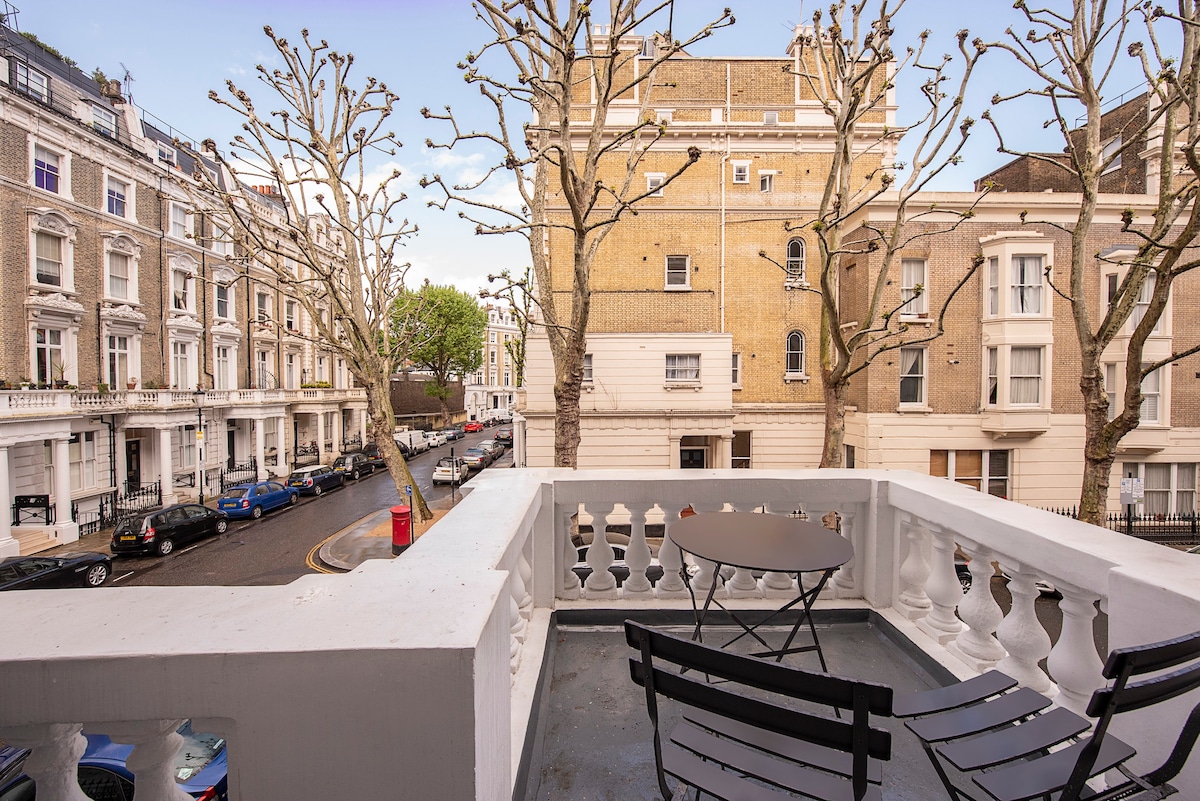 The entire apartment is superb with beautiful fittings and modern facilities. It can accommodate four guests and has a single bedroom with two single beds and an extra sofa bed in the common spaces. The bathroom is supplied with toiletries such as toilet paper, soap and towels. In the relaxation, space is a television and Wi-Fi for entertainment, while the kitchen is fully equipped with several appliances and utensils. Other facilities include a lift, luggage storage and an outdoor garden.
Its prime location makes it easy for guests to visit local attractions such as Hyde Park, Royal Albert Hall, and Kensington Palace Pond. It is also close to underground stations like Queensway and Bayswater. Check rates and availability here.
The raised apartment on the ground floor is essentially a one-bedroom space with a bathroom. It has one queen bed ideal for a couple, business travelers or solo adventurers. The interior comprises high ceilings and large windows that let in a lot of natural light. Guests can keep warm using the indoor fireplace, watch television and connect to the high-speed Wi-Fi connection.  The living space also has a kitchen with various electrical appliances and cooking basics. Its location at the junction of Talbot Road and Ledbury Road makes it accessible to many popular sights in Notting Hill and beyond. Check rates and availability here.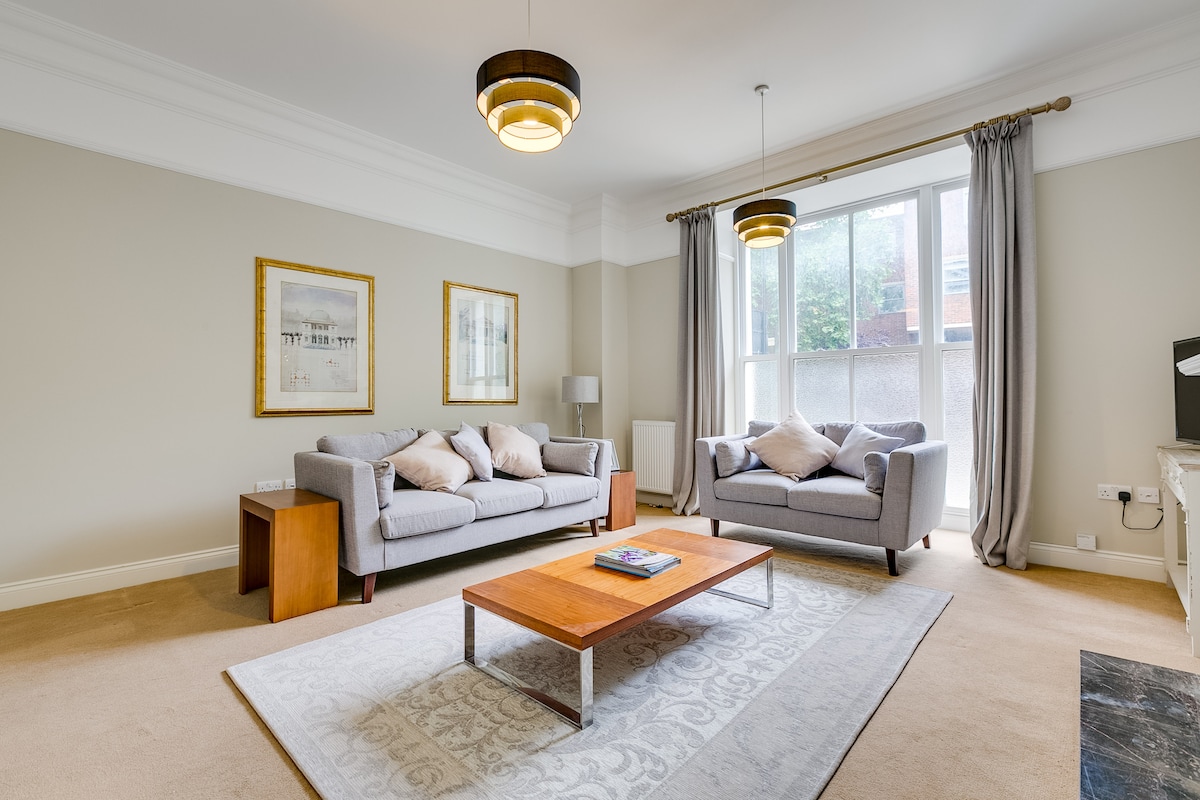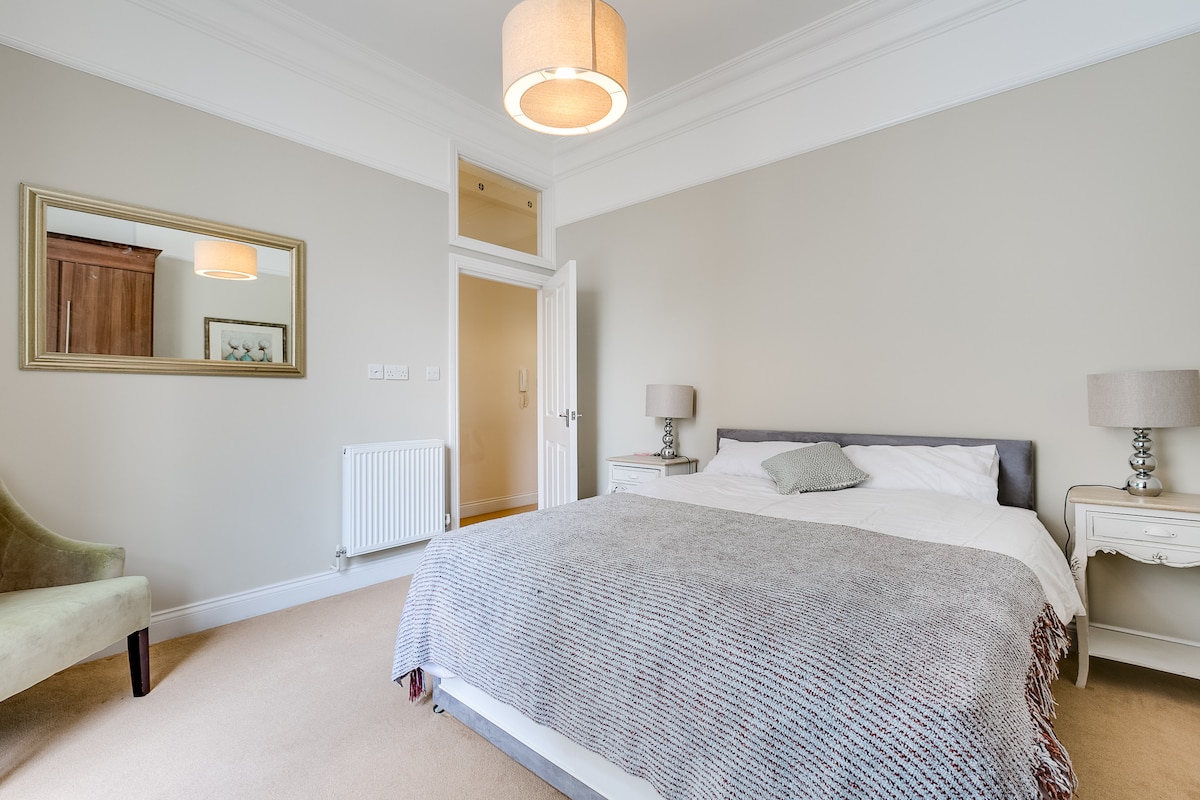 More On Notting Hill: