Last Updated on 27 October, 2023
London is a vibrant and diverse city, offering an endless array of activities and experiences for locals and tourists alike.
Saturdays in London are particularly exciting, with so many things to do, see and explore. Let's explore some of the best things to do in London on Saturdays. Taking you from day to Night. Looking at all the cool things to do at night as well as the daytime.
The Best Places To Visit On Saturday In London
We have also covered in detail the best areas for nightlife in London as well as fun things to do in London at night. Also if you are stuck on what to do on Sunday in London, we have that covered too.
Chill Out In One Of Many Beautiful Parks In London
London is home to many beautiful parks, perfect for a relaxing stroll, people-watching or a picnic. Hyde Park, Greenwich Park, Hampstead Heath and Regent's Park are just a few of the many options available.
Check Out An Exhibit At A London Museum
Stuck on Saturday activities in London? London is home to some of the world's most famous museums, including the British Museum, the Natural History Museum, the White Cube and the Science Museum.
On Saturdays, many museums offer special events and exhibits, making it the perfect day to check out something new.
Visit One Of London's Saturday markets
London is famous for its markets, and Saturdays are the perfect day to explore them.
From the famous Borough Market to the trendy Brick Lane Market and the vibrant Camden Market, there's a market to suit every taste. For more inspiration check out these Saturday markets. In addition, you wont want to miss out on the Saturday market that is Maltby Street Market.
Go For An Adventurous Boat Ride On The Thames
Seeing London from the water is a unique and exciting experience. From the famous Thames Clippers to traditional riverboats and canal cruises, there are many ways to explore the city by water.
Go For A Swim At One Of London's Many Lidos (during summer)
London may not have the warmest weather, but during the summer months, the city has many lidos (outdoor swimming pools) for you to cool off in. From the Hampstead Heath Ponds to the Serpentine Lido in Hyde Park, you can enjoy a refreshing dip in the sun.
Grab A Drink At A London Rooftop Bar
London has some of the most impressive rooftop bars in the world, offering stunning views of the city.
From the Sky Garden in the City to the famous Shoreditch House in East London, there are plenty of options for a Saturday afternoon drink.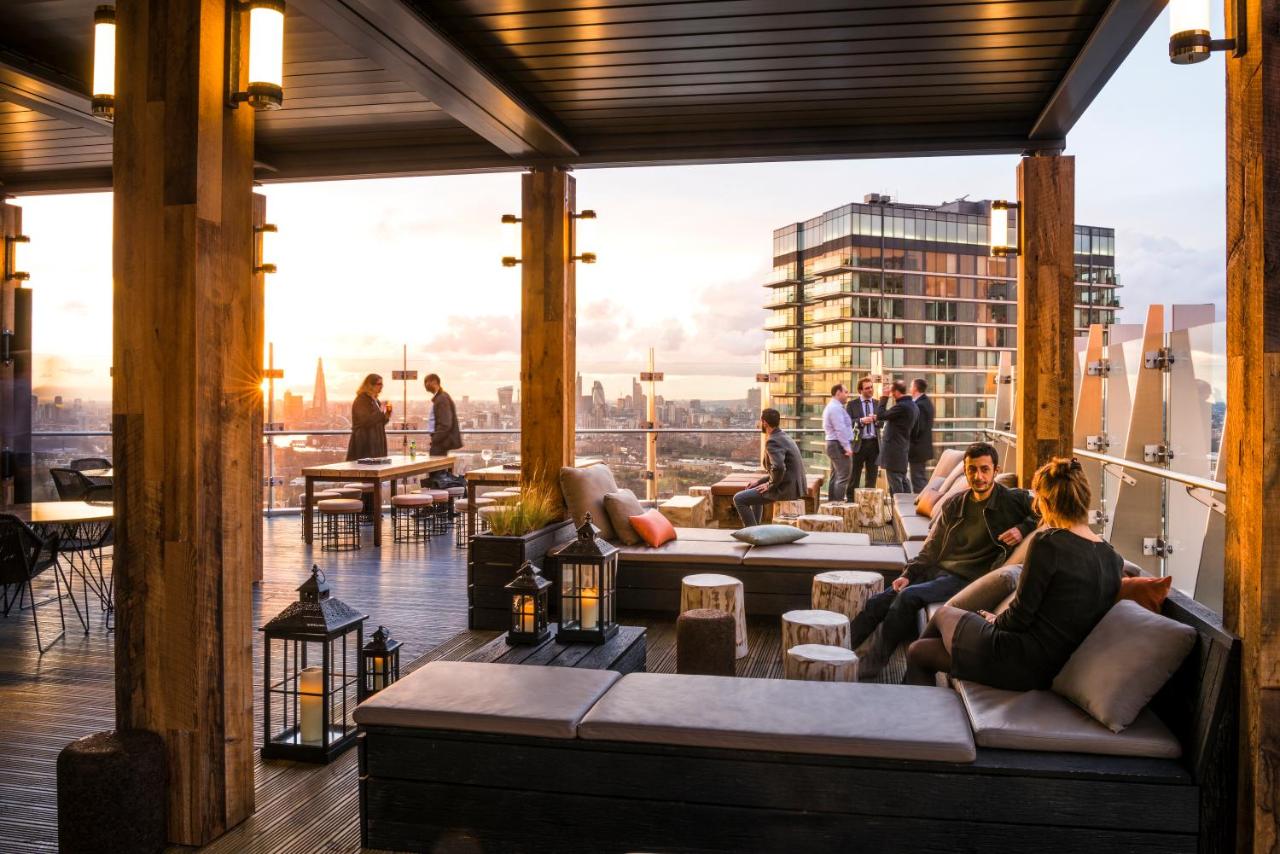 Go See A Gig, Show Or Concert
London has a vibrant music scene, with many famous venues such as the O2 Arena, the Royal Albert Hall and the Brixton Academy hosting concerts and shows every Saturday. Check out what's on and get tickets in advance to avoid disappointment.
Go Shopping In London
London is a shopper's paradise, with everything from high-end boutiques to vintage stores and street markets. Oxford Street, Regent Street, Covent Garden and Carnaby Street are just a few of the many options available.
We have also shared shopping guide for Mayfair, Kensington, Brompton Road, Sloane Street, Shoreditch and Greenwich in addition to many others.
Explore London's West End
The West End is famous for its world-class theatre productions, with shows ranging from long-running musicals to new productions. The West End is also known for its restaurants and nightlife.
From the famous West End shows to the buzzing bars and clubs of Soho and Leicester Square, there's always something to see and do. Book tickets in advance and experience the magic of the West London.
Get Afternoon Tea
Afternoon tea is a quintessentially British experience, and London has some of the best options available. The Ritz, Claridge's and the Savoy are just a few of the many places to enjoy an afternoon tea in style.
For inspiration, read our guide on the best themed afternoon tea in London, amazing tea experiences in Covent Garden, Shoreditch or Marylebone.
Get Lost In Cobbled Streets Of Covent Garden
Covent Garden is such a vibrant and bustling area, right next do to Soho, Mayfair and Holborn. Its packed with amazing markets, boutiques, cafes, restaurants and bars.
In addition to cute little cobbled alleyways to get lost in. Cute and colourful spots like Neal's Yard are not to be missed as is WA Cafe, O Craquelin, Covent Garden Market or the Amazing Seven Dials Market.
Have A Boozy Brunch
Brunch is a popular weekend activity in London, and many restaurants and bars offer bottomless brunch options. From Bloody Marys to Bellinis, there's always an excuse to indulge in a boozy brunch on a Saturday.
This is not to be missed on any London itinerary. You can choose from bottomless brunches in Peckham, Shoreditch, Covent Garden, London Bridge, Mayfair, Notting Hill, Brixton, Chelsea and many more.
Explore Shoreditch
Shoreditch is one of London's trendiest neighbourhoods, with street art, vintage shops and trendy bars and restaurants. Take a walk down Brick Lane and experience the unique vibe of this East London neighbourhood. Be sure to also experience nightlife in Shoreditch through its bars, clubs and pubs.
Watch The Sunset From One Of London's Amazing Viewpoints
London has many impressive viewpoints, offering stunning views of the city. From the London Eye to the Shard and the Sky Garden, there are plenty of options for watching the sunset over the city skyline. We have shared an extensive guide on where to get the best views in London.
Go For A Karaoke
Karaoke is a popular activity in London, with many bars and clubs offering private rooms for you to sing your heart out. Head to places like Lucky Voice, Karaoke Box or Jukebox to belt out your favourite tunes.
Eat You Way Around The World At Seven Dials Market
Seven Dials Market is a foodie's paradise, and it's also home to some of the best dessert spots in London. This market is located in the heart of Covent Garden and features a wide selection of food stalls and vendors serving Italian, Spanish, Indian, Chinese, British, Japanese, Mexican and many more.
The dessert options here are diverse and include everything from artisanal chocolate to homemade ice cream. Whether you're in the mood for something sweet or something savoury, Seven Dials Market has got you covered.
And the best part? Many of the dessert vendors here are open till late, so you can satisfy your cravings even after the sun goes down.
Do A Walking Tour
London has a rich history, and there are many walking tours available that explore different aspects of the city. From the famous Jack the Ripper Tour to Harry Potter-themed tours and food tours, there's something for everyone.
Grab a drink at a London pub or bar
London is known for its traditional pubs, and there are many options available throughout the city. From historic pubs like the Spaniards Inn in Hampstead to trendy bars in Shoreditch and Soho, there's always a place to grab a pint or a cocktail on a Saturday.
We have also shared an extensive list of 56 cool London bars with views.
Stop By For A Latenight Dessert
London is a city that never sleeps, and neither do its dessert places. Late-night dessert spots are aplenty in London, catering to those who have a sweet tooth and a craving for something delicious after hours.
From ice cream parlours to patisseries, London has a diverse range of dessert places that are open till the wee hours of the morning. Whether you're in the mood for a slice of cake or a scoop of gelato, London's late-night dessert places are sure to satisfy your cravings.
As you have read above Saturdays in London are filled with endless possibilities, and there's something for everyone to enjoy. Whether you're looking to relax in a park, explore the city's history or indulge in some food and drinks, London has it all. We have also covered an extensive guide on where to stay in London as well as the best areas to stay in London for families.
So, plan your perfect Saturday in London and make the most of what this incredible city has to offer. So what do you think of our list of things to do in London on weekends? Let us know in the comments.